Finding the best combination for cocktails and crisps is the kind of gruelling assignment only a jaded hack could take on. There's rigour required. You need an objective distance that can only be earned through years of compartmentalising… Or so I argued. Slaving away inter-swapping cocktail and crisp night after night would be an arduous task, let alone a mentally taxing exercise to juxtapose texture, flavour all-the-while wrestling with the bigger existential meaning of it all.
Laying it on too thick? Yeah. I did that with the guac on the second day of 'research' as well. 
There's no hiding that matching cocktails and crisps is a task I have gladly committed to my entire life. Recently, I've taken great joy when each crunch pierces through the silence that's finally befallen the room once the kid's in bed and I've sat down with a drink.
Let's get a controversial opinion out the way and spare you clutching your pearls halfway down scrolling. 
This article is all about satisfying crisps and cocktail pairings. As such, tongue melting corn puffs like Monster Munch, Quavers, Skips or Wotsits are all out. "The puffy ones" as they are known in my household all have a time and a place, but if one hand has a drink in it and the other is seeking the firm edge of a crunchy crisp, it's clearly neither.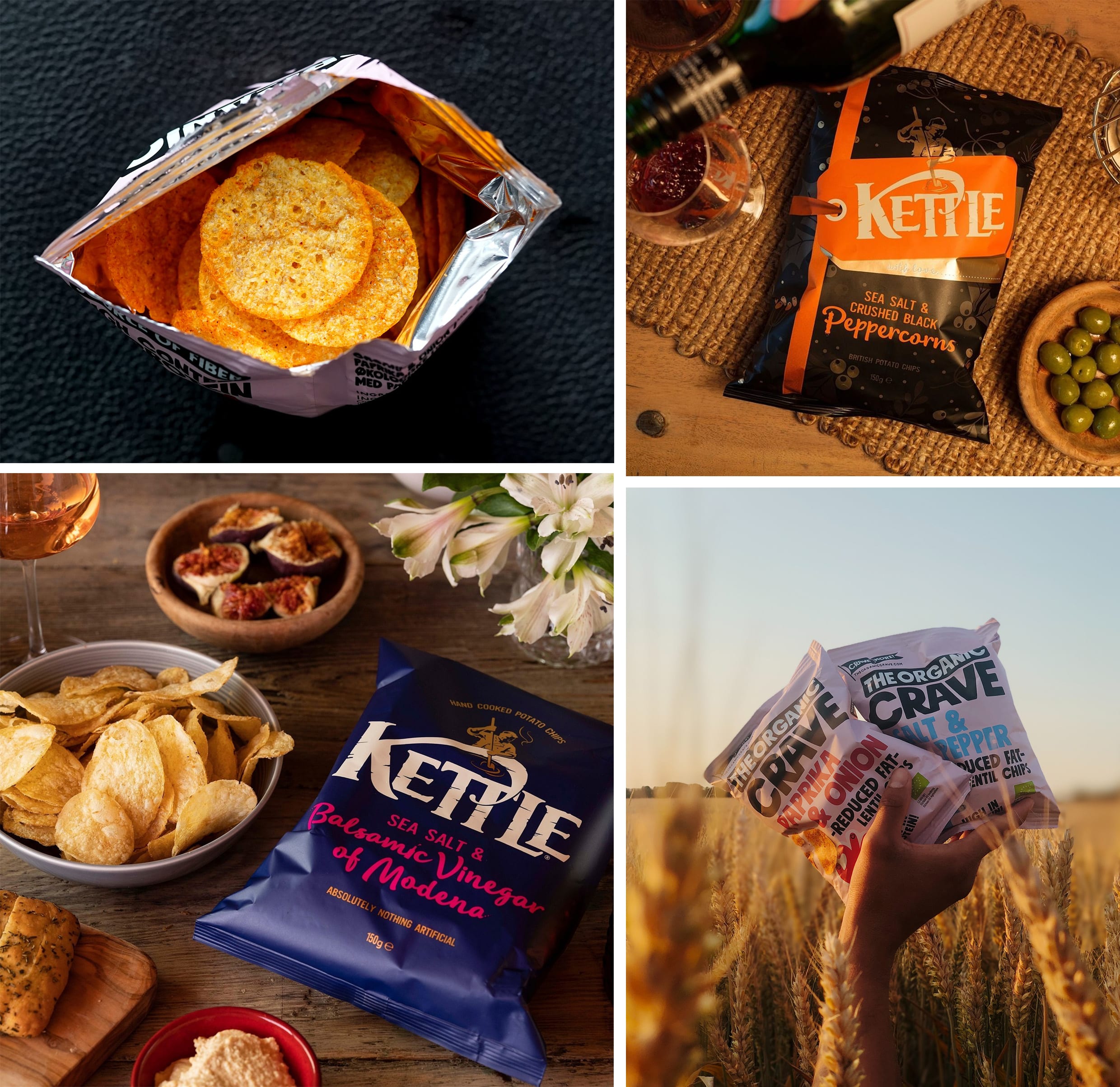 Despite my opening remarks, a bag of crisps isn't a culinary extravaganza. Having them on the side of an evening drink is about convenience and pleasure. No need to overthink it. Pairing a type of crisp flavour with a cocktail therefore, is about getting the simple match ups right. Who really spends time chilling coupes, measures out expensive ingredients and then stirs down the perfect Rob Roy before then opening a bag of Walkers? 
Simple drinks, served with a bag are where it's at. Even supersized – a round of drinks and a bowl of crisps shared while watching Strictly or the Autumn Internationals. 
Below are some of the best combos you can pick. I've included the kind of drinks most people actually serve at home along with an alternative for smug cocktailians like me to make.
Sea Salt or Lightly Salted crisps:
The OG of all crisps. I've scoffed though enough Kettle's Lightly Salted, Tyrells Slightly Salted and Proper Crisp's Sea Salt to tell you they are all delicious. Seriously you name it, plain, crinkle cut, hummus shovels – I've had the lot. 
Can the saltiness elevate a Martini? Sure. Could a bag make a Dark & Stormy better? Absolutely. But all crisps do and let's face it, all crisps are salty so it really isn't a "flavour" to work off and so the only pairing advice acceptable is to make it quick.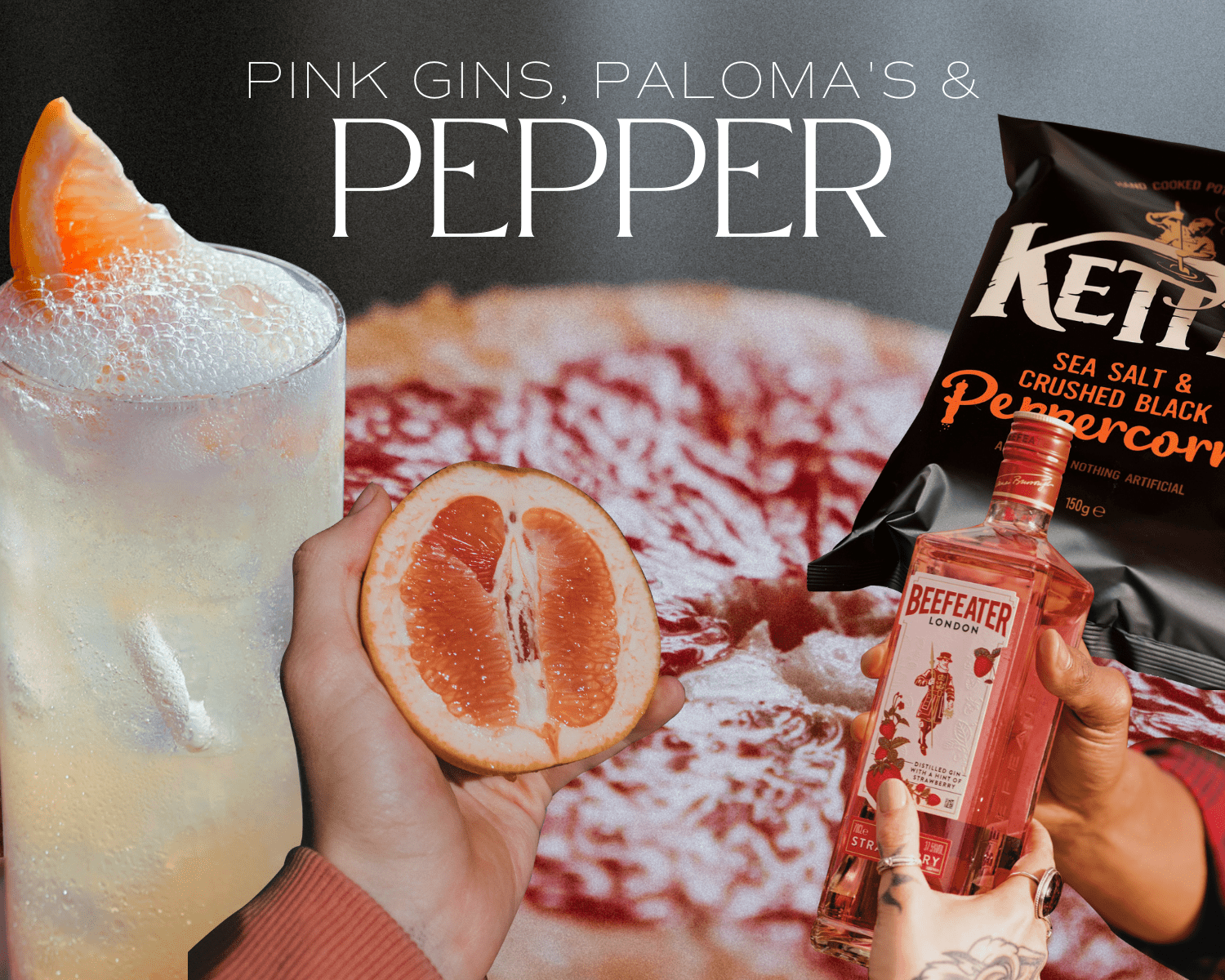 Black Pepper crisps:
My advice is to pair peppery crisps with a Fruit Flavoured Gin and some tonic. Contrast the likes of Beefeater Strawberry Gin. Balance out Warner's Rhubarb Gin's tart nature, add depth to the fruity profile of Edinburgh's Raspberry Gin – fruit flavoured gins tend to be naturally sweet (irrespective of if they have added sugar in them) and the pepperiness of the crisp saps that out. 
Both Kettle and Tyrell's have a Sea Salt and Crushed Black Pepper you can pick up in supermarkets. Meanwhile for those who like to do go one step further – pair it with a Paloma. The grapefruit juice zings brighter when contrasted, while tequila and pepper never mind sharing space.
Balsamic Vinegar crisps:
Balsamic Vinegar is a big flavour to work off. It's such a distinct flavour too, and irrespective of whether you nibble on the Kettle's Balsamic Vinegar Modena or the less punchy Tyrrell's Balsamic Vinegar & Sea Salt veg crisps you'll find it fills the senses no matter the drink. 
So, it's more a case of alternating flavours rather than combining them here, and the absolute best cocktail to do this with is a Frozen Strawberry Margarita. I get that for the uninitiated, strawberry and balsamic may not sound like natural buddies but they are a scintillating match. 
Add frozen fruit, a good quality 100% Agave tequila like El Rayo, lime, liqueur and a bit of ice into a blender and serve in an oversized coupe, empty the bag of crisps into a bowl and off you go. 
Barbecue flavoured crisps:
Barbecue flavoured crisps have become a phenomenon. The genre's quite a broad church too, from the smoky versions leaning heavily on the paprika (Tyrrell's English Smokey Barbecue and Tyrrells Smoked Paprika) to Kettle's Honey Barbecue or Proper Chips Barbecue to name a few. There's also a few editions that lean into the foods being cooked, from Crispy Bacon & Maple Syrup or Kettle's Steakhouse Barbecue, which features a smoky and rich spice rub and is finished with succulent real beef brisket.
What to do with such flame grilled inspiration? The obvious choice would be to make an Old Fashioned using a bourbon like Woodford Reserve. Whisky, bitters and sugar make for a complex melange that's accented by the smokiness of barbecue crisps. You can see that working easily.
Personally, I vote to match them up to sours such as the Pisco Sour or the New York Sour. If the crisp vs cocktail combo tilts an Old Fashioned into a complementary whisky and brisket territory, partnering a bag with any of the 'sour' cocktail family plays with the contrasts instead. Done well, they create a harmony that's hard to beat. 
For those you prefer it long (and easy to make), try an English Garden. Gin, lime, elderflower and apple juice is such a refreshing drink and when accompanied by Barbecue flavoured crisps it really takes on a new level. The drink's sweet floral fruitiness seems to yearn for a smoky interlude.
Sour Cream and / or Sweet Onion Crisps:
Sour cream and chives are such dominant flavours. You know when someone has just opened a pack on the aroma alone. It's hard to dip in and out of the flavour and when paired to a cocktail, my advice is to go bold or go home. Well, stay home as that's where you'll be, but you catch my drift…
Enter the Bloody Mary. Spiced tabasco, savoury tomato and complex Worcestershire sauce lead the way irrespective of whether you've added Vodka or gone rogue and made a Red Snapper (with Gin) or Bloody Maria (with Tequila). 
The pairing allows the herbal side of the sour cream, sweet onion, chive, dill or whatever other variations brands have come up with to push through. Trust me – when the tang of the crisp meets the full-on savoury nature of the dink, you'll appreciate just how brilliant a pairing it is.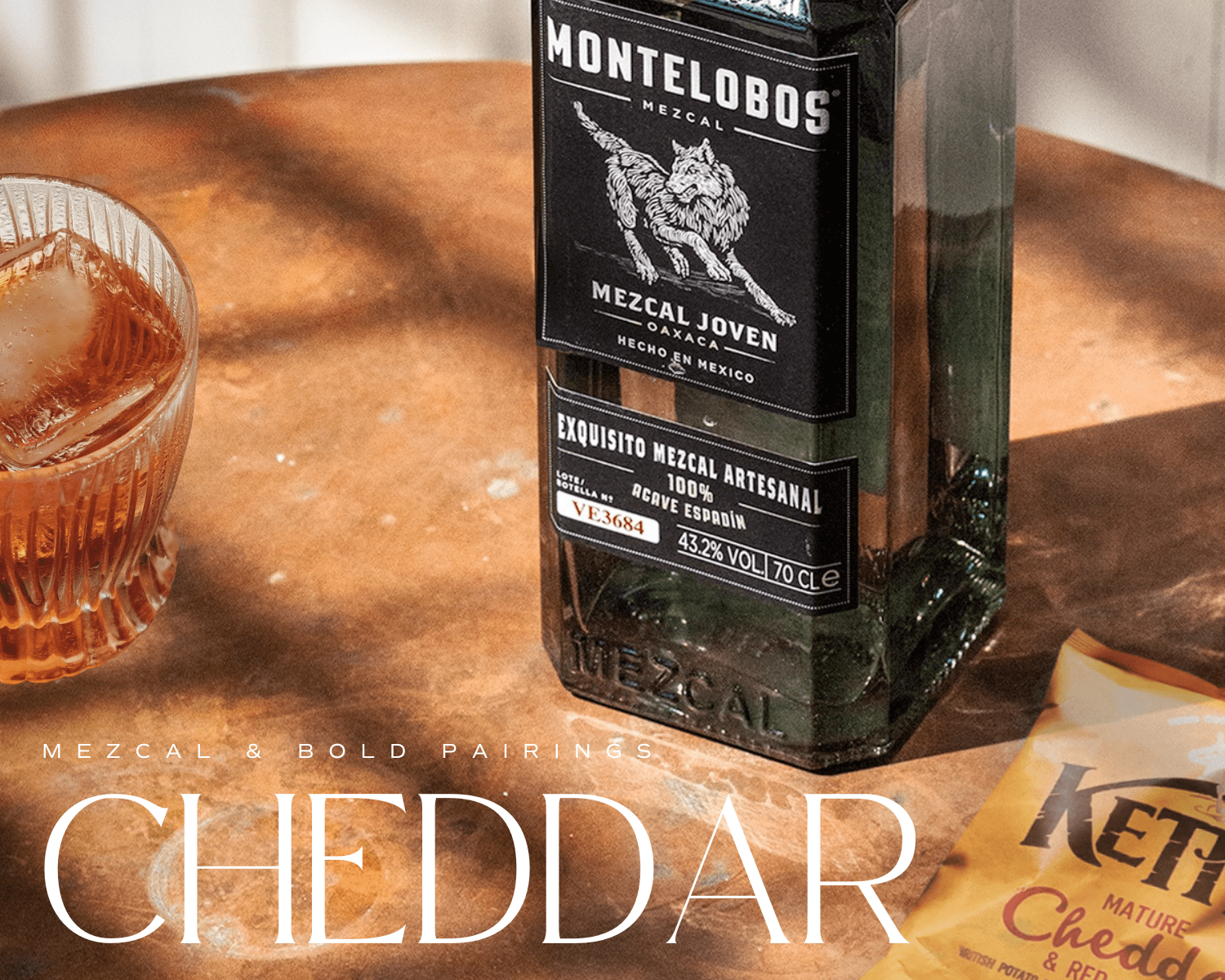 Cheese-flavoured crisps:
Mature Cheddar (often with onion or chive) remains one of the most popular crisps varieties in the UK. It's a bold flavour and I'd urge you to match it with something that has confidence – the Classic Negroni. 
Cheese boards and Negronis love each other. Almost all forms of food love Negronis – ergo crisps do too. More so on this occasion, is that there's room to play in the choice of Negroni here. If you sub out gin for smoky Mezcal like Montelobos, it still holds its hand out for the deep cheddar note in the crisps, while both fruity and rich vermouths (such as El Bandarra or Antica Formula respectively) do well. 
It's a robust pairing that you can't go wrong with.
Chili-based or spicy crisps:
Meet fire with fire when dealing with Proper crisps' Sweet Sriracha or Kettle's Thai Sweet Chilli by making long drinks with a kick of their own such as the Floradora or El Diabolo. The ginger in the cocktail allows the drink to stand up to the piquancy of the crisp, while the fruity edge livens the palate.
For the more adventurous seeking a contrast rather than a way of accentuating the flavours, try the fresh herbal zing of the Basil Smash. The aromatic herbs, zesty citrus and underlying gin are bright flavours and offer some reprieve from all the chilli's heat.
Mediterranean crisps:
I had Kettle's Sea Salt & Rosemary and Tyrrell's Med herb flavour earmarked as the ultimate Negroni partner going into this process. A shoe-in given the origins of the drink. Unfortunately, they were both dud pairings. Contrasted with Campari, the salted rosemary is flat and does nothing to enhance the moment (outside of having a satisfying crunch to snack on alongside the drink). 
That said, they remain my favourite crisps on their own and when paired against a classic Martini or a G&T made with a traditional London Dry it all starts to sing. Have it with Dartmouth Dry Gin or Height of Arrows' Bright Gin for starters – the rosemary flavours seems to tether both snack and drink with sublime ease.
A good reminder that there's no need to overthink it and pairings are about getting the simple match ups right. 
Prawn Cocktail Crisps:
The mighty prawn cocktail – an icon of the crisp world. It's an ever so slightly fishy, ketchuppy jumble of a crisp. M&S, Pringles, Posh Prawn or good old Walker's each have their own idiosyncrasies ranging from tomato forward to distinctly crab-stick like. 
Whichever you chose. if you want to get the most out of a pairing, think Créole cooking and New Orleans.
Yes. It seems far-fetched for that pink bag at first but go with the flow. Creole cooking features so many of the same flavours found in Prawn cocktail crisps and a few of the drinks that are so famously associated with New Orleans use ingredients such as of Peychaud's – which shares that ephemeral flavour quality. It too is hard to pinpoint exactly. 
Make a Sazerac or a Vieux Carré and try some crisps alongside. It just works.