We all want a special escape. But for those of us not able to jet off anytime soon, escapism often only comes in the form of Netflix. 
Why not take it one step further and become more adventurous with the food you eat and the cocktails you are trying at home while you binge a series away? Better still – make a weekend theme of it! 
For example you could bring a taste of Japan into your drinking experience this month while nerd'ing out on cult movies… 
The country has a unique culture to tap into and there's so many ways you can bring that into your cocktails and add a memorable Japanese twist to any drink you make. Here are a few ways to go about it.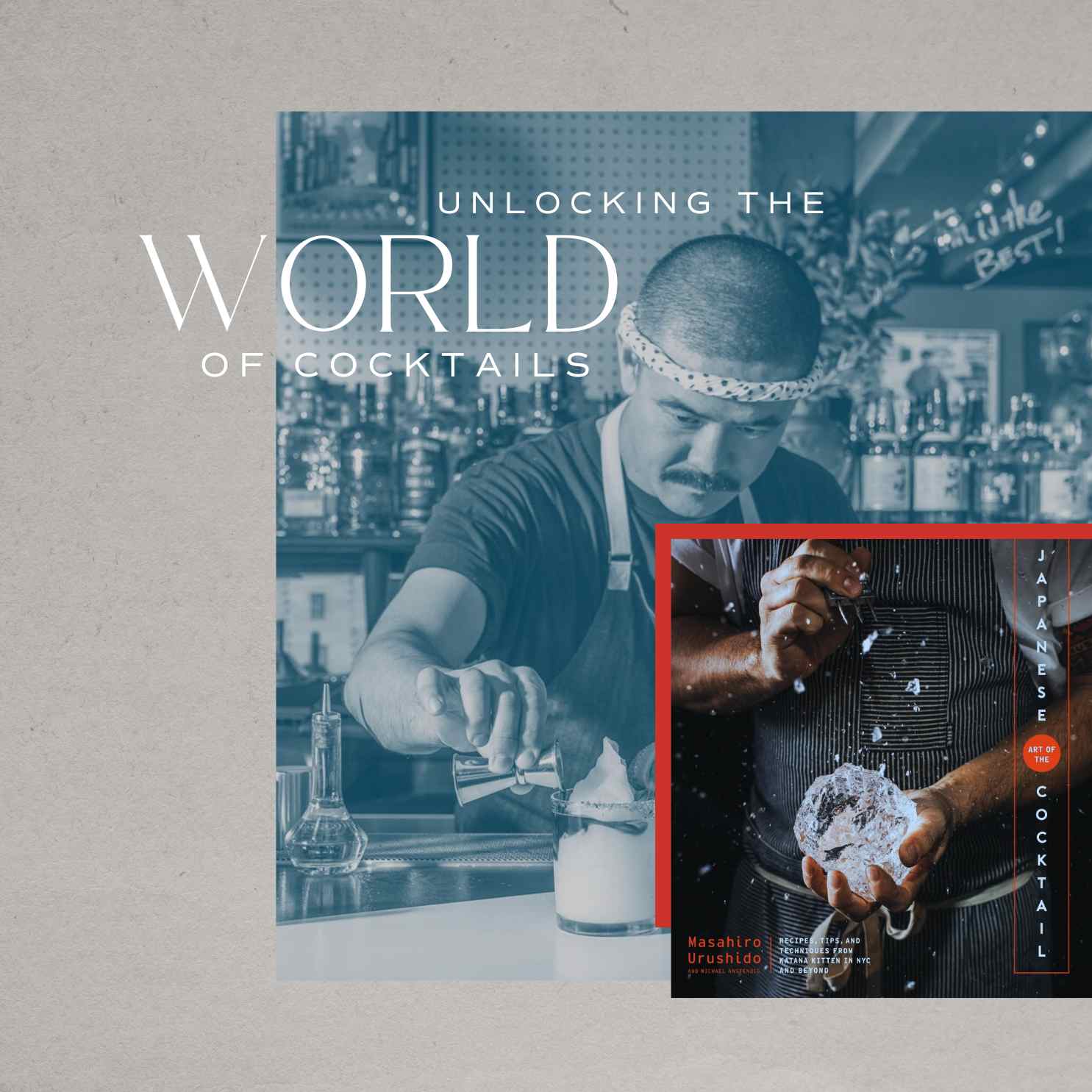 Books about Japanese Drinks
There are many cocktail books available on the market but if you want to bring a sense of Japan to your cocktail experience, try picking one specifically about Japanese drinks and Japanese bartending philosophy. Yes – philosophy. 
As with everything, when taken seriously enough and when enough care and attention is lavished upon detail and significance, a routine becomes a ritual and a moment becomes an occasion.
Here are some must-read books that will help you appreciate Japanese drinking culture and inspire you to make some cocktails of your own.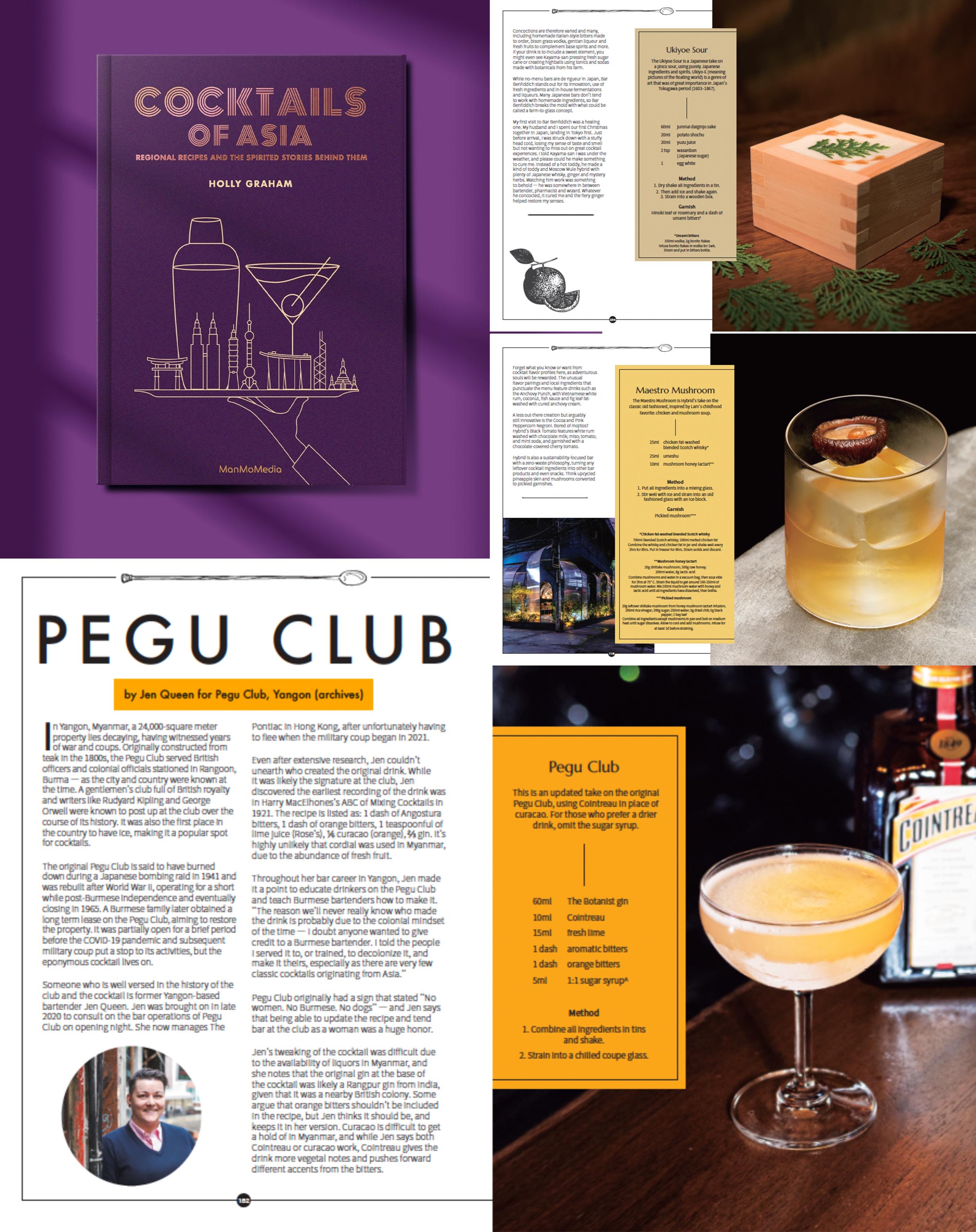 Cocktails of Asia 
Asia's cocktail scene is one of the fastest growing in the world, and Asia-based cocktail and spirits expert Holly Graham takes readers on an adventure through the region, telling its stories drink by drink. 
Cocktails of Asia goes beyond a single country and shares the recipes, stories and history behind the cocktails and people that define this spirited region — from India to Indonesia, China, Japan and everywhere in between.
We liked it as to fully understand what makes the best drinking spots in Tokyo or down-town Osaka so special, getting a broader context and deeper understanding matters. There are phenomenal bars in Singapore, Shanghai, Hong Kong (let alone all the iconic ones of the past and their enduring recipes) and the way they have influenced each other internationally is key to understanding it all. 
To use an analogy, if you were listening to modern hip-hop and didn't know any of the original samples being referenced - you would still enjoy it, but only understand it at a certain level. This is the drinking equivalent to listening to those original regional references, which you'll then pick up time and again as they are re-cut, re-imagined and re-mixed.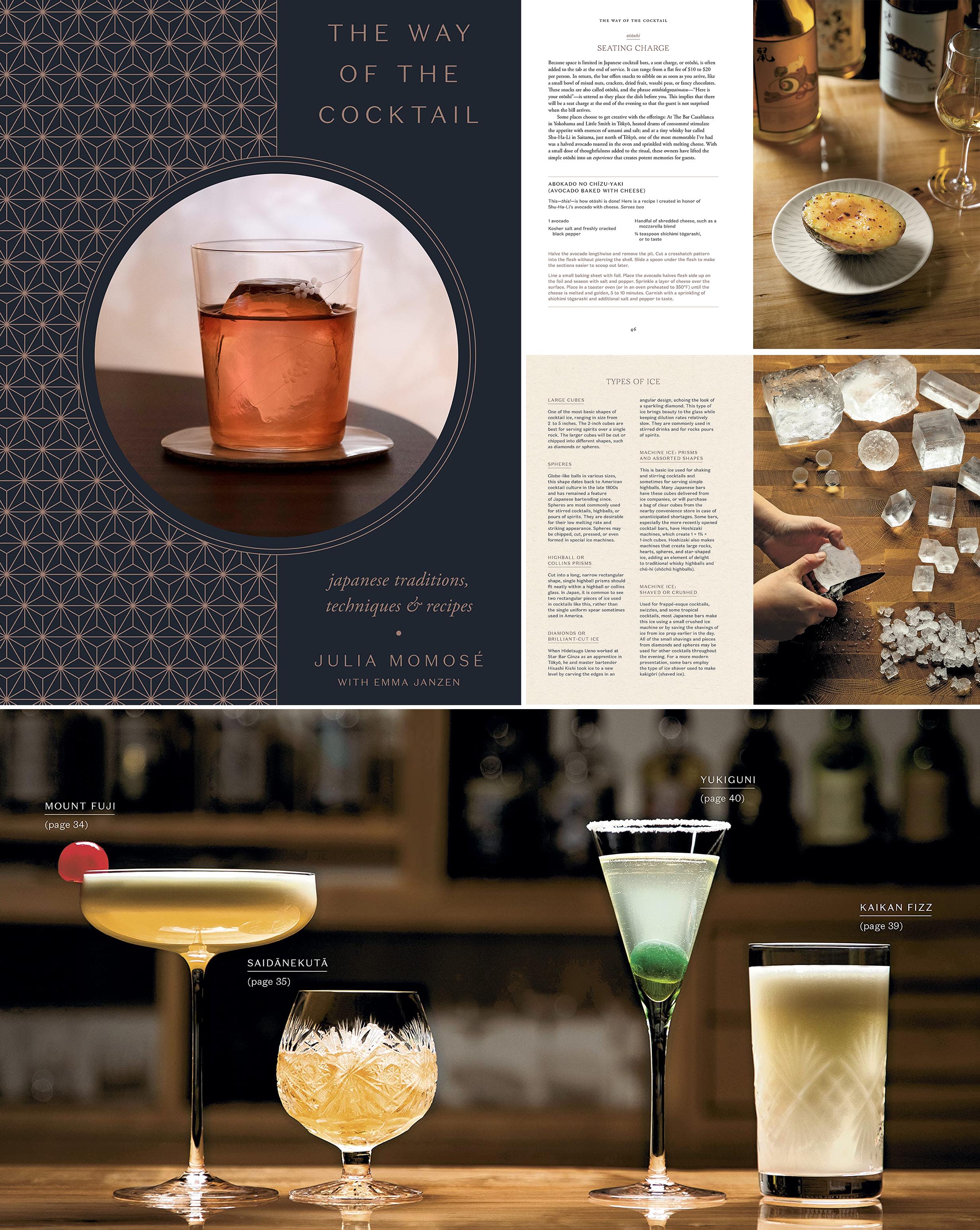 The way of the Cocktail: Japanese traditions
With its studious devotion to tradition and hospitality, Japanese cocktail culture is an art form treated with reverence. 
In this essential guide, Japanese American bartender Julia Momosé (of Kumiko and Kikkō in Chicago) takes you on a journey into this realm. 
She educates and inspires while breaking down techniques by delving into the soul of the culture: the traditions and philosophy, the tools and the spirits and the complex layering of these elements that makes this approach so significant.
 
We liked The Way of the Cocktail as the recipes presented are inspired by the micro-seasons that define the flow of life in Japan. It's a lovely way to connect with the world around you. It also challenges you to see life through a philosophy that brings you far closer to a way of Japanese thinking than merely enjoying a drink on flavour alone.
The Japanese Art of the Cocktail
Katana Kitten, one of the world's most prominent and acclaimed Japanese-American cocktail bars, was opened in 2018 by highly-respected and award-winning mixologist Masahiro Urushido. 
In The Japanese Art of the Cocktail, Urushido shares his knowledge of Japanese cocktails with eighty recipes that best exemplify Japan's contribution to the cocktail scene, both from his own bar and from Japanese mixologists worldwide. 
Urushido also goes into what exactly constitutes the Japanese approach to cocktails and demystifies the techniques that have been handed down over generations. 
We liked it as it brings you modern drinks and the kind of bartending that's considered best in class today. It's Japanese-style drinking, but right on trend with other American influences and told through the voice of someone who's just won an award for Best Bar in the US. 
Cocktail Suggestions
The above books are loaded with ideas for cocktails and offer some of the best inspiration for what to make. That said, if you're looking for inspiration for a Japanese-inspired cocktail and an already "classic" recipe - here are some serves you can try:
Japanese Slipper
A Japanese slipper is a drink made from Midori (a Japanese melon liqueur), Cointreau and lemon juice. It's not really that Japanese to be honest - it was created in 1984 by Jean-Paul Bourguignon at Mietta's Restaurant in Melbourne – but the use of such an iconic green liqueur has cemented its status as a classic drink. 
35ml Cointreau, 35ml Lemon juice, 35ml Midori – Add to a shaker with ice, shake and strain into a coupe.
Tokyo Mule
A Mule is a perfect combination of vodka, ginger beer and citrus. Here, the "Tokyo" version calls for swapping ingredients with Japanese ingredients. For example, vodka for Sake or lime for yuzu juice. You can add matcha into the mix if you want but our advice is keep it simple. Yuzu juice, ginger beer and Haku Vodka. 
35ml Haku Vodka, 15ml yuzu juice, 150ml Ginger beer – build all the ingredients one by one into a tall glass with lots of ice. 
Change up your perishables!
The best way to add a sense of Japan into your drinks is to swap out regular ingredients with Asian-inspired versions. Switch yuzu for lemon etc…
That way, even if you are making the classic cocktails and follow classic recipes, you can add an easy twist that travels a long way.
You can read more about it in the article: A Taste of Asia
Types of Spirits
When making a cocktail, it's important to consider the type of spirits you use. Thankfully, Japan has a wide range of world class spirits producers, and these can be used to create some truly unique drinks. 
Let's begin with Sake. Let's face it - Sake remains a mystery to many but it is gaining popularity and so many are curious about it. Rightly so, once you get a taste of it and understand the basics, you'll find that it is a fun and vibrant category with lots of interesting flavours to discover.
Sake has been made in Japan for over 1,000 years, and the term just means alcohol in Japan (whereas the rice-based drink that we know as Sake is in fact called 'nihonshu').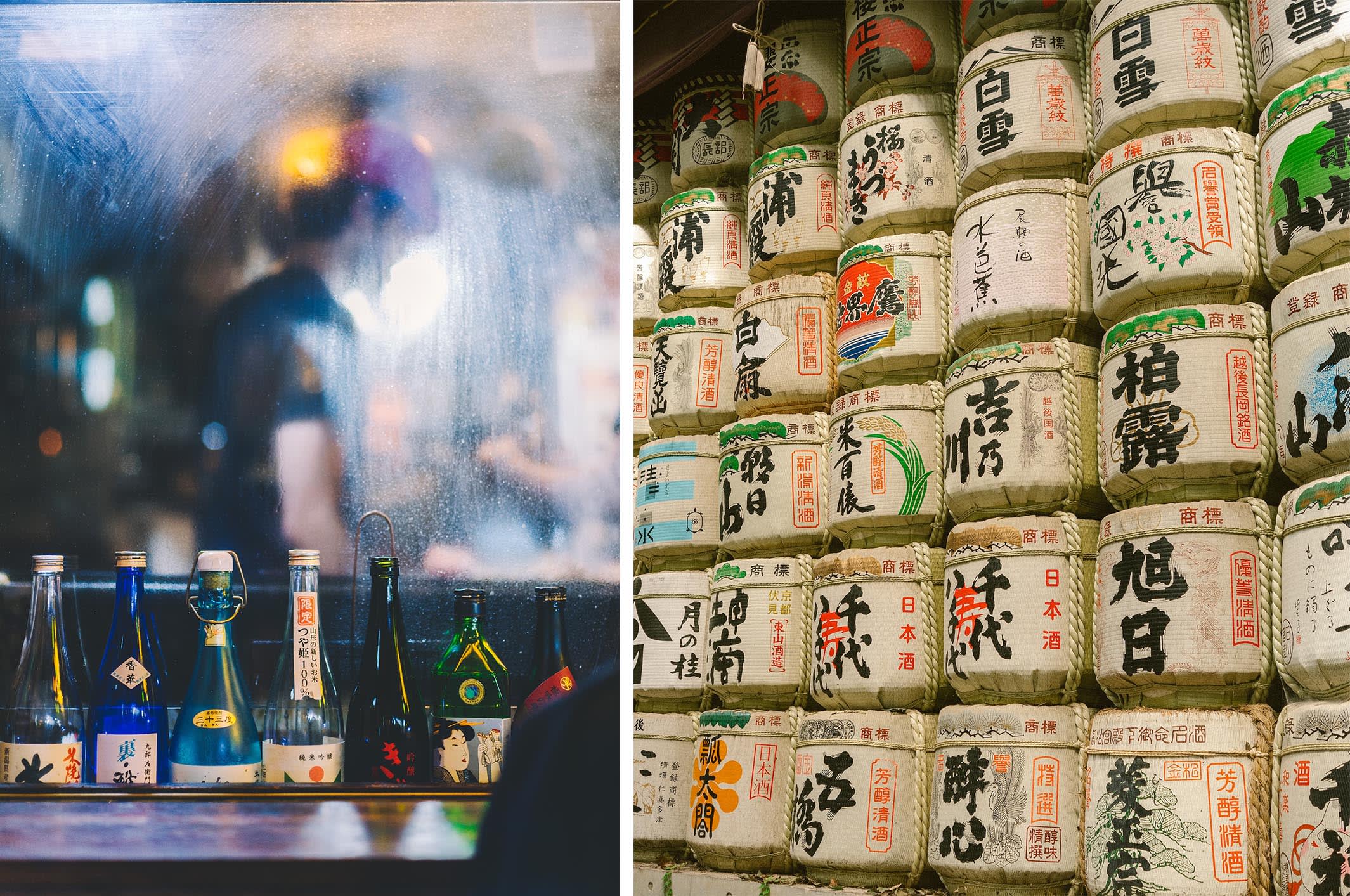 It's made from rice and there are around 70 rice varieties used for its production. Bottles tend to be around 15–16% ABV and typically, you can expect something less acidic and crisp than wine and an emphasis on subtlety of flavour, texture and diversity of styles available.
Start with bottles that have Junmai on the label and work from there. Junmai means that the Sake has been made with nothing other than rice, water, yeast and koji with no minimum polishing ratio. Serve it chilled and see how you like it. 
As for the big categories, Gin is well represented by Japanese producers and from the established giants that are Ki No Bi or Roku to the lesser-known Ethical Spirits and Sakurao, there's a lot to choose from. Many combine Japanese botanicals like sancho, yuzu, bamboo, sencha, shiso, many tea varietals and some even use sake in the mix such as 135 East Gin.
If you are not looking to adventure much further than a G&T, these are great gins to try as each brings its interpretation of what it means to be both Japanese and a Gin. They match regional ingredients to give their gin a personality with a core backbone of classic- juniper driven flavours.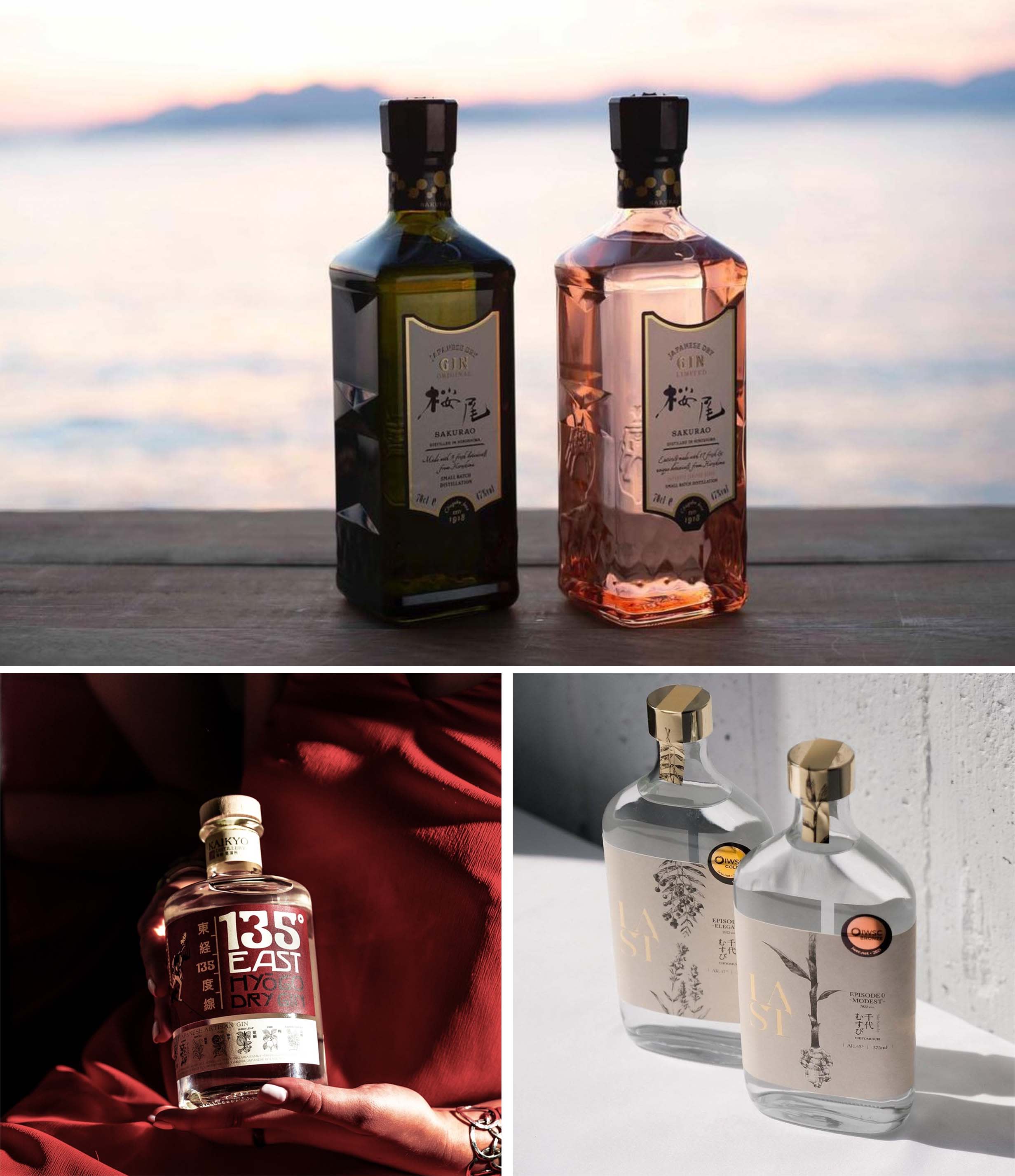 Meanwhile, Japanese Whiskies such as Yamakazi, Hibiki, Hakushu and Chita (all owned by Suntory), Yoichi and Nikka or the legendary Chichibu Distillery all have fantastic malts to enjoy. Some are up there with the best and most prestigious single malts in the world, while others are intentionally more accessible and intended for mixed drinks. 
Such is the reverence and lore around the Japanese Whisky the following might not seem true at first; but there is genuinely something there for everyone one, be it on taste or on price. 
If you are a beginner looking to find a way in and want to read more – Lauren Burfield's article explores what it's like to get into Japanese Whiskies here.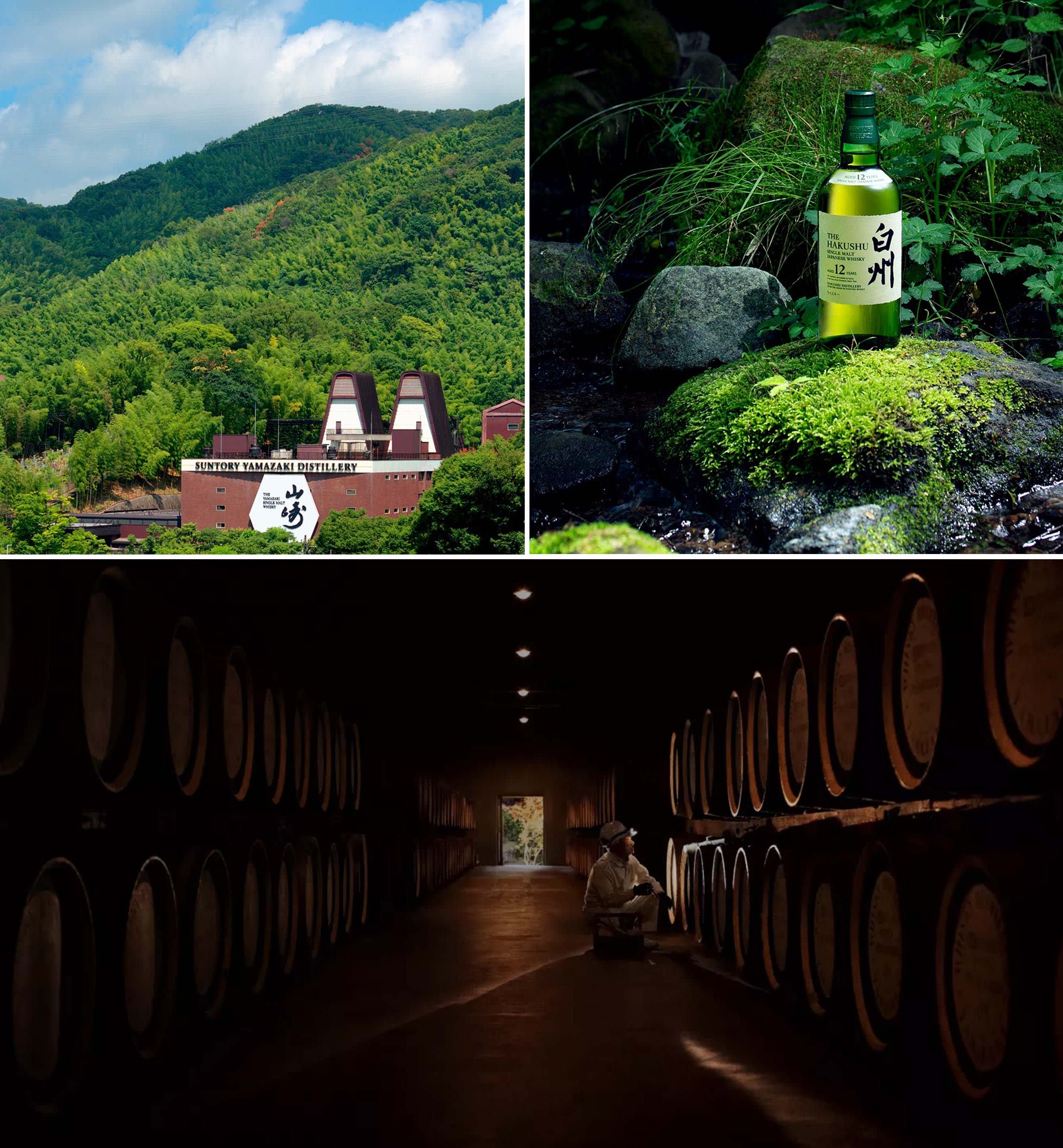 And there you have it - escapism in a glass!
Bringing a sense of Japan to your cocktail cabinet at home doesn't have to be hard, nor expensive. With the right books and ingredients, you can create some truly unique and flavourful cocktails. It just requires a little planning and a willingness to engage with a topic. 
So, if you're feeling adventurous yet tethered to the flat and left grounded by the cost of living, try exploring Japan through your drink and escape one sip at a time!