Contrary to the changing tides that have swayed towards the London Dry style that came to dominate the category (and now the swathe of fruit infused gins that are prevalent in today's gin market), Plymouth Gin continues to be true to its roots and has retained its own distinct character. It's produced in a still which has not been changed for over 150 years and has a nuanced yet full bodied flavour and an ever so slightly subdued juniper. 
While it's less easy to get hold of, Plymouth as a brand is arguably best known for its Navy Strength offering (and indeed coining the term for the gin category). They also have a classic Sloe Gin and almost entirely exclusive to those who visit the distillery - a Fruit Cup.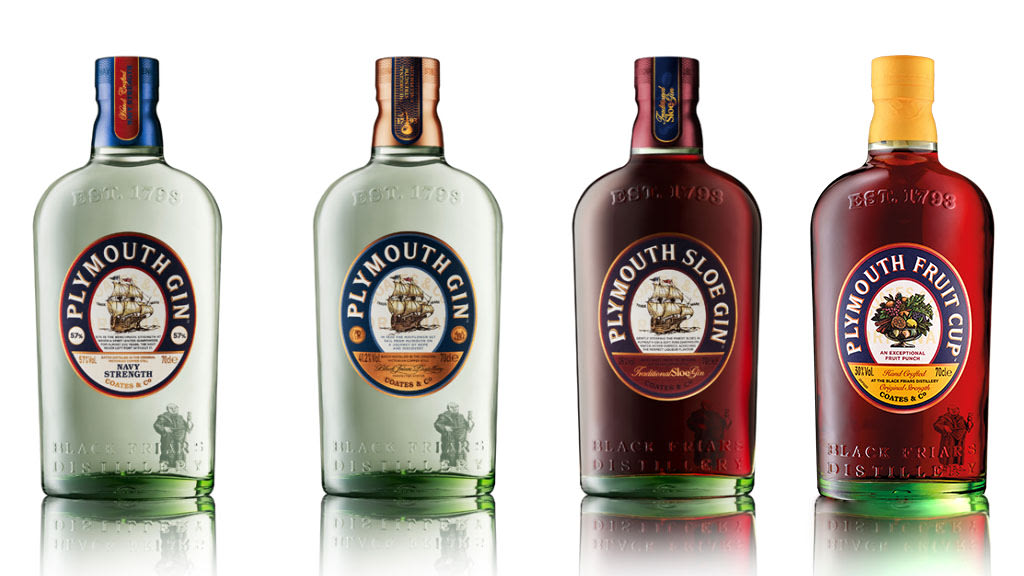 SOME HISTORY
The Plymouth Gin distillery (formerly known as the Black Friars Distillery) is now the only gin distillery remaining in the town of Plymouth, England, located in what was once a Dominican Order monastery built in 1431. Before being a gin distillery, the building's history was both rich and chequered. One of the oldest structures in Plymouth full stop, the building was briefly turned into a debtor's prison after its time as a monastery.
The established distilling business of Fox & Williamson began production of Plymouth Gin in 1793, although records suggest that distilling had been going on at the site since the 1690's onwards. Plymouth Distillery now has the accolade of being the oldest British distillery still active today in its original location.
In the early 1800's the business was to become known as Coates & Co, and for those of you interested in the early years and the dates that surround this heritage driven English gin – the earliest record the team currently have that categorically shows they were an active distillery is from 1815. The est. 1793 date was first seen on a label of Plymouth Gin in 1882 and while it's not something that the current archivists can find a paper trail for, one has to assume that given they wrote it on the label some 120 years ago – they must have known something then, giving them good cause to use the date.
Incidentally, the search for original documents is an ongoing process but due to World War bombings, fires and other unfortunate events make this a slow and painstaking search to undertake…
To save a long and protracted story about the sales and acquisitions of the brand through the past half century, let us just say that since 2008, it has been owned and distributed by the French company Pernod Ricard. Having been passed around more than a hot potato, nearly killed off, under appreciated and then resurrected, there are some highlights from the archives that are worthy of a mention however…
Technically speaking, Plymouth Gin is a both an actual gin brand and a style of gin which by law, can only be produced in the town of Plymouth. It was the only gin in the UK to have a Protected Geographical Indication within the European Union – (one of only a handful all across the world) although this is set to lapse and will not be renewed. This status was awarded as a result of a legal judgement in the 1880′s, when a London distiller began producing a "Plymouth" gin and plymouth based distilleries sought to protect their name by seeking an injunction.
In this period, it is possible that there were several distilleries producing gin in Plymouth and as such it may have been possible to identify a style native to the area. Therefore, the appellation d'origine contrôlée (or equivalent in that era) was most likely awarded as the result of a decision to preserve the wider, regional, differences rather than a single distillery suing another for creating a similar product.
It's hard to know for sure as no records or transcripts have survived from the other now defunct distilleries that were based in Plymouth – for example, understanding what botanicals they purchased and their sales records may have been able to shed some light onto the wider Plymouth style (if there ever was one).
While we're on the subject of Plymouth's history, it's probably fair to say that a major reason why the distillery fought for their name and their regional style is because they were seeking to protect their sales to the Royal Navy. An important buyer at the time, the Royal Navy rations may have been issued with rum, but officers were all drinking gin. The commercial relationship with the Navy was huge business to British distillers. According to the brand, by 1850 the Royal Navy were said to buying over 1,000 barrels Plymouth Gin a year.
While it was widely accepted that high proof spirit needed to be sold and "proofed" in order to make it aboard ships – it is possible even the term "Navy Gin" emanates from Plymouth distillery. There wasn't a term for high strength gin historically and both the term and sub-category as we know it today, are almost impossible to find in archives. Moreover, despite there being numerous alternatives on the market and numerous defunct distilleries that enjoyed a similar relationship with her Majesty's Navy (based in locations with ports and barracks such as Bristol, Liverpool etc…) – almost all Navy Gin history is completely linked to Plymouth. Much of the truths we take as fact today have been learned from them too, for better and for worse.
Talking to the Plymouth Gin team, it is possible (this part really happened, but no-one knows if the term existed before) that the idea for "Navy Strength" as a style was proclaimed in 1997, during a marketing meeting about how to describe the higher ABV of 57%. The Interbev team (branding consultants who worked on the Plymouth brand from 1997 – 2003) and the wider group of stakeholders decided that it should be placed on the label in order to help sell their heritage and aid consumer understanding about the ABV. Hey presto – the category name was coined…
If you take a look at the old bottles of Plymouth found in their archives – and now perhaps even on Google – it's possible to see a depiction of one of the monastery's friars on the inside of the back label. It was said that "when the monks feet got dry, it was time for a new bottle". In 2006 the bottle's style was changed to an Art Deco look and feel, and this piece of drinking folklore was laid to rest. The image of a monk was replaced with the Mayflower, a ship that retains special significance in the brand's 200 year history, as allegedly some of the Pilgrim Fathers spent their final night in Britain at the Plymouth monastery, before setting sail for the New World. We like to think that they went laden with gin, but history tells us it was probably a different tale…
The Art Deco bottle design Plymouth was sold in for numerous years (around 20) was also a nod to Plymouth's dominance as the gin of choice in many cocktails from that era. A quick look in the Savoy Cocktail book from 1930 and you will see it listed numerous times. It was also favoured by notable individuals such as Winston Churchill and Alfred Hitchcock yet, in the enduring years of neglect at the hands of huge multinationals, it lost much of the momentum it had managed to build up during each spell of careful stewardship and is often overlooked as one of the all time classics.
In 2013, there was a re-design and a more rounded shape given to the iconic gin bottle. The price was drastically hiked up also, seemingly fixing long term issues and under-valuation caused by previous owners. Today – it's finally getting more recognition and despite owners Pernod Ricard not pushing it aggressively, Plymouth Gin has remained a trade favourite and is now growing globally once more.