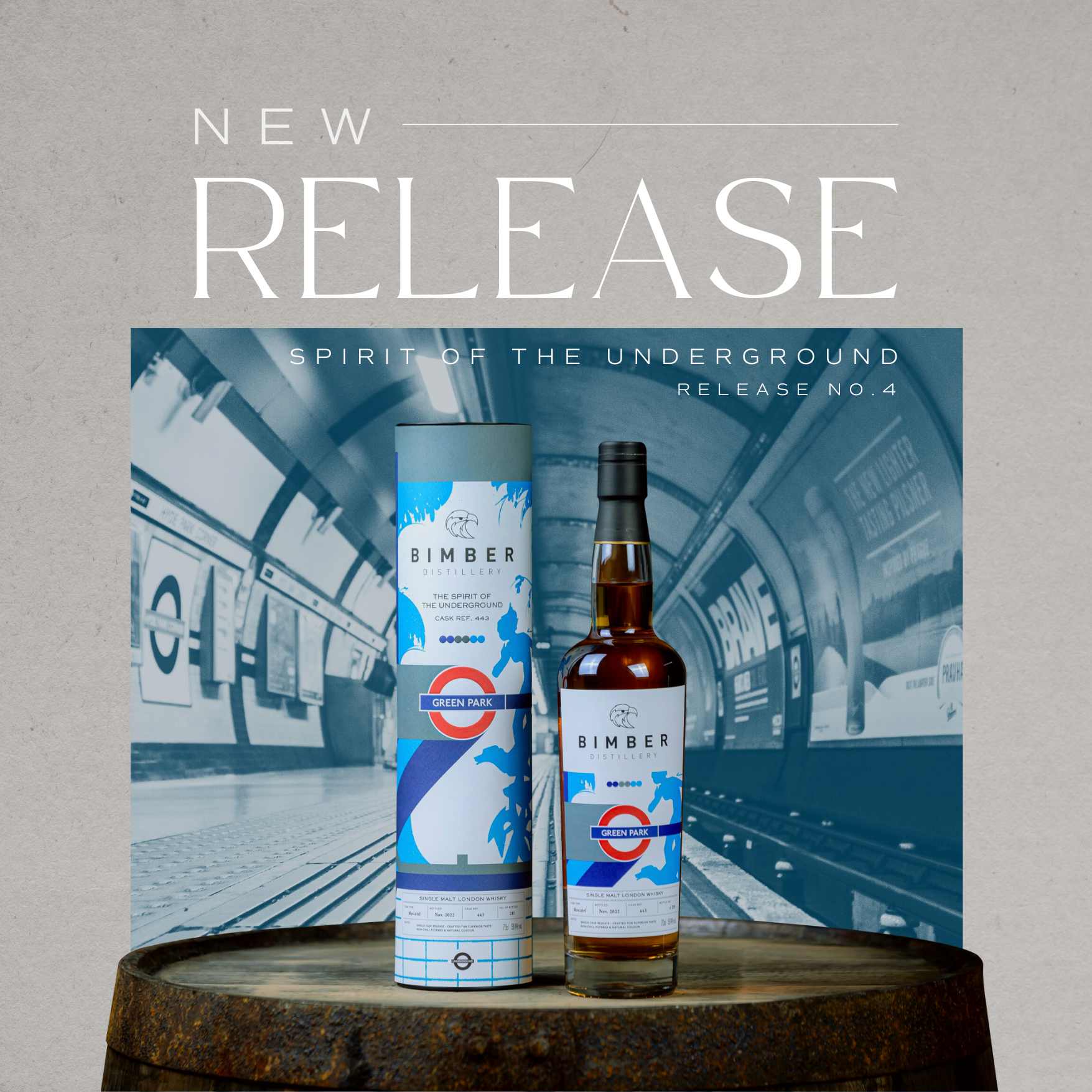 Before we talk about the fourth release for those who've missed the series so far, here's a quick re-cap.
The Spirit of the Underground collection launched in May 2021. It's a series of single cask whiskies from the London-based distillery, Bimber, which each cask named after a different station.
The series is produced in collaboration with TFL, and with two to three sets released each year, is intended to grow to total of 44 individual releases over a three-year period. To put that in context, there are 270 stations on the London Underground so only the iconic ones will be used, something Bimber believes to mirror the nature of the single malt whiskies they are making available for these expressions. 
The series turns heads, not just because of Bimber's growing cult status in the English Whisky scene but because it ticks many boxes – single cask, cask strength, limited edition, familiar London names that transcend into a mass audience and some truly eye-catching designs that highlight the capital's history through creative iconography.
The fourth set is up for grabs next week via a ballot system and in contrast to the fortified wine finishes of Release No.3, the latest bottlings intentionally focus on full-term maturations.
The Packaging
A sea of blue indicates a move to hero the Piccadilly Line and release No.4 showcases four new stations: Covent Garden, Green Park, Leicester Square and Piccadilly Circus. Once again the striking labels and packaging design observes the significance of each station's location.
What we love about the series to date has been the way it shows off the visual language of the tube – it's instantly recognisable as something that references the Underground network, but it feels modern and original. Too often whisky brands play it safe with graphic branding. It really works even when the look is monochromatic (the colours of the lines that each station connects with is expanded across the artwork, meaning some have been bright and multicoloured while others are paired back).
What about the whisky?
Batch 1 saw Waterloo, Baker Street, King's Cross St Pancras and Oxford Circus, which were all ex-bourbon casks. Despite some clear differences in taste and overall profiles - the fact that all four were the same cask type drew some fair criticism at the time. While the discourse was brushed off quickly, the fact that ever since the releases have seen much wider differentiation is a sign that they listened and have evolved. 
Batch 2's quartet were named after Chancery Lane (ex-Madeira), London Bridge (ex-Port) Victoria (ex-rye whiskey) Paddington (ex-Pedro Ximenez Sherry). Batch 3 stopped off at Camden (ex-amontillado sherry), Canary Warf (ex-marsala), Notting Hill (ex-moscatel sherry) and Tower Hill (ex-palo cortado sherry).
Where's the good conductor Bimber got in store at each station this time? 
Covent Garden has been matured in Oloroso Sherry Cask, Green Park in Moscatel Sherry Cask, Leicester Square in Virgin American oak Cask and Piccadilly Circus Pedro Ximenez Sherry Cask. All have been matured full term in casks (no finishes), bottled around the 59-60% ABV mark and there's 280-320 bottles for each "station".
Which bottle of Spirit of the Underground should i get?
Between the flippers salivating at yet another bottle to flog on the next auction and Bimber's weighting system that understandably favours its club members, getting any of these is a slim prospect. But as always with English whisky, it's hard not to get excited about what's inside the bottle and hope to get to know it. 
A return to the emphasis being on American oak via the Leicester Square's virgin cask could be interesting after all the mixed releases. That would allow drinkers to get some insight into the distillery's fruity malt spirit uninfluenced by other factors.
Meanwhile those who've enjoyed / still have the Notting Hill or Paddington bottlings will be able to compare similar cask selections side by side with Green Park and Piccadilly Circus respectively, and ponder their preferences when it comes to cask finishes and full-term maturations. 
Having sniffed and sampled a few at trade shows and events, we've got our fingers crossed for a chance to get a bottle of the Covent Garden. Ex-Oloroso and cask strength is our kind of destination…
Whiskies will be available directly from Bimber's Spirit of the Underground website from Monday 23rd January, via a ballot. RRP: £125 per bottle