Salcombe Distillery have unveiled the seventh release in their collaborative Voyager Series. Each Voyager Series Gin is created in collaboration with a famed chef or winemaker and for this, they teamed up with Michelin starred chef Paul Ainsworth.
The gin is inspired by a dish available at Ainsworth's Padstow restaurant, Paul Ainsworth at No6, which showcases Cornish oysters and features a fennel and apple salad.
To create it, Salcombe created a distillate using milk whey, which is blended with English wheat grain spirit. This is then combined with 14 botanicals, including fresh fennel, Cornish apples, seaweed, blood orange and fresh lime. Once made, it's further blended with oyster leaf and seaweed distillates and cut to bottling strength.
Expect a certain saline saltiness from oyster leaves, fresh acidity from of green apples, soft aniseed notes from fennel on the finish. 
The innovative Aberdeen based distillers Lonewolf have launched a tropical gin with a little bite… 
Following positive feedback from a white peach gin that was included in the Lonewolf 12 Gins of Christmas advent calendar, the distilling team played around with complementary flavours, finding that passion fruit added bold tropical notes and yuzu dialed up the citrus bite alongside grapefruit and lemon peel.
Promising an "exotic flavour experience", the gin has summer written all over it. Thankfully, it also keeps the underlying gin's classic juniper backbone intact.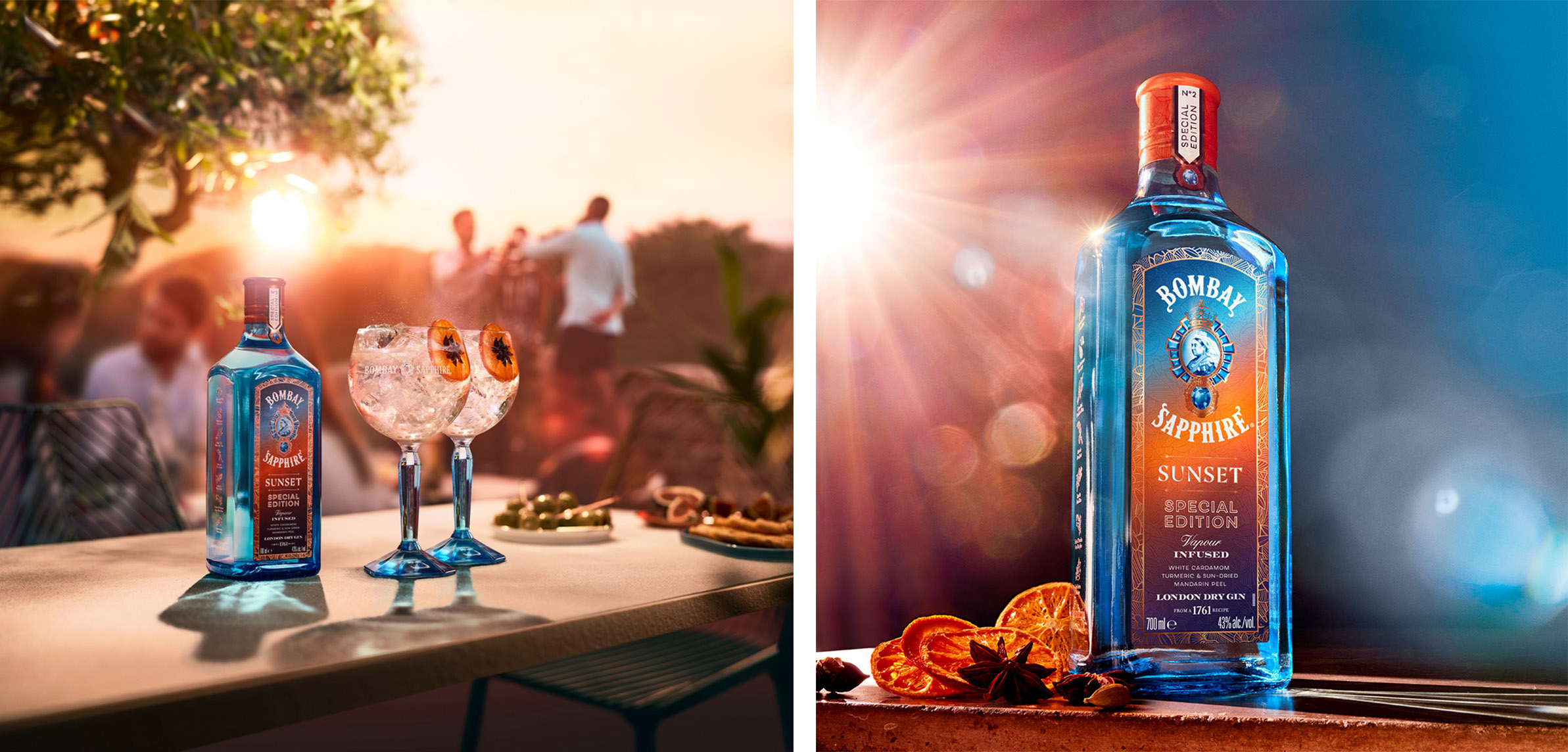 Following the launch of English Estate in 2019, Bombay Sapphire have released their second Special Edition, Bombay Sunset Gin.
The new gin is said to be inspired by the mellow heat and orange glow of the setting sun and balances the spices of the cardamom and turmeric together with bittersweet sun-dried Spanish mandarin.  
It's subtly spiced from start to finish, with turmeric on the nose and grains of paradise and cardamom on the finish, while the mandarin helps the other citrus already in the gin to add levity. Serve it with a sliver of orange and if you are feeling adventurous, add a star anise for a truly exceptional flavour.
Find out more: Bombay Sapphire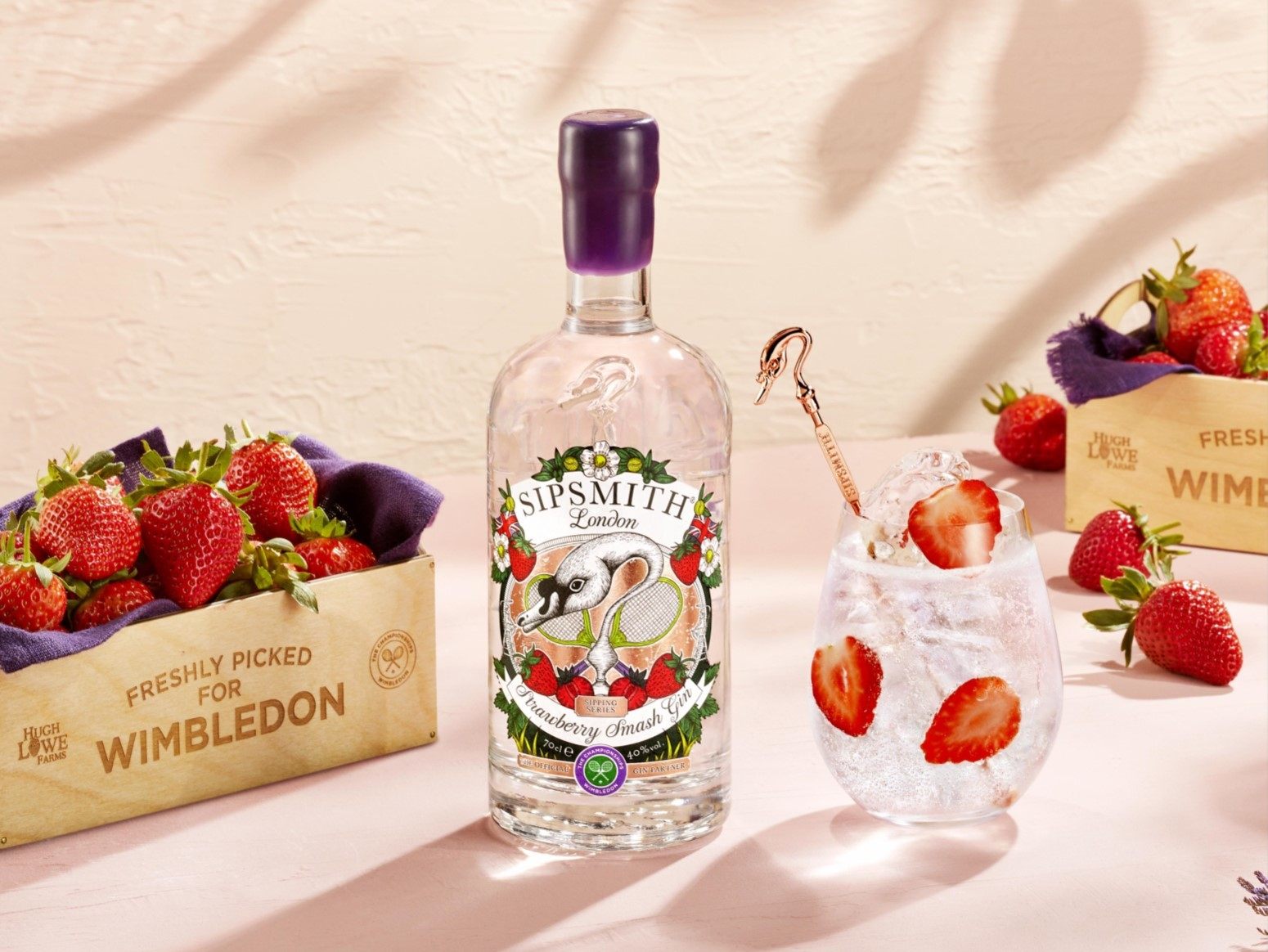 After an overwhelming response from the brand's Sipping Society members when it was first trialled, London based trailblazers Sipsmith decided to release their second Sipping Series gins, Sipsmith Strawberry Smash.
The London Dry Gin is distilled with the 2020 strawberry harvest from the exclusive strawberry grower for Wimbledon, Hugh Lowe Farms as well as English mint and other seasonal botanicals. We found that the fruit gave a plump sweet tone to the nose, only teasing at strawberry while verbena and mint were more evident. To taste, it begins with more strawberry leaf than fruit, but as the ice melts it opens up into an altogether more fruity affair. Garnish with a load of sliced berries to bring it out and you'll have a perfect way to toast the return to court in a few months.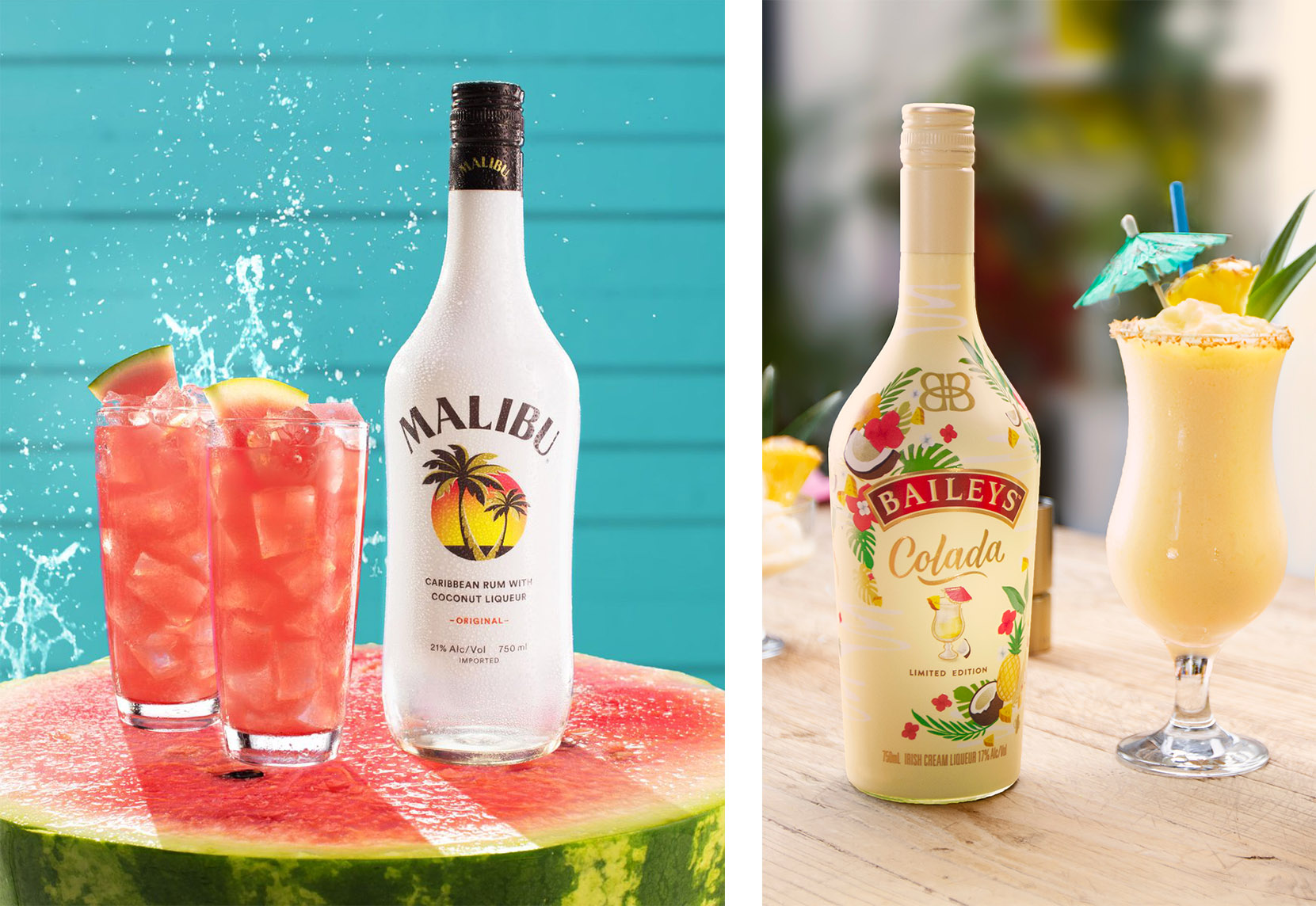 Suns out and things are getting TROPICAL… 
Joining the brand's existing duo of Strawberry and Pineapple, Malibu have added a Malibu Watermelon flavoured variant to their range. It packs a fruity burst of watermelon flavours alongside notes of tropical Caribbean Rum - fans of Malibu have a new drink to explore and enjoy this summer.
Meanwhile, Baileys has launched a new Pina Colada edition, which features Baileys Irish cream mixed with tropical flavours including coconut and pineapple. If you like the sound of baileys and Piña Coladas being fused together, you are in for an indulgent treat! Expect creamy coconut and sweet, juicy pineapple to create a smooth and creamy drink that's ready to serve straight from the fridge.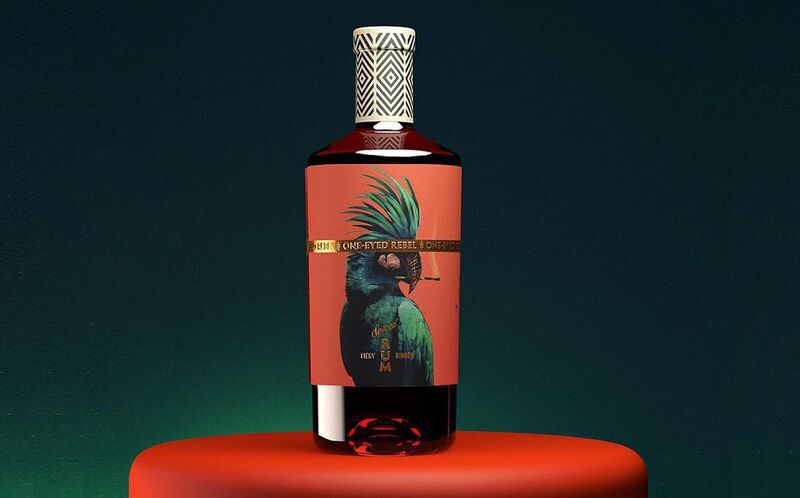 Spirit of Manchester Distillery have expanded from their Gin-only range and begun their journey into Rum.
The Spiced Rum, named One-Eyed Rebel, not only catches the eye in its brightly coloured bottle featuring patterns inspired by bone-inlaid furniture, it's set to ignite the senses with fiery ginger spice and rich cassia too. One for warm summer days and long drinks!
Haig Club Mediterranean Orange has landed across British supermarkets and hopes to provide an 'accessible option' for both whisky fans and non-whisky drinkers.
The bottling has a citrusy-floral quality, leading to more juicy orange, fresh peel and orange blossom notes. The orange blossom extract used in particular really adds a lively nose on top of Haig Club's signature Scotch whisky notes, making it a lovely choice when served in a Summer Spritz.

Irish distillers Middleton have released a beauty of a limited-edition release, Method & Madness Mulberry Cask. The Whiskey was initially matured in traditional oak ex-bourbon casks, then finished for between three and eight months in 50 litre Mulberry wood casks. 
There's toffee apple and pine nuts on the nose, sweeter fruits (apples, pears) to taste leading to lingering fruits and pronounced wood spice. One to seek out!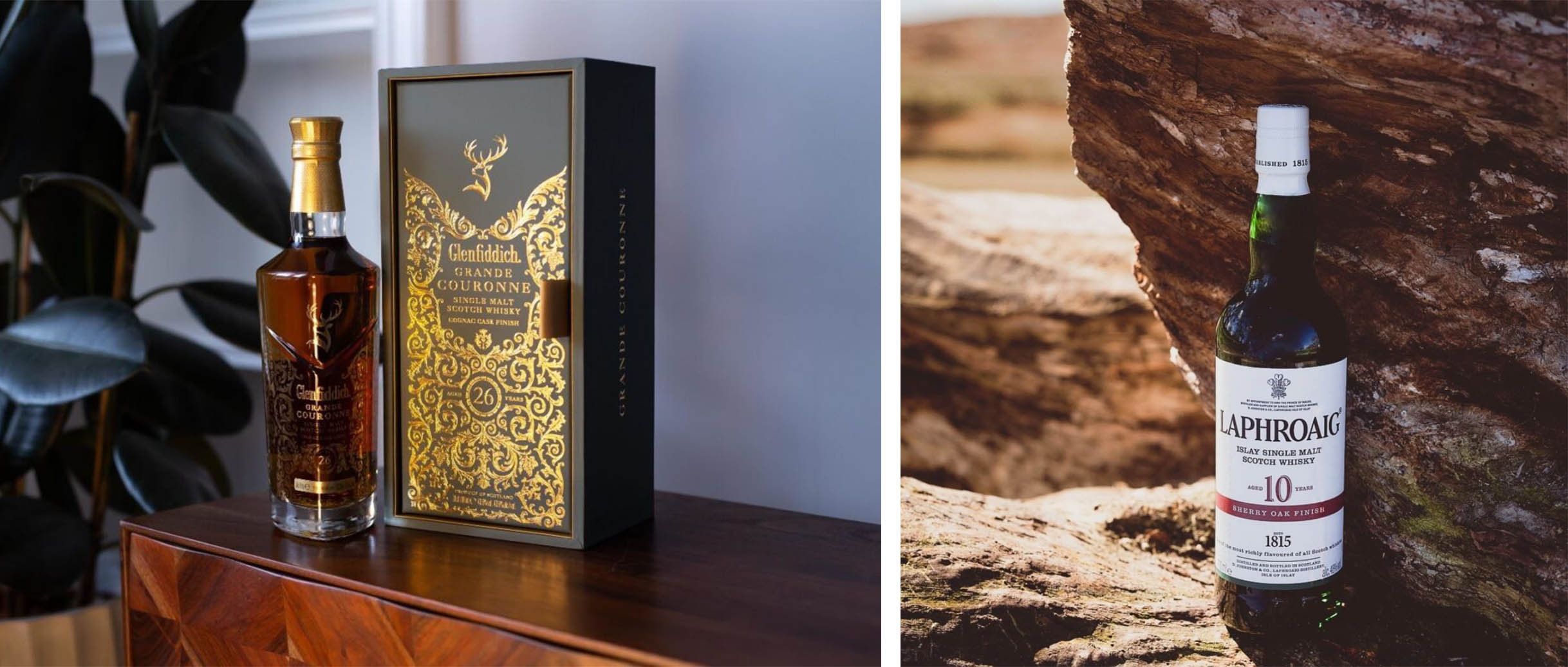 Peat fans are rejoicing after the iconic distillery Laphroaig released a new expression that combines the unforgettable flavour of the distillery's much loved 10-year-old whisky with the sweet, aromatic flavour from Oloroso Sherry casks. 
The marriage of casks creates rich, full-bodied flavour with notes of Manuka honey, bacon, and maple syrup alongside the classic smoke and medicinal salty seaweed that Laphroaig is best known and loved for.
Glenfiddich have continued their run of form with yet another fantastic release. This time, they unveiled Grande Couronne, a 26-Year-Old whisky matured in American and European oak casks, which then had an extended finish of up to two years in French Cognac casks.
Grande Couronne is the latest addition to the Grand Series, a range of limited editions that encapsulates Glenfiddich's spirit of innovation and their ability to experiment with aged liquid and intriguing finishes. The unusual two-year long finish for Grande Couronne adds extra layers of sweet-toasted oak and velvety aromas of café crème, brown sugar and soft spice.
Find out more: Glenfiddich Distillery // Laphroaig Distillery

Last but not least, commuter cans and picnic drinking got an upgrade last month, as famed Aperitivo and vermouth producers Martini announced the launch of three new ready-to-drink expressions. 
The big citrus notes from the orange peel are clear in the Martini Fiero & Tonic, while the zero ABV Martini Vibrante & Tonic leans towards more bergamot perfumed citrus and the Martini Floreale & Tonic is, as the name suggests, more floral in nature.
Find out more: Martini