Without a doubt, Tequila and Mezcal has been a standout category in recent years. Perceptions are evolving and with it encouraging the genre to break away from the inordinate shot culture and to stand confidently as sophisticated and versatile spirits. 
Even though we have only just opened the doors to Spring, so far 2022 has not been a disappointment! New releases, collaborations, rebranding, and designs continues to solidify the category's thirst for innovation and creativity. Along with a returning sprinkle of celebrity controversy, because where would we be without the help of famous folk… 
If you find yourself eager to experiment with Tequila and Mezcal but don't know where to start, don't forget that La Piñata is taking place at Tobaco Dock on the 7th May. Expect to be greeted with tastings, discussions, and with dozens of producers all in the same place at eh same time - it will be a great place to learn, sip and savour whilst being entertained by some of the most passionate Agave advocates in the world.
Here's a roundup of the best Tequila highlights so far this year.
LAUNCHES AND RELEASES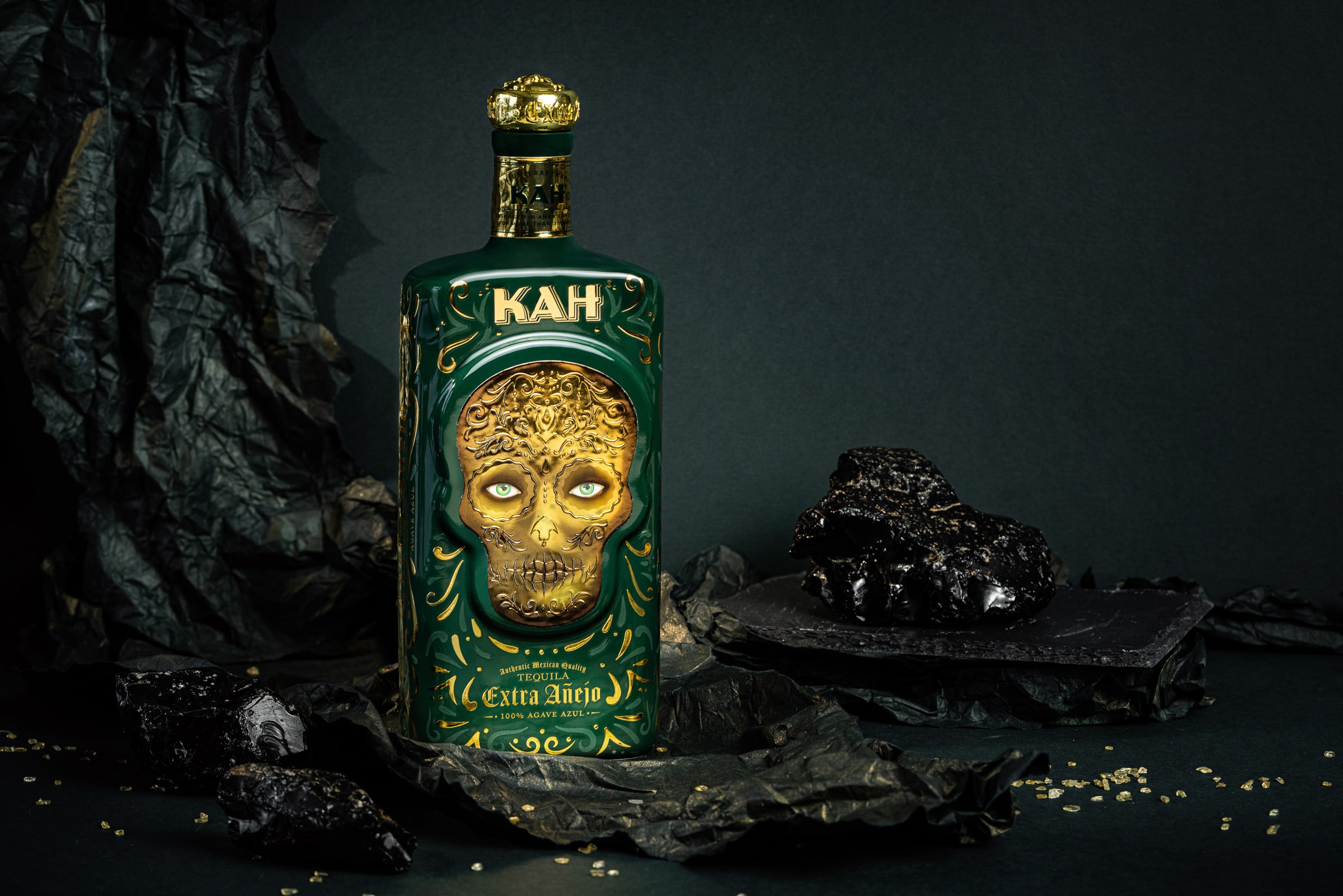 Kah Tequila's New Extra Añejo
Although the new release of Kah Tequila's New Extra Añejo exhibits a very different bottle, this stunning break in consistency sparks excitement for Kah's growing portfolio. 
The new expression is held in a rich emerald enamel clay bottle, adorned in gold accents to re-enforce Mayan eternity and fruitfulness. But the most intriguing feature is revealed as soon as you lock eyes with the bottle. The phosphorous ink illuminates the striking features of the calavera skull that allows the brand to take a step in a new direction, whilst also paying reverence and honour to Mexican culture and tradition. 
The Extra Añejo is matured for 3 years in American oak that captures a marriage of pungent pepper and smoked wood, with a honeyed sweetness of vanilla, maple, and caramel.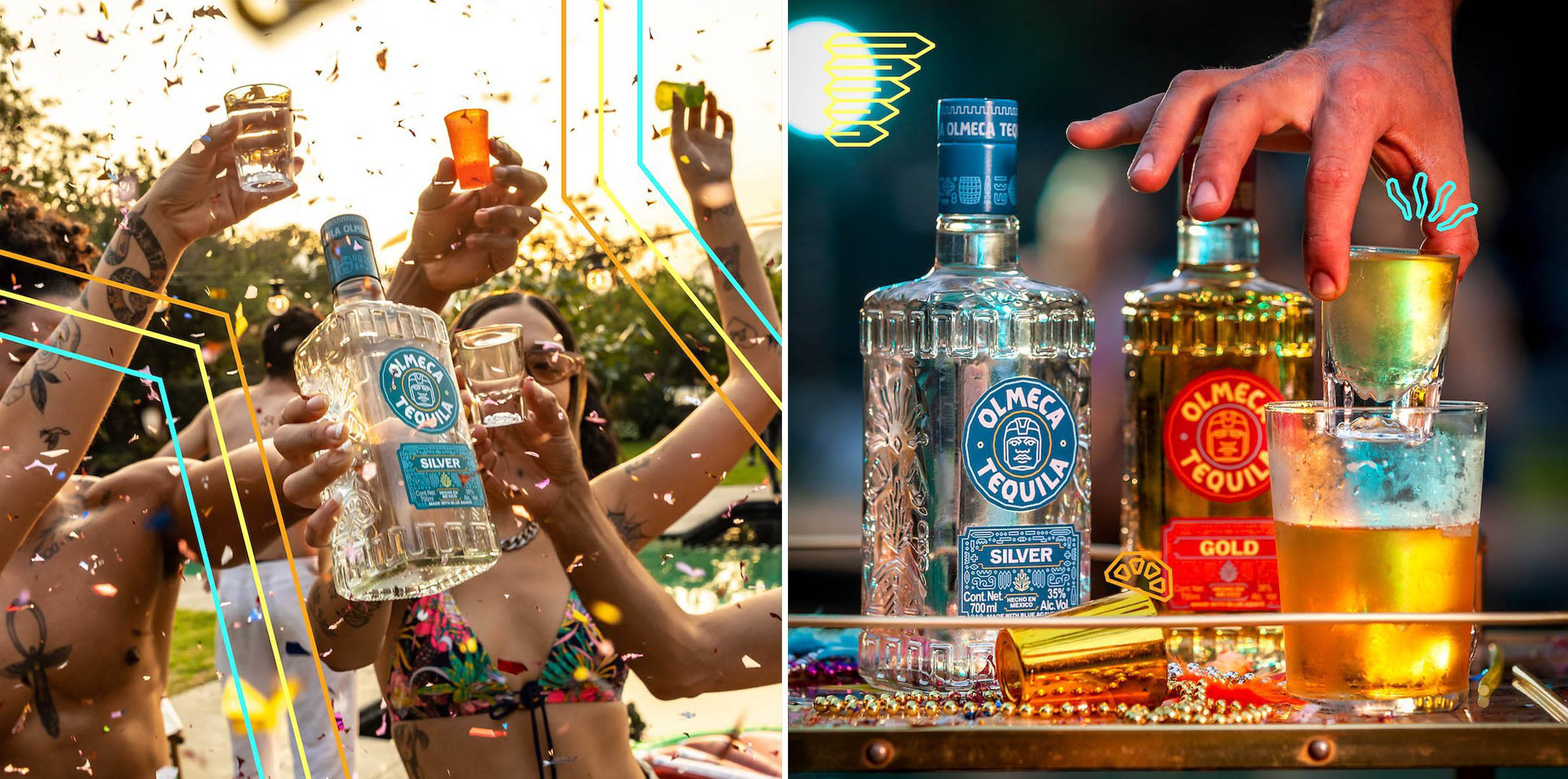 New look Olmeca
Olmeca Tequila has been showing off their new face lift with across-the-board redesigns of their bottle. 
The new labels expose a shift away from rather mundane branding, towards a cleaner and more refreshing design, that continues to pay tribute to the Olmec Civilisation. The much-needed makeover blends Mexican heritage with modern interpretations of glyph-like engravings.
It also shows direction of travel - showcasing the spirit's affair with 'occasion drinking' that celebrates a younger target audience. However, Olmeca seems to now be caught a little on the fence… One hand is holding onto tradition, with the other grasping onto the millennial party lifestyle. The result is that by honing in on late night entertainment the brand's website and social media camouflages the intentions to keep the culture in the forefront of their profile. I'm not going to call it a misfire just yet, but it's definitely at that awkward stage between one and the other.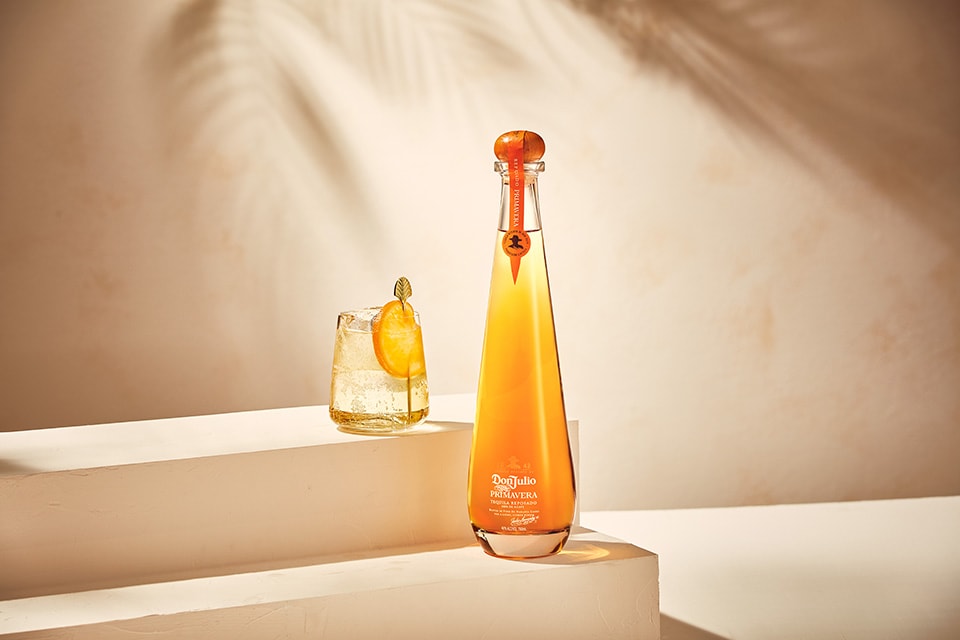 A Debut for Don Julio's Primavera
Don Julio is a beacon for young brands grinding towards a desirable reputation of prestige and grandeur. 
Many consumers see Don Julio either as an investment, a present or maybe a prominent collectible. Established notoriety however is not an excuse to sit back and relax and Don Julio's Primavera is defending the brands innovation. 
The limited-edition expression is on par with the existing unparalleled portfolio, where the reposado is finished in macerated orange peel wine casks. It weighs in at 40% ABV, and the liquid delivers a 'flawless balance of honeyed agave, a hint of spice and a light citrus finish'. You might be wondering how an 'orange tequila' is meant to be drank? We did too but to be fair - this is where Don Julio offers up a simple serve to preserve the brands elegance, by combining the Primavera with club soda and a Cara Cara orange wedge. Perfect for the warmer months ahead. 
Clase Azul's Master Artisan Collection
At one-point this year, Clase Azul's partnership with renowned artisan Ángel Santos, painted TikTok feeds, decorated Buzzfeed thumbnails and coloured Instagram stories persistently. Whether this was a result of the delicately stunning craftsmanship or the $5000 USD price tag, the ceramic bottle sparked huge conversation. 
The Master Artisan Collection defines the brand's deep-rooted commitment to celebrating local artistry, featuring a partnership with Santos who has enchanted Mexico's cultural and artisanal scene. 
Yes, a stupidly expensive product that exhibits 'click-bait' designs would normally be perceived as another company thirsty for profit, however Clase Azul wears its origins and story proud. Therefore, it feels only right to collaborate with an artist who safeguards and promotes a systematically appropriated culture. 
Each of the 300 decanters are hand-painted over 10-12 hours, as a tribute to the 'essential elements of ceramics (water, earth, air and fire). The litre bottle is covered in symbolic composure with long-plumed pheasants representing wealth and prosperity, and five and six petalled flowers that embodies the 'cradle of ceramics' in Tonalá, Jalisco. The liquid inside is aged for 64 months in ex-bourbon casks, followed by 41 months in 3 different sherry casks. Viridiana Tinoco, Master Blender at Clase Azul explains that the subtle yet delightful flavour marries the complexity of orange, toasted wood and tobacco. A formidable package overall.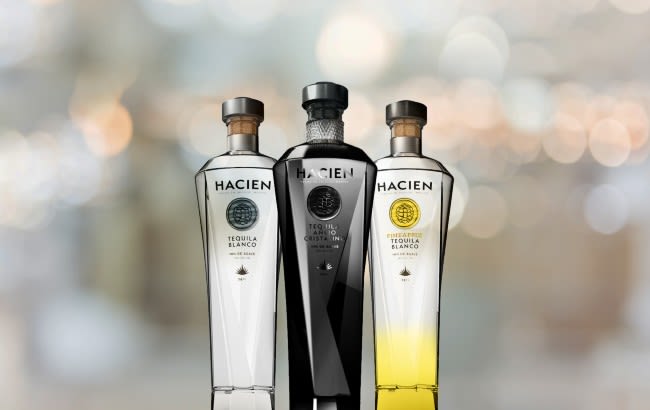 Hacien's imminent arrival 
Stemmed from witnessing the boom of vodka and gin, co-founders Seb Francis and Jordan Myers saw an opportunity to revolutionise tequila and ran with it. 
Hacien is built on a passion to create an approachable tequila worthy of the UK market. After raising 500k to create a range of smooth sipping tequilas, their brand development, marketing, and production is well under way. Despite the website still advertising illustrative interpretations of the Tequila Blanco, Pineapple Tequila Blanco, and Tequila Añejo Cristalino, Hacien are determined to shift people's perceptions of the category. 
However, with influential brands still competing to be the 'go to' shot brand and the celebrity scene still rampant - smaller brands like theirs wanting to make an impact to the category's status, may become overlooked in such a saturated market. I've got a feeling that they'll manage to gain the traction they are looking for in no time though – and besides, liquid quality is what will define long term success anyway
CELEBRITIES AND TEQUILA 
In the realm of celebrities, Tequila and social media, controversy and appropriation never appears to be too far behind…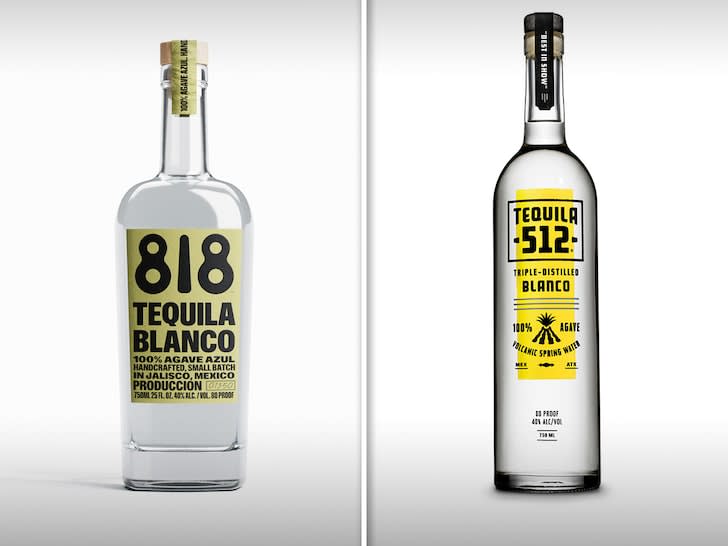 Kendall Jenner's 818 Trademark lawsuit
818 Tequila has been consistently in the news again in the first few months of 2022 for what seems to be an oblivious attempt to remain aware and respectful of other brands. But as we all know, bad publicity for that famous family can quite easily be swept under the carpet. 
This time, 818 Tequila is facing a copywrite lawsuit from the Texan brand, Tequila 512, due to trademark infringement, false designation of origin and unfair competition. A statement from 512 claims that '818 intentionally and blatantly copies', and I must admit I am finding it hard to disagree.
Similarities or 'stolen duplications' as I see it, starts with the cloned black text, yellow packaging and the area-code inspired name, with a finish that trickles all the way down to production…in the same distillery. Maybe Kendall is practicing the old philosophy of 'keep your friends close, but your competitors closer'?
Despite backlash with cultural appropriation late last year, with a famous face behind a brand that is ingrained in reality TV, 818 Tequila capitalised on popularity and coverage to sell 136,000 cases within the first 7 months.
Irrespective of it's success it's easy to see why it's the subject of such furore as looking in, all the reasons celebrity tequila irks people is on display. Click on 818's website and BOOM a blown-up Kendall Jenner welcomes you and is found many more times before you have even scrolled halfway down. In the website's opening video, Jenner talks about the 'traditional methods and traditional brick ovens that bring us such an amazing flavour'. The video could be quite informative for newcomers but the scripted walk throughs of the distillery gives the impression that the words may have been recited many a time, despite being the face of the brand. Through artsy videography, Kendall explains that it is 'super important for 818 to stay as traditional as possible', but no matter how many times you repeat the word 'traditional', the representation of culture, community and environment should be prioritised over posing next to a pile of Piñas.  

Even celebrity brands that aren't surrounded in controversy, like George Clooney's Casamigos, have an ingrained sentiment that overlooks the heritage and culture that the production of tequila is built upon. Yes, there may be several photos of George charmingly sipping his tequila, perched on the agave plant, surrounded by local Jimadors, and having a splendid time. But look again at the raw image and it's clear that they blatantly erased the Jimadors out of the frame entirely. 
It's a tried and tested method of marketing and combine this with the financial advantages of a celebrity owner and brands like Tequila 512 never would have had a competitive chance even if they hadn't been (allegedly) infringed.  
Teremana unites with Jägermeister
This year we also saw Mast-Jägermeister evolve from being The Rock's exclusive distributor since the first release to now owning a stake in Dwayne Johnson's tequila, Teremana. It's an exciting progression in their relationship and as a result Teremana's international profile will only accelerate. 
Yes, having a celebrity face behind a brand amplifies awareness and acts a megaphone for generating new consumers, but to sustain a brand's relevance and drive sales you need a solid route to market. You need commercial noose within the drinks industry. You need massive distribution and an understanding that outside of the US, celebrity culture does not resonate as strongly and will not get you the sustained sales you need. 
With Jägermeister's new relationship with Teremana that covers marketing and logistical strategies for organisational structure, Michael Volke, CEO of Mast-Jägermeister thinks it is time to make the brand a global competitor for the category. Let's see if The Rock can double the already impressive sales to 640,000 nine litre cases this year as easy as he raises his eyebrow… Personally, I think it's on. 
International Wine & Spirits Competition
With over 4000 spirits from over 90 countries entering this year's IWSC, a standout that seems to have flourished in this year's judging was Tequila and Mezcal. 
3 Tequilas and 6 Mezcals were awarded Gold and Gold Outstanding this year and the spotlight was not just centred on iconic brands like 1800's Añejo Tequila, but refreshingly, on many emerging mezcals winners like Mezcal Amores and Casa Lumbre as well. 
Who came out on top and must now skyrocket up your must try list? 
The category winner was 1800 Milenio Extra Añejo, finished in the Cognac barrels of French Oak. The judges described the tequila to have "exquisite varietal typicity with apple sweetness that is underpinned by toffee, humidor, and leather on the nose. A judicious balance of oak with an abundance of prunes, dark chocolate, and nuts on a drying palate". Yep. Time to add that to basket…
Medals aside, it just goes to show that Tequila and Mezcal is a category to keep an eye on, and that we may just see an upcoming boom that could send drinkers into a smoky cocktail frenzy! Congrats to all who took part – and the other Gold and Gold Outstanding winners like Ojo De Tigre Mezcal, Artenom Seleccion de 1579 Tequila Blanco, El Recuerdo Mezcal Gusano and Joven, San Cosme Mezcal and Corte Vetusto Mezcal Espadin!