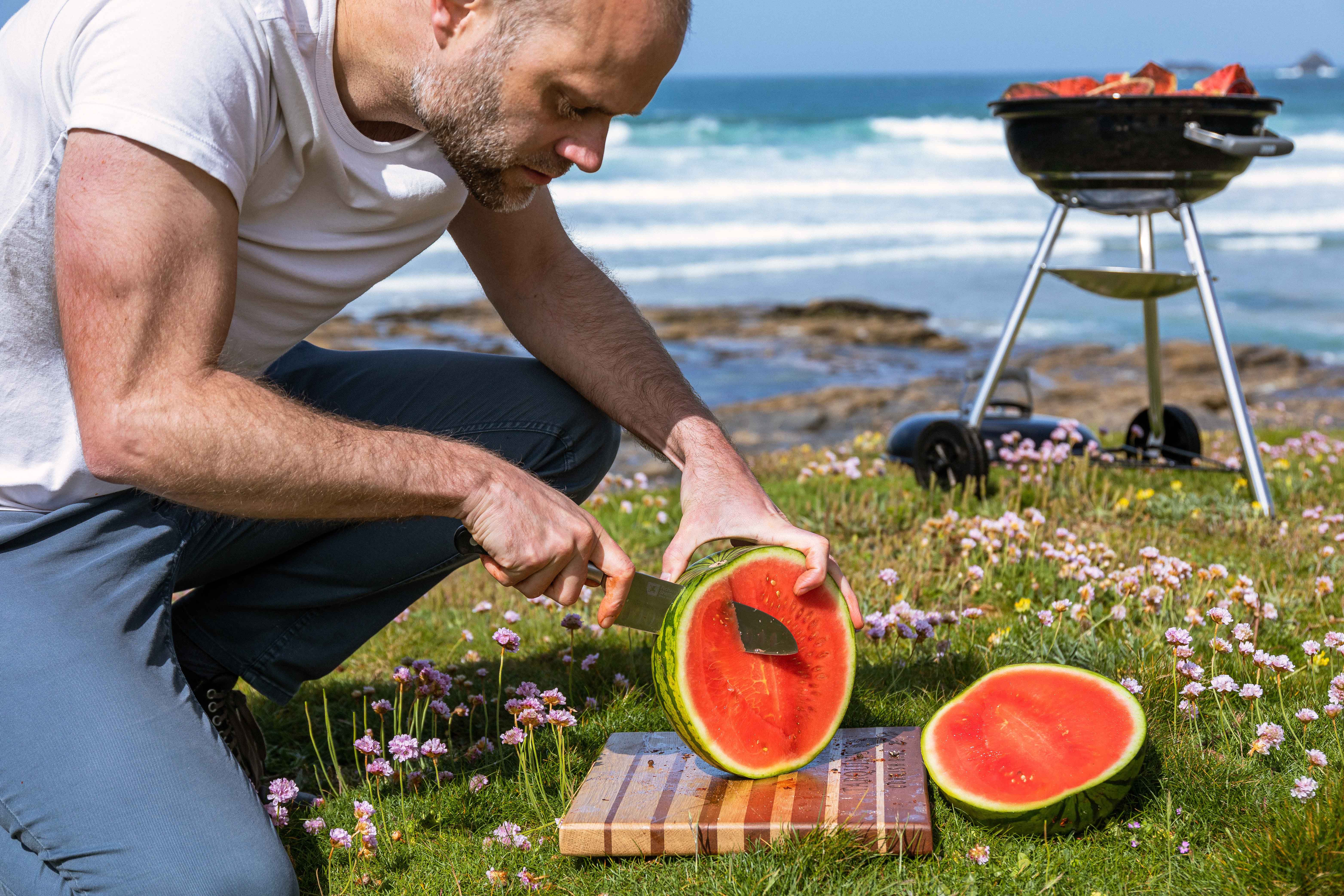 Watermelon is a glorious fruit. It's so refreshing and the epitome of summer. Is there a happier slice of joy that can be found on a plate or emerge from a cool box on the beach?  
It goes with everything too – with basil in a salad, with lime,chili and fish, or even infused in a Negroni – it's a summer must-have and a mainstay over August. If you want to really take it to the next level however, let me introduce you to what I think is the best way to enjoy it: Jerk Watermelon.  
I'll grant you that's a strange concept but stick with me. 
To make it, you cut it in half, remove the rind and rub as much fragrant spice onto the juicy red beast as you can. Pat it down and stick it in a smoker for a few hours. It absorbs the whisps of wood, the edges bubble and caramelise in the heat and the spiced rub chars into a husk sealing in the marvellous melange.  
It looks epic but don't take too many peeps and keep that smoke pumping in. It'll be ready soon. 
Cutting into it feels a lot like carving a tender meat but take a bite and fruit and aromatic juices flood your palate. It's a beautiful thing and made all the better with a crisp G&T. If you are hosting a BBQ, it's a real showstopper and the ultimate way to elevate a cheeky slice into a gourmet experience. 
And so, when we got the chance to collaborate with Tarquin's again it was the very first thing to pop into my mind. Beaches, barbeques, summer – Jerk Watermelon could be the vehicle to bring them all together.  
A few eyebrows were raised. There's no escaping the fact that it's a weird idea.  
But when the distilling team shared real concerns over what would be possible and that it would be hard to do – it sealed the deal. A technically difficult distilling challenge, a different take on fruit gin, a genuine love of the base ingredients involved and a unique profile – we HAD to do it and the collab was on.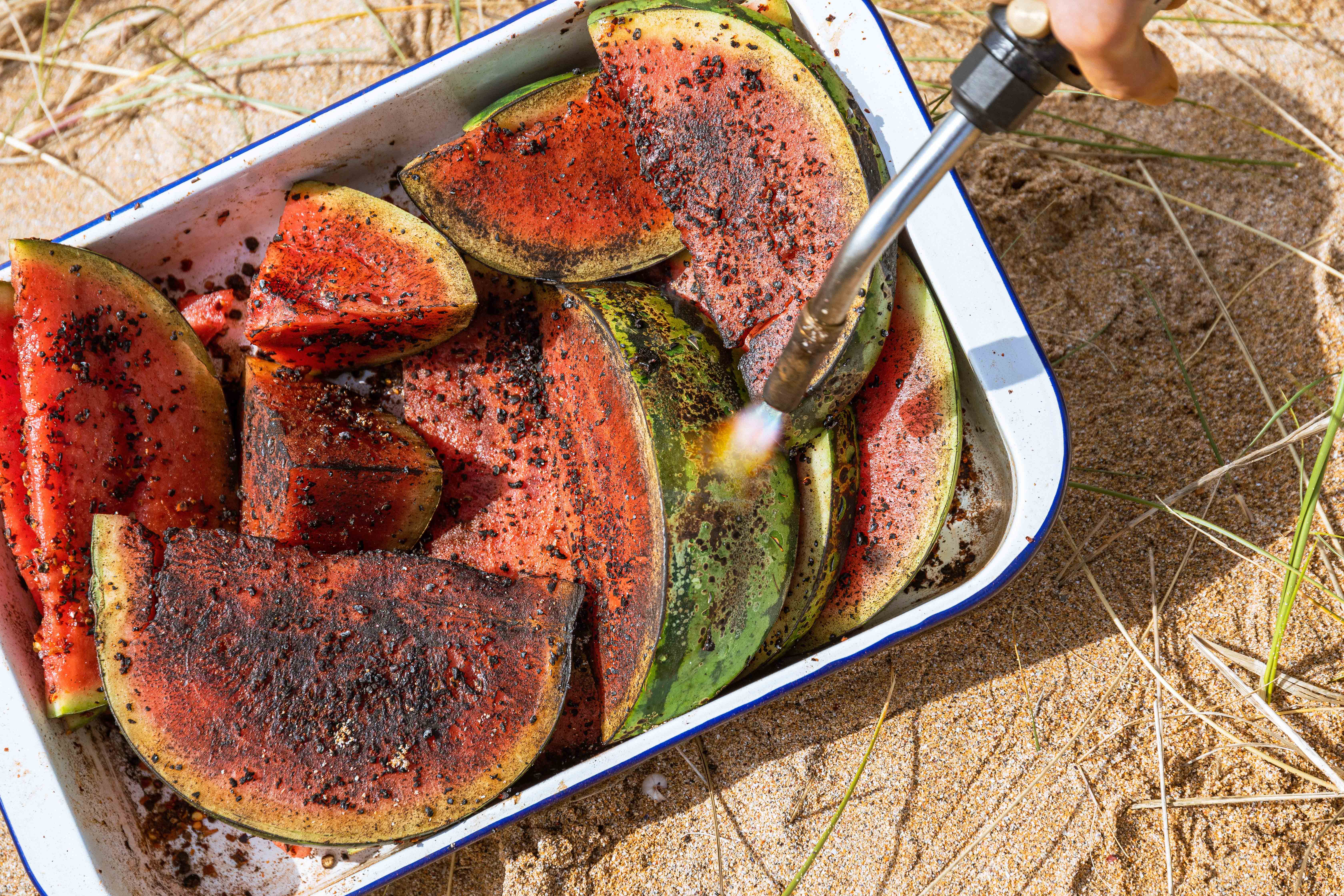 The watermelon trials… 
Watermelon has got a distinct taste. It's fruity and fresh combining bitter tones, sweet qualities and seemingly out of nowhere, a sour twang. The rind smells like cucumber, the flesh is more zesty orange while the juice is tropical yet crisp. It's a total oddball. Add a bit of salt in the form of sea water and it becomes far sweeter (and a big reason why it's at its best after a dip in the ocean). 
It's also mostly water so the flavours and the variations are quite nuanced and remarkably hard to capture in their full complexity.  
Just as they predicted, the distilling team found capturing the fruit a demanding challenge. But here's the rub (pun intended). We never set out to make an out and out watermelon gin. We set out to pay homage to the fruit, inspired by the jerk watermelon. It's as much about barbecues and the way the fruit evokes a sense of summer and memories of the beach. We didn't need a watermelon bomb. 
They charred chunks, roasted it in ovens, reduced juice, distilled spices, smoked, poked, sliced and diced in the name of research. And fun – it's a distillery in Cornwall after all…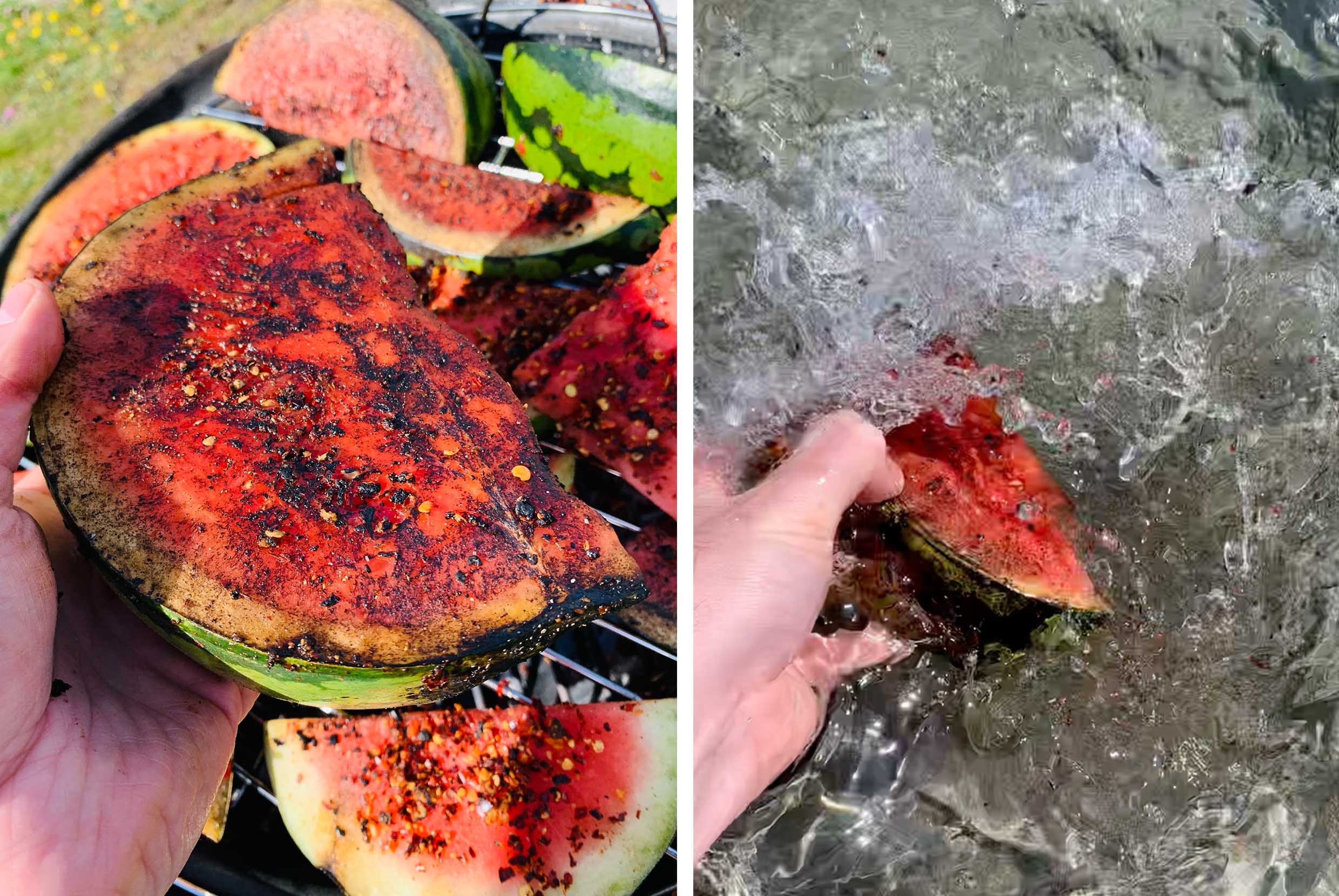 In the process, some key positions were formed. Juice isn't that helpful for flavour. Charring fruit is great way to carry the smoke and transfer into a liquid. The spice isn't carried along in the same way and needs separate treatment on top of being a part of the watermelon infusion. That lead to discovering that Chili makes a spectacular botanical distillate with all the deep flavour but none of the piquancy. 
It also become clear that infusing all this scorched fruit makes a brown liquid, not a magnificent red and if we wanted that, the colour would have to come from elsewhere. And not that anyone feels remotely sympathetic - that watermelons are very heavy.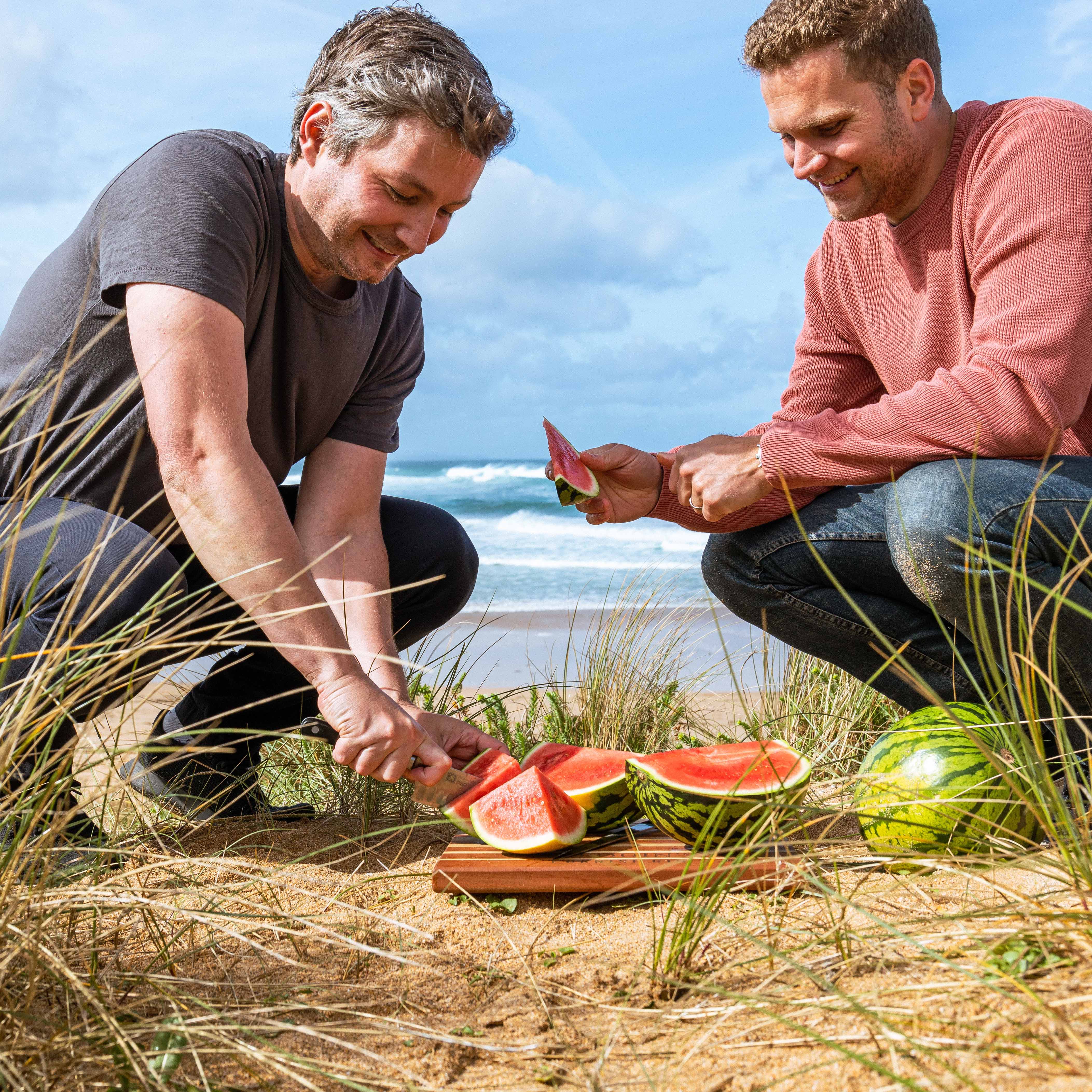 How is it made? 
The idea of making a jerk watermelon and sticking it in some booze is a lovely idea, but it would never have achieved the flavour we wanted. To produce the end vision we all aspired to, the team had to deconstruct each component in order to rebuild it in a way that translated correctly once in liquid form. 
The first big decision was to pick the base gin. Seadog seemed the obvious choice as not only does the recipe have a bold profile that would not capitulate under all the flavours we were about to layer on top, but the flavours are also really well suited to the addition of spiced watermelon. It has a caramelised orange, deep pine and a warming nip on the finish. Adding watermelon is complementary to the front and heart of the profile, while the spice mix would tether in nicely to what's already in place.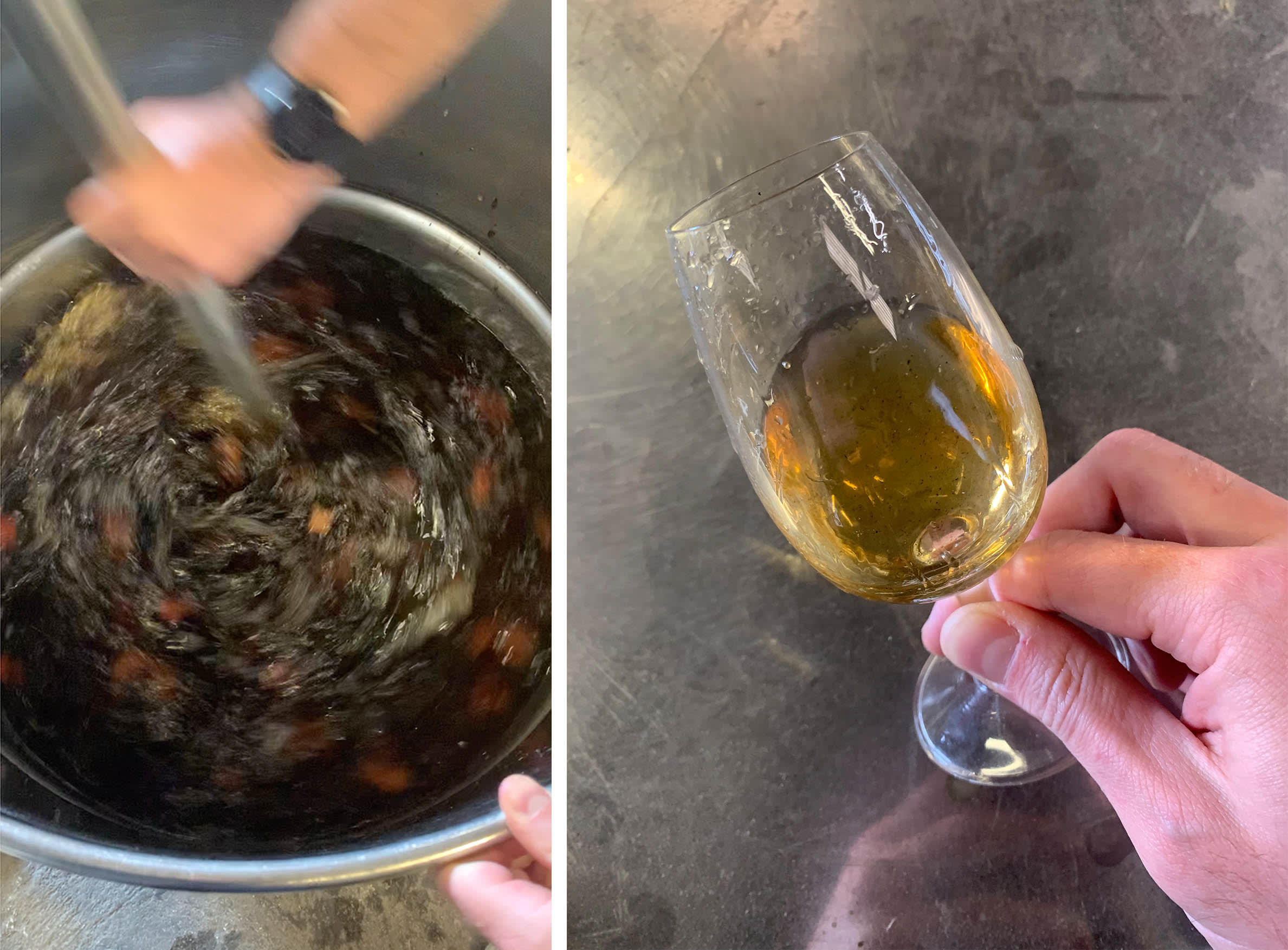 Seadog Navy Gin was infused with the full spectrum of watermelon imaginable. 
The blistered rind, pith and fleshy fruit of barbequed watermelon chunks, concentrated extract, juice and all. Separately, spices are individually distilled (including Cayenne pepper, paprika, cinnamon, cloves, nutmeg, black peppercorns and Chipotle chillies) and then blended into a mega mix.  
The infused gin is filtered, carefully blended with the spiced distillate mix and balanced out with even more Seadog gin. And we then had a lightly-coloured amber gin that tastes incredible – but doesn't look anything like watermelon... nor ever going to a be a consistent hue between batches. 
So we added a touch of cranberry extract to tilt the colour saturation towards red. Not enough to taste, but enough to make sure that it all looks uniform and allows drinkers to understand that a watermelon infusion had taken place.  
By deconstructing each part of the profile and building it block by block, they managed to create an end outcome that could be interpreted by drinkers as a simple idea – a Spiced Watermelon Gin.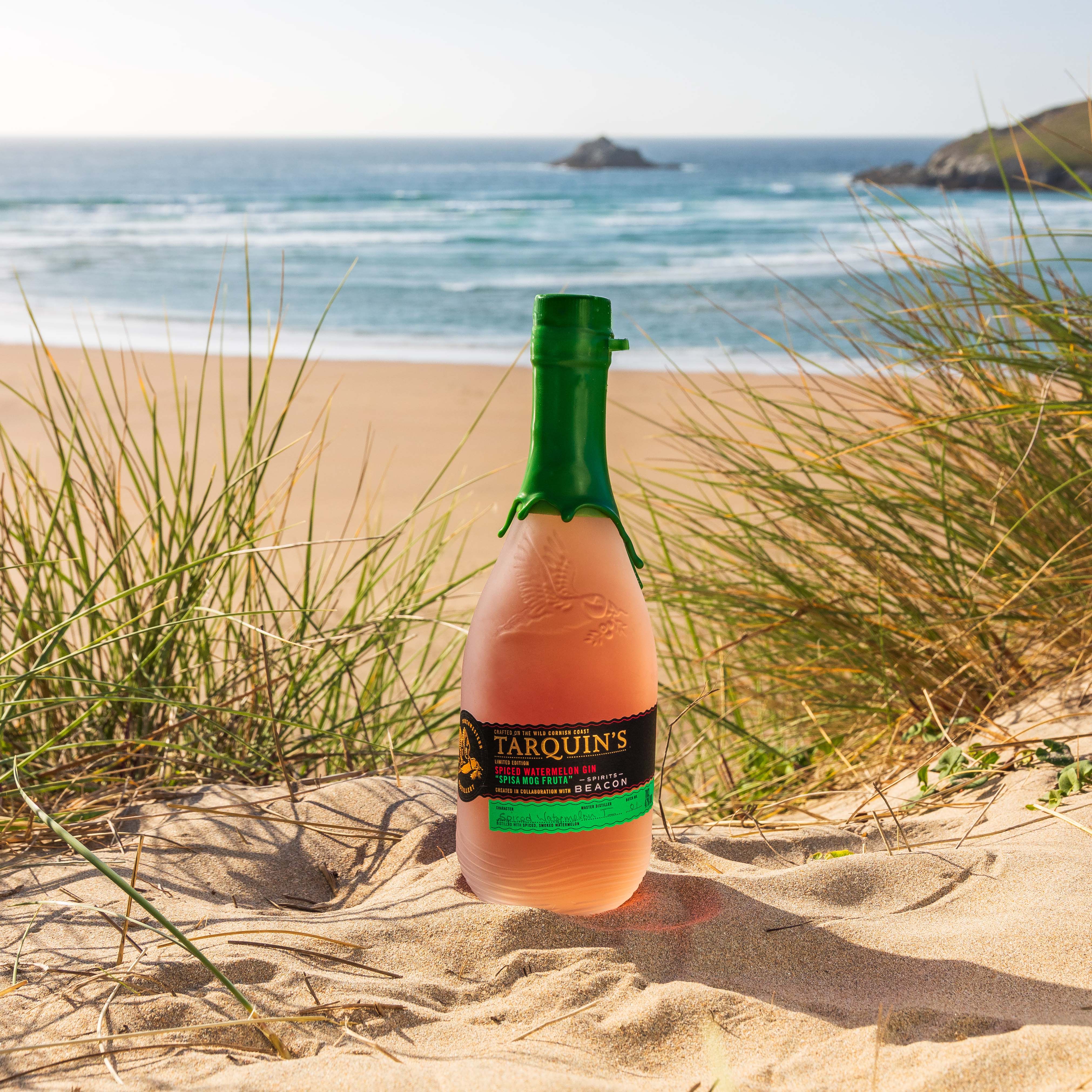 So what does it taste like? 
Neat, the nose has a charred fruit vibe going on. You'd be hard pressed to state watermelon with certainty, as it's as much candied orange peel and tropical fruit while the woody tones of juniper surround it with sticky pine and smoke.  
To taste, the woodsmoke lashes at the tongue straight away. There's bunt fruit rind and seared juniper. If you are familiar with underlying Seadog Gin, the same sequence unfurls; citrus, resinous pine, warming spice but here it's joined by a fruity shadow, teasingly veiled by a layer of smoke.  
Add tonic and the fun cranks up a gear. Watermelon floats to the surface, bobbing away with tangy waves of intensity while the chili adds vegetal depth to the fruity tones. The fruit leads the barbequed profile, the spice dials down while juniper remains omnipresent. 
On the finish, the spice lingers. And lingers. And lingers. And probably some more – but I always take another sip by that point. I love it neat, but it's a banger in a Negroni.  
Is it a flavoured Gin? 
I have real concerns with the term Flavoured Gin. I often use it as it describes a genre and drinkers have come to embrace it as a category of its own. But I'm loathed to, as all gin is by definition "flavoured".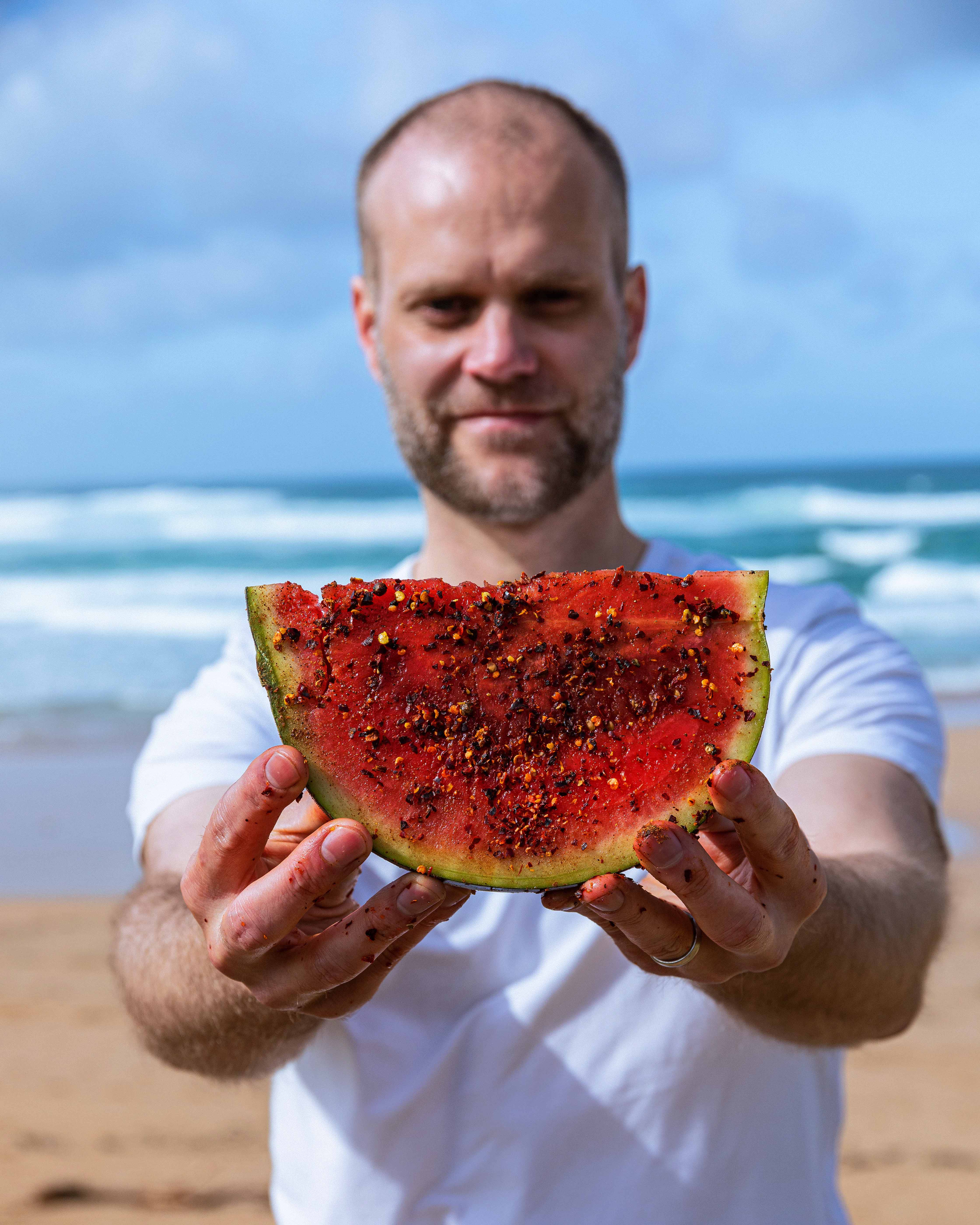 The term does two things, it implies that Dry Gins aren't flavoured and by calling something a xxx Flavoured Gin, it shrinks the expectation to be the singular flavour named. At best it's reductive, at worst it's by definition no longer a gin (as it's not about the juniper). Spiced Watermelon Gin is not a Flavoured Gin. 
Even if you look at the way the term is intended, and the "genre" of gin we commentators use it for, Spiced Watermelon Gin isn't a Flavoured Gin. It reeks of juniper. And smoke. And spice. The charred watermelon is in balance with the other botanicals and the core DNA wants to give you citrus, pine and spice.  
Watermelon adds to each of those moments and doesn't override them. The fruit comes through far more in a G&T, which is why the ABV is at a higher 47% in bottle to allow for that change in intensity through dilution. There's a deliberate layering in the flavour sequence and the intentional shift in prominence depending on how you serve it.   
What next? 
And so here it is. My fourth collab with Tarquin's and our third observation into beach life on the Cornish cost. It's utter madness as an idea – to make a gin inspired by jerk watermelon – but hopefully there's a little genius that lies within that. 
As with the other limited editions, it's something that will not become a permanent release irrespective of demand. Limited means that and this is intended as a summer project so from September onwards, it will not be made again. It's exclusively available online via Spirits Kiosk and direct at the distillery's shops in Cornwall.  
My hope? That it is served in the glasses of those toasting the summer. Not as the focus but as a companion to good times, camaraderie and conviviality. That it augments the moment and forms part of the periphery of the real memories that endure. Laughter, sharing ideas and dreaming of what might just be possible "IF" while recalling the reckless abandon of summers spent on the beach and adventures on the surfside of the dunes. 
Happy sipping.