This week, both travellers and Cognac fans had their ears pricked when Martell unveiled their latest annual Martell Cordon Bleu Limited Edition bottle and gift-box to mark the start of the Chinese gifting season. 
With previous releases proving to be both highly collectible and (for those of us in the UK) hard to get hold of – it's a release that attracts attention to say the least.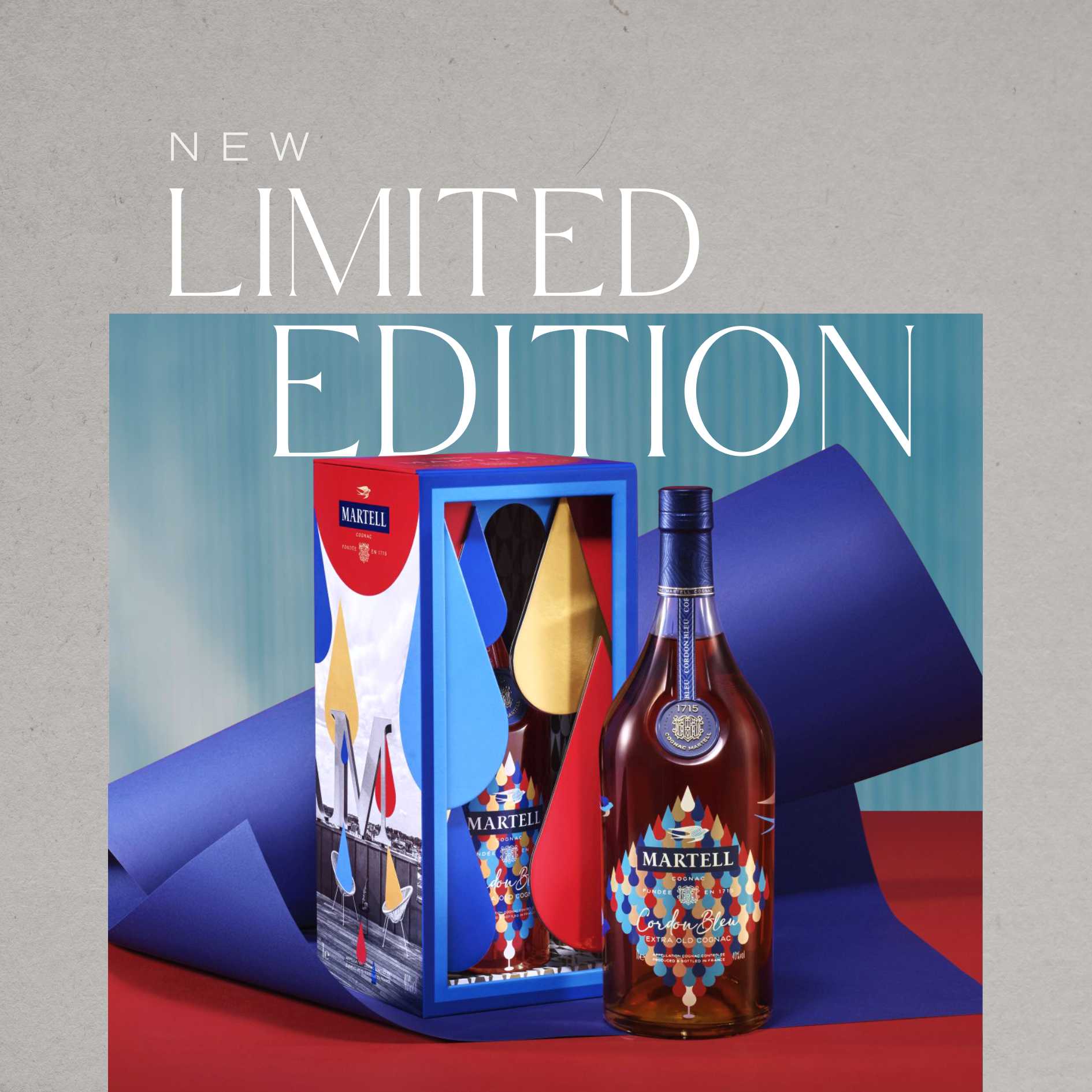 This year, they partnered with renowned contemporary artist Christoph Niemann to create an eye-catching design and once again – it will be exclusively available in travel retail (Airport Duty Free for those not familiar with the trade jargon). 
As an expression, Martell Cordon Bleu sits in the XO category and is made up of a high proportion of eau-de-vie grown in the Borderies, lending a caramelised floral character alongside the smoothness of sweet spices, gingerbread and roasted cocoa beans.
As those who've tried it will attest, its vibrant aroma sings with orchard fruit backed by toasted almonds and vetiver. To taste it is an exceptionally rounded cognac, filled with fruit and spices and followed by a long finish.
So far, so good. 
Niemann's design was inspired by Cordon Bleu's blend, and features the use of a drop as a motif to act as a metaphor for the blend's signature taste that's formulated from "100 eaux-de-vie in every drop". 
The combination of drops transforming into the shape of a glass and the black and white photos of Martell's cellars and vineyards (which Niemann took himself during his visit) make the pack feel relatable and personal to the designer. 
Lovely Cognac in a well-considered gift box released just in time for Chinese New Year. So why are we left a little…. disappointed?
Niemann has accumulated over a million followers on Instagram for his playful and visually engaging designs. The intellectual nature of his creations, the way they mix playful concepts with provocative ideas are what have made his studio a household name and his Abstract Sunday account a social media sensation. 
This is clearly a measured and well thought out pack and it delivers to a brief of producing a premium box for a Limited Edition Cognac. But it's hard to not feel like there was potential for so much more both from the designer and because super premium spirit presentation boxes have moved so far beyond this – especially in Travel Retail. 
It's possible to find creative solutions where sustainability is top of mind yet made to look beautiful, through to gravity defying boxes that showcase exclusive whiskies suspended in mid-air. 
Even within Brandy and Cognac there's been many adventurous campaigns and collaborations in the past 18 months alone. 
Meanwhile, given it has been released to capitalise on the season, it's odd that there's no reference to the year of the Rabbit. 
We're not suggesting making something so on the nose to mark the moment (perhaps something abstract like leaning into the weird and wonderful astrology connections, or even a nod to the rabbit being a symbol of longevity, peace, and prosperity) - although, who better to create a subversive design that takes an instantly recognisable image and gives it a dual meaning?  
Niemann and Martell's collaboration on the limited edition versions of Noblige and VSOP references the rabbit overtly. For those, they created a symbol whose ears become dynamic "ribbons" which in turn transform into the Martell swift. It seems strange to have backed off it altogether for the big ticket item in World of Duty Free and not taken the visual language that had been established one step further and into something more daring.
The release will sell out quickly. It's lovely cognac with or without the pack, and overall despite our mumblings we'll be the first to say that it feels premium and charming. 
Yet in all the coverage it's getting, let's be the ones to be brave enough to say what we've already heard whisper through the travel routes it'll be available on - with an elite artist that's capable of such ingenious and witty work and a brand that's nothing if not progressive – it feels a little underwhelming.