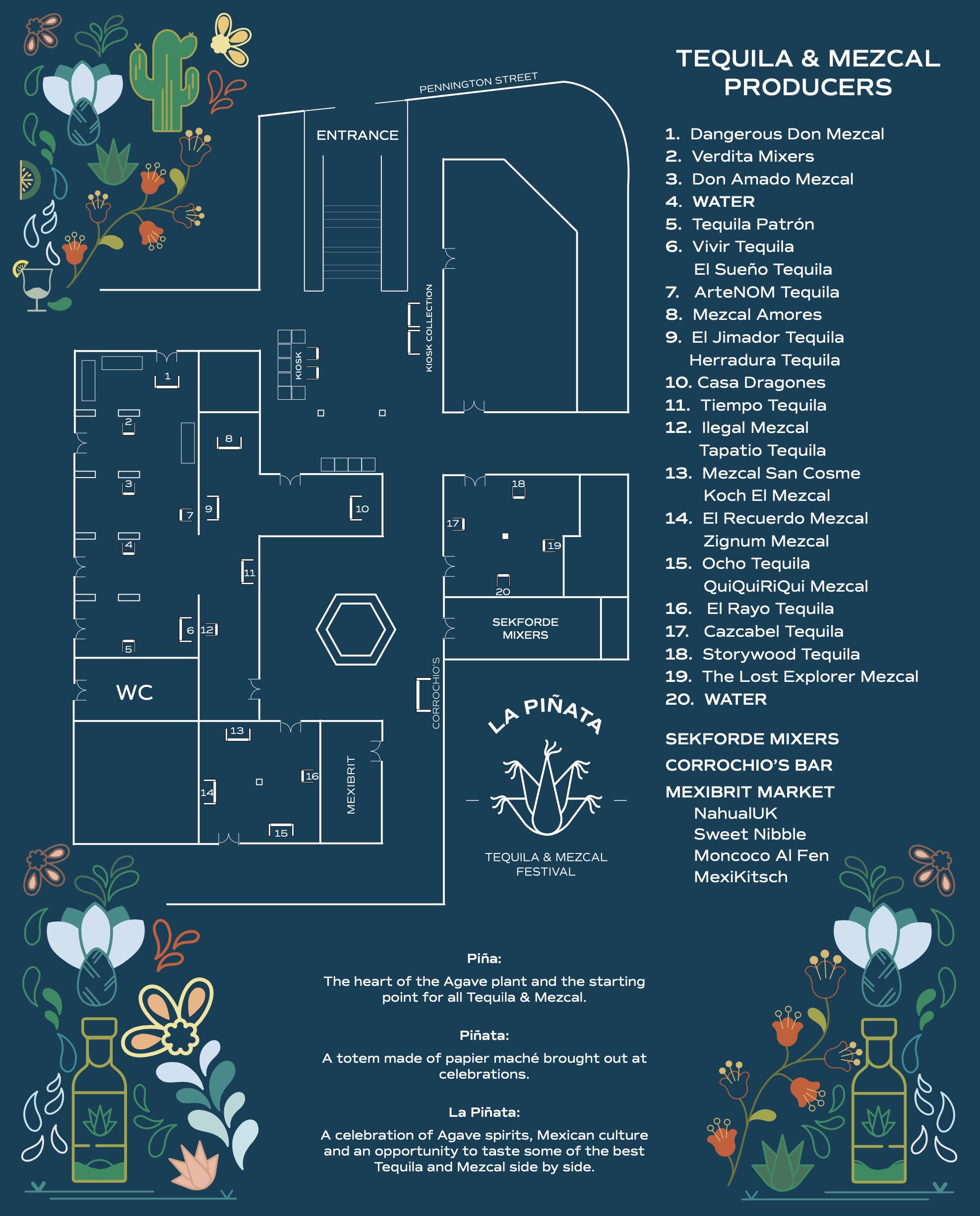 In the drinks trade, the talk around Tequila has been how it's emerged as one of the big lockdown "winners", with many British retailers noting triple digit increases and many bartenders eager to add more expressions on their shelves. Further afield in the USA, there's been countless celebrity releases, each with more hype than the last.  
The interest around Tequila cocktails is not just reserved to bartender circles though - home cocktail makers have ensured that the Margarita has shot up into the 6th place of most Googled cocktails in the UK (some 65K searches a month) and there is genuine interest from discerning drinkers who are trying different varieties and seeking out different producers. This surge was confirmed by the Consejo Regulador del Tequila who revealed 1.7m litres of the agave-based spirit were shipped to the UK in 2020 (a new record) – making the UK the eighth most popular import market for Tequila.
La Piñata promises to take this groundswell of interest in the spirit to a new level with an event that celebrates Agave spirits, Mexican culture and that gives enthusiasts an opportunity to taste some of the best Tequila and Mezcal side by side. 
The show will feature producers that cover the spectrum of Agave Spirits, from newer names like ArteNOM and Tiempo Tequila to the established and historic brands such as El Jimador Tequila and Casa Herradura Tequilas. There will also be a specialist bar serving up classic Tequila cocktails and a Mexican arts and crafts market hosted by MexiBrit. Take a look at the floorplan higher up to see the full list. 
Talking about what he was was most looking forward to at the show, Co-founder Emile Ward pointed to the opportunity to learn more about the styles within Agave spirits.  "I'm excited to see guests taste through Blancos, Reposados and Añejos and find a style that best suits them. They'll learn that Mezcal is not just smoke and get to delve into different agave varieties such as Espadín and Cuiche, as well as age old production techniques." It's going to get geeky and it's going to be fun!
A few highlights…
For those with tickets, three tequilas ranges we'd urge you to try are from Ocho Tequila, Cazcabel and Storywood. Ocho's Tequila Blanco showcases the full nature of the agave and demonstrates how both terroir and process can really impact the flavour of a Tequila. Cazcabel's Tequila Reposado is a great way to introduce yourself to the joys of sipping it straight, while Storywood's use of interesting casks makes for an unusual set of Añejos that will change your perspective on the potential of the category. 
If you are keen to explore more Mezcal, three ranges to savour and mark down on your "must visit" list are Ilegal Mezcal, The lost Explorer and Dangerous Don. 
Illegal's range features 100% natural Joven, Reposado, and Anejo Mezcal that's produced by fourth-generation mezcaleros. In our opinion, it's a great way to introduce yourself to the artisanal nature of the spirit. The Lost Explorer trio are equally brilliant and offer a glimpse into how so many are re-framing their understanding of Mezcal production. They embody the notion that distilleries simply "taking" from nature is old hat. Rather, "receiving" from nature places the relationship on equal footing and exemplifies why it's so important to view the spirit in a different context in order for us to nurture future offerings the Oaxacan land has to offer… Who said Mezcal couldn't be philosophical eh? 
Equally interwoven with the area in which it is made, Dangerous Don started in 2015 and is a brand that embraces the complex and intricate differences the spirit has to offer. Each expression showcases artisanal methods that are hundreds of years old too.
With twenty producers taking part, bringing over fifty expressions between them - it's going to be a unique opportunity to explore the full width of what Agave has to offer!
There will be two 4h sessions, priced at £25 per person. Tickets are available here: La Piñata Show