Jameson Collaborates with Canadian Winery for Limited Edition Green Spot Whiskey
Irish Distillers, the company behind Jameson, has collaborated with Canadian winery Quails' Gate to launch a limited-edition Green Spot whiskey finished in Pinot Noir casks. The Green Spot Quails' Gate is the third in the series, honouring Ireland's historical impact on the wine industry.
Following earlier releases such as Green Spot Château Leoville Barton (2015) and Green Spot Château Montelena (2017), this whiskey is inspired by two Irish families, the Mitchells and the Stewarts. The Mitchell family, who began their whiskey bonding business in 1887 originally produced Green Spot exclusively for themselves. Meanwhile, the Stewart family established Quails' Gate Winery in British Columbia in 1908, after Richard Stewart Sr. migrated to Canada from Ireland.
Quail's Gate was initially aged in American oak and ex-Sherry casks, then finished for 16 months in Pinot Noir casks, imparting flavour's of ripe cherry and juicy raspberries. The wine's residual tannins are said to offer a silky sweet texture, with notes of dried cranberries complementing Green Spot's signature tastes of red apple, sweet pear, vanilla, and nutmeg. 
Ardbeg Unveils Barbecue-Inspired Whisky: Ardbeg BizarreBQ
Islay's Ardbeg Distillery has introduced its first limited edition barbecue-inspired whisky, Ardbeg BizarreBQ. Developed by Dr. Bill Lumsden, the brand's director of whisky creation, and Christian Stevenson, also known as DJ BBQ, the whisky features smoky barbecue flavours with a "meaty, peaty punch."
In the press release, Lumsden describes Ardbeg BizarreBQ as a whisky that combines puffs of charcoal, soot, smoky wood, aromatic herbs and spices. The scent of bonfire and barbecue embers is said to linger, followed by deep, warming smoke with notes of flame-grilled steak, chili oil, cured leather and clove. 
As the name suggests - you are right to hope that it would take your BBQ pairings to the next level; Lumsden believes this Ardbeg is the perfect accompaniment to grilling!
In terms of how it's made… BizarreBQ employs an experimental cask-toasting process involving double-charred oak casks, Pedro Ximénez Sherry casks and Ardbeg's unique 'barbecue casks' which are extra-charred on a traditional brazier. 
Scapa Distillery Unveils Dramatic Clifftop Tasting Room
Pernod Ricard's Scapa Distillery, located on the shores of Scapa Flow in Orkney, Scotland, unveiled a new tasting room, Scapa Noust, featuring a striking clifftop location with a dramatic Orcadian landscape backdrop. 
The tasting destination provides an immersive experience for those seeking to taste exceptional whisky in a breath-taking setting. I love the look of it and it's clear that the Scapa Noust offers a unique way for whisky enthusiasts to combine rich local history, culture and the wild beauty of the archipelagos all at once.
The Scapa Noust was designed in collaboration with local architect Mark Fresson, and is inspired by a nautical theme. The ceiling mimics the interior of a traditional fishing boat - a cosy way to bring the outside in! It's intimate as a space too, after touring the working distillery and warehouse, only up to 12 guests can taste Scapa's single malt whiskies at a central hand-carved table, featuring sea-inspired ripples. 
To celebrate the opening, Scapa is also introducing a new addition to its Distillery Reserve Collection: The Cask Finished Edition, Scapa 19-year-old Pedro Ximénez hogshead finish. 
Bruichladdich announces the third instalment of its Regeneration Project Series
Rémy Cointreau's Bruichladdich Distillery has introduced the first Islay single grain Scotch whisky, primarily made from locally grown Islay rye. It's the third instalment in the Bruichladdich Project series: The Regeneration Project.
This initiative involves working with Bruichladdich's long-standing farming partner, Andrew Jones, who added rye to his rotation. The aim of the project is to combat the rising cost of agrochemicals, avoid monoculture, reduce input, and diversify crops through better rotation.  
In this case - rye sequesters excess soil nitrate and has a fibrous root system that enhances soil drainage and conserves moisture. This not only improves soil health but also reduces farmers' reliance on artificial pesticides and fertilisers.
As for the whisky, The Regeneration Project Islay Single Grain Scotch Whisky is bottled at 50% ABV, and comprises 55% Islay-grown rye and 45% locally grown Islay malted barley. It was aged in first-fill Bourbon and American virgin oak casks, non-chill-filtered, colouring-free. 
The Islay character is said to emerge over time, defined by maritime aromas of warm sand, delicate citrus and honey. The palate balances the rye's spicy, peppery heat with the sweetness of marzipan, vanilla, and chocolate from toasted virgin oak, complementing the Islay barley's citrus green fruit notes.
Diageo Partners with Heriot-Watt University
Diageo, the owner of Johnnie Walker, has partnered with scientists from Heriot-Watt University in Scotland to study how whisky acquires its flavour during cask maturation. 
In a three-year Knowledge Transfer Partnership, the team will develop analytical methods to examine the chemistry of whisky barrel maturation, leading to a data science platform that clarifies the maturation process.
Diageo claims that the "magic" that occurs inside the cask has never been scientifically pinpointed. Matthew Crow, research partnerships manager with Diageo's global technical team, said (paraphrasing here) that while Scotch maturation is known to enrich and refine its flavour, by further understanding the complex factors behind a barrel's flavour potential, it will take their comprehension of the process to a new and more rigorous scientific level.
White Peak Distillery Launches Caduro
English spirits producer White Peak Distillery has introduced Caduro, its first refill whisky, just over a year after the debut of its Wire Works Single Malt. 
Caduro is a vatting of Derbyshire single malt, matured in a blend of American and French oak and White Peak's signature STR casks (shaved, toasted, and re-charred wine barriques). 
The chosen casks add extra fruit depth and intensity to the lightly-peated spirit, which is bottled a 46.8% ABV. The non-chill-filtered expression features green apple, banana and candy cane on the nose, with citrus zest, cereal and tobacco on the palate. The light peat smoke is apparent on the finish. 
This release also represents White Peak's first foray into creating its "core range". Max Vaughan, co-founder of Derbyshire-based White Peak, emphasised that the launch of Caduro signifies a milestone in the development of a core whisky and solidifies the connection to their home and to the rich heritage of the Wire Works building.
English Whisky Guild Appoints First CEO
The English Whisky Guild (EWG) has appointed Morag Garden, a former Scotch Whisky Association executive, as its first CEO. The announcement marks EWG's first full-time employee since its launch in May 2022. 
Garden has a decade of experience with the SWA and 18 months at global sustainability consultancy Accenture. Her expertise in legislation, production and environmentalism will support the English whisky industry during a period of significant growth. 
An EWG survey conducted in March/April 2023 found that by the end of 2024, around 50,000 casks of English whisky are expected to be laid down, with their value forecasted to exceed £1 billion. English whisky distilleries have created 443 jobs across the country so far, with the survey also revealing that over 38,000 casks are currently maturing. 
Also included in the stat drop, was that 97% of English distilleries produce single malt whisky, with a quarter also using other grains such as rye.
Garden expressed excitement about representing the growing English whisky sector and working with EWG members, supply chain partners, government and other key organisations to promote English whisky globally.
InchDairnie Distillery Debuts Scottish-Grown Rye Whisky: RyeLaw
Fife based InchDairnie Distillery has launched its much-anticipated RyeLaw Whisky, made with Scottish-grown rye. 
Founder Ian Palmer believes RyeLaw meets their exacting standards, showcasing the potential of combining agriculture, industry and innovative technologies to create a superb rye whisky. Looking into the details, it's certainly a whisky that makes use of all the specific customised equipment at the distillery.
RyeLaw is created from a mash bill of 53% malted rye and 47% malted barley, both extra finely ground to maximise flavour extraction. The distillery uses one of two Meura mash filters in Scotland and a rye-specific yeast in fermentation. The spirit is double pot distilled using a unique double condenser and a bespoke Lomond Hill still.
Distillery manager Scott Sneddon notes that RyeLaw shares similarities with American rye whiskies but offers a distinctly Scottish take on the style, featuring more defined rye spiciness, vanilla, sweet biscuit cereal, dried fruit notes, richer mouthfeel and great balance, enhanced by Fife's favourable maturation conditions compared to Kentucky.
Bunnahabhain Distillery Releases Limited Editions for Fèis Ìle Festival
Bunnahabhain Distillery is celebrating the 2023 Fèis Ìle musical and whisky festival on Islay with three limited-edition expressions: Canasta Cask Matured, 1998 Manzanilla Cask Finish, and 17-year-old Triple Cask Moine. 
The Canasta Cask Matured and 1998 Manzanilla Cask Finish will be available globally, while the Triple Cask Moine, an experimental peated expression, will be sold exclusively at the distillery and online.
The Canasta Cask Matured uses a rare sherry cask type, blending Palomino and Pedro Ximénez grapes for a sweet and spicy character that complements Bunnahabhain's unpeated spirit. Meanwhile, the 1998 Manzanilla Cask Finish uses casks from a sherry variety known for its nutty and salty characteristics.
For those headed up to the festival, the 17-year-old Triple Cask Moine combines three peated single malts, bottled at 52.6% ABV, inspired by master blender Julieann Fernandez's love for rum-raisin ice cream. 
Bushmills introduces luxury Single Malts: 25yrs and 30yrs
Following the opening of its glorious new Causeway Distillery, Bushmills Distillery in Co. Antrim has introduced two luxury single malts, the 25 Years Old and 30 Years Old, to its whiskey collection. These limited annual releases aim to meet the increasing demand for premium Irish whiskeys, particularly higher-aged single malts.
The 25 Years Old matures for four to six years in ex-sherry and ex-bourbon casks, followed by 21 years in ruby port casks, yielding notes of dark fruits, honey, and gently toasted wood. The 30 Years Old is matured for 14 years in ex-sherry and ex-bourbon casks before spending 16 years in Pedro Ximénez sherry casks, offering signature sherry aromas such as fig, raisin and praline. 
Lakes Distillery celebrates sherry maturation while also going rogue…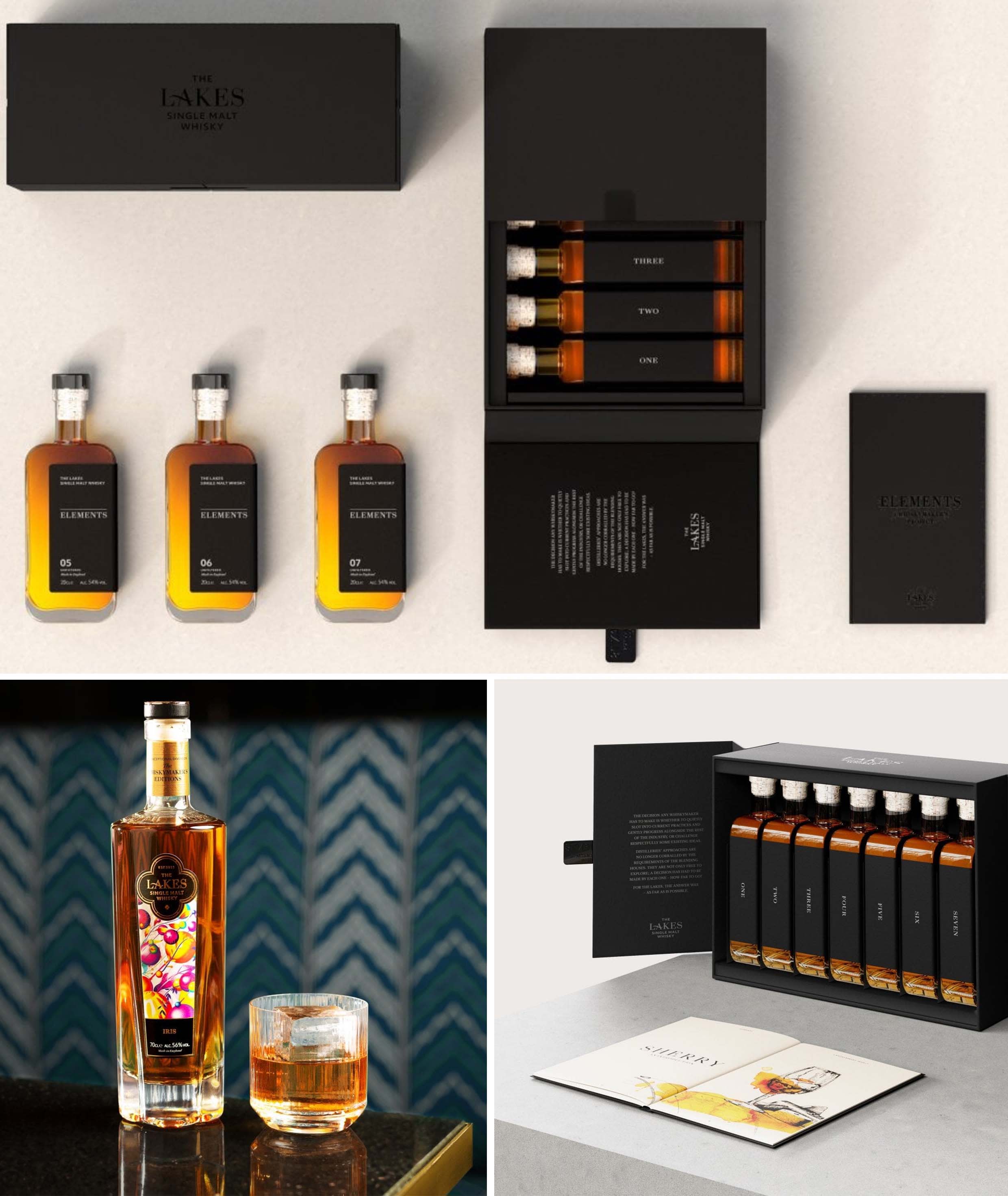 The Lakes Distillery has unveiled a limited-edition tasting pack called Elements, which explores sherry maturation.
The Elements 'library' aims to investigate sherry's interaction with the distillery's microclimate and new-make spirit using seven different sherry-seasoned casks: Fino, Manzanilla, Amontillado, Palo Cortado, Cream, Pedro Ximénez, and Oloroso. 
Only 1,386 Elements libraries are available, retailing at £500, each containing seven individually numbered 200ml bottles of single malt whisky (54% ABV). The collection includes a 'Book of Elements' detailing the background of each sherry wine and its interaction with the cask and spirit. Registered owners will gain access to exclusive online content, featuring a conversation between former whisky maker Dhavall Gandhi and the Lakes Distillery's commercial director Kirsty Taylor about the Whiskymaker's Project
In addition (and contrast) to the Elements collection, the Lakes Distillery has introduced a new expression called IRIS. This latest one-off release follows those that have gone before it and showcase the whiskymaker's adventurous spirit and creative freedom, diverging from The Lakes' sherry-led house style. If the Elements Project is an introspection of why sherry lead whisky will define the Lakes as a distillery, this is a one off and a chance to see what else they can do.
The Lakes IRIS offers an intensely fruity and floral expression that conjures notes of freshly-harvested crisp red apple and juicy pear, accompanied by a fragrant honeysuckle.