Vermouth sits within the aromatised wine family. It is neither a spirit nor a wine - it's a magical combination of the two, married together with endless roots, herbs, flowers and spices that are expertly crafted to give you the perfect bittersweet balance.
Most Vermouth makers are not shy about sharing their botanical make up as the real craft lies is in the skill of choosing the wine, the spirit and their unique methods of flavour extraction, blending and resting. 
Here, I'll break down the component parts and some of the elements that go into them. From how and why producers' pick certain wines, to how they add sweetness and more I'll try to de-mystify the category in order to empower you to discover the perfect choice for your next drink... 
Choosing the Wine
The quality of the wine used for Vermouth is incredibly important. After all, the rules say it must be 75% of the bottle and so the notion that "any old wine will do" is total poppycock. It takes a great wine to make a great vermouth. 
Moscato was the first wine to be widely used for making Vermouth. The Muscat grape is native to the Piedmont region of Italy, which made it easily accessible and abundant. The high natural sugar content means the grape is ideal, as it imparts the perfect mouthfeel and less sugar needs to be added later. Cocchi di Torino and Carpano Antica Formula still use Moscato in their vermouths today.  
In the Early 20th Century, Moscato Asti, the Italian equivalent of Champagne became increasingly popular with drinkers. The demand meant that producers of vermouth – even in Torino - started turning to other regions like Sicily and Sardinia to source their grapes. 
Wine makers there grew small amounts of Moscato but lots of Catarratto. Thankfully, it is also an ideal choice for vermouth as it has low acidity, high sugar content and flavours of lemon, orange, citrus blossom, along with sweet spice and fresh herbs. Its use grew amongst vermouth makers during that era.
Be it due to the scarcity of supply or the creative flair of Vermouth makers, many also began to explore other grape varieties and the category expanded.
Producers chose naturally less aromatic wines like Cortese and Trebbiano (Ugni Blanc) to give them more of a blank canvas whilst maintaining the unctuous mouthfeel required of a vermouth. Ugni Blanc in particular was deemed to bring a lovely fresh crispness into the vermouth and rose in popularity. A great example of this is Dolin Vermouth, who have continued to use the grape varietal to this day. 
Spanish producers  favour the use of Macabeo - Rioja Viura. Macabeo can range from fresh and floral to honeyed and nutty depending on the age of the grape and it has similar characteristics to Moscato. 
In recent years, red grapes are also being used, with Tempranillo and Garnacha becoming notably more popular, while the wonderful Alberino grape from Galicia used by Nordesia and St. Petroni.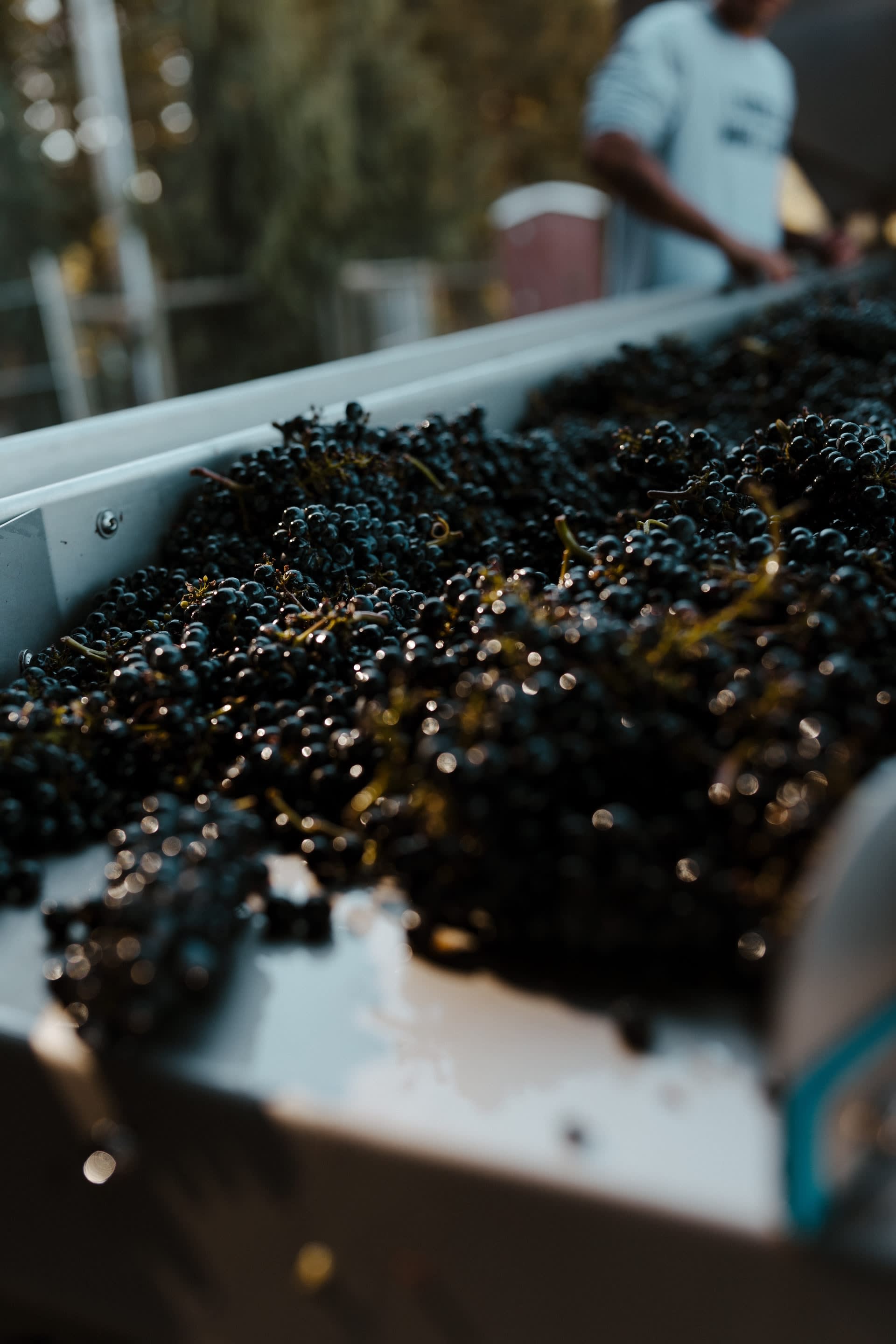 Meanwhile, in Jerez the tradition of making Vermouth with sherry is still very much alive. Gonzalez Byass use a Sherry base for their vermouth using a blend of Oloroso and Pedro Ximenes and Lustau are using a blend of Amontillado and Pedro Ximenes for theirs.
Modern producers across America, Australia, Germany and the UK are starting to explore the use of reds, rosé and even orange wines. Riesling, Gewürztraminer and Viognier are gaining in popularity and with it their bold fruitiness, wonderfully aromatic nature and rich mouthfeel are being harnessed to make excellent vermouths with heaps of complexity.
Rather excitingly here in the UK, Bacchus and Pinot Noir are growing in popularity with domestic vermouth producers. With English Wine still in its infancy and a need to creative to be consistent - many of them blend several local grape varieties to make a truly unique base, such as Sacred who source their wines from Three Choirs Vineyard in Gloucestershire.
Producers are proud about their wine bases, and use them to impart natural flavours and personality in order to compliment the botanical makeup of the product. I can't repeat this enough; good vermouth starts with good wine.
A producer who I feel embodies this ethos and presents it in each drop they make is Regal Rogue. They showcase their provenance by using 100% organic Australian wines. Each vermouth they produce showcases a different grape variety, like the dry organic Cabernet Rosé used in their 'Wild Rosé Vermouth' or the un-wooded Chardonnay in their Lively White & Bold Red Vermouth.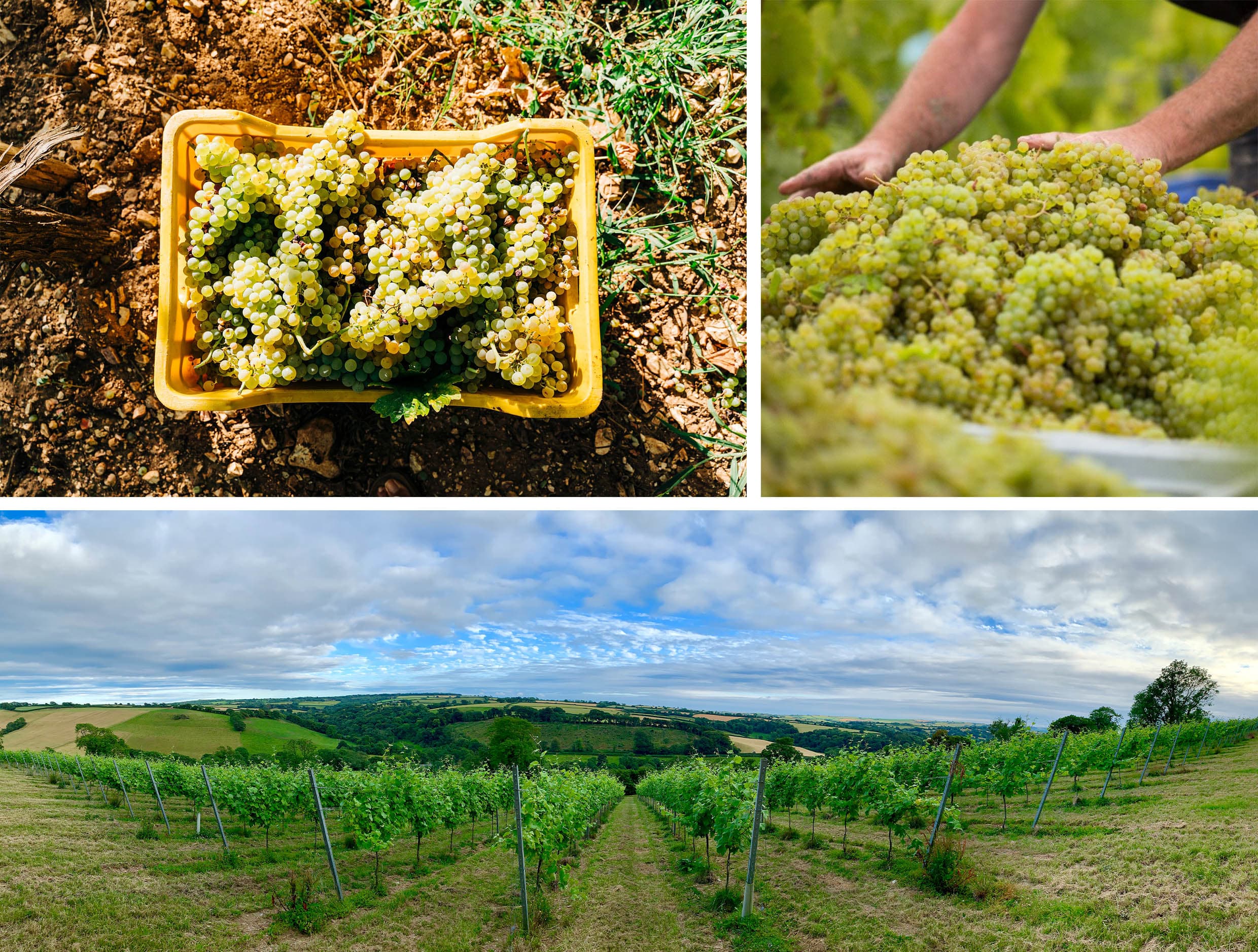 Adding a little bit of Spirit
According to the EU rules, the Spirit used to fortify wine must be of agricultural origin, but other than that it's pretty free reign. Traditionally grape based spirit such as Brandy or Grappa were used but now it's more common to use Neutral Spirit or (in essence – a highly distilled raw form of vodka). Often it's made from either grain or grape, but because it's been so highly rectified, the agricultural origin is more to do with cost and ensuring the spirit is neutral than it is to do with imparting an extra layer of flavour. For example, Mancino Vermouth use a sugar beet Neutral Spirit base, which is also quite common amongst Italian vermouth brands. 
The use of fruit brandy (or even just grape brandy) hasn't disappeared altogether however. Belsazar use fruit brandies from the Schladerer Distillery based in the Black Forest near the French and Swiss border. Steeped in tradition, Schladerer have been making all natural fruit brandies since 1844 and in particular, are famed for their Black Forest Cherry Brandy. By using their fruit brandies alongside a little Black Forest grape must, Belsazar manages to create a big bold fruitiness unlike any other. 
Over in the US, Ransom Vermouths from Oregon use a grape brandy that's been pot distilled in house from a blend of wines made from Pacific Northwest grapes (including Gewurztraminer, Muscat, Riesling and Pinot Gris) and then aged French oak casks. It's truly unique and the oak flavours of the aged brandy really shine through in their dry vermouth. It's certainly one of the most delicious, interesting and complex vermouths I've tried.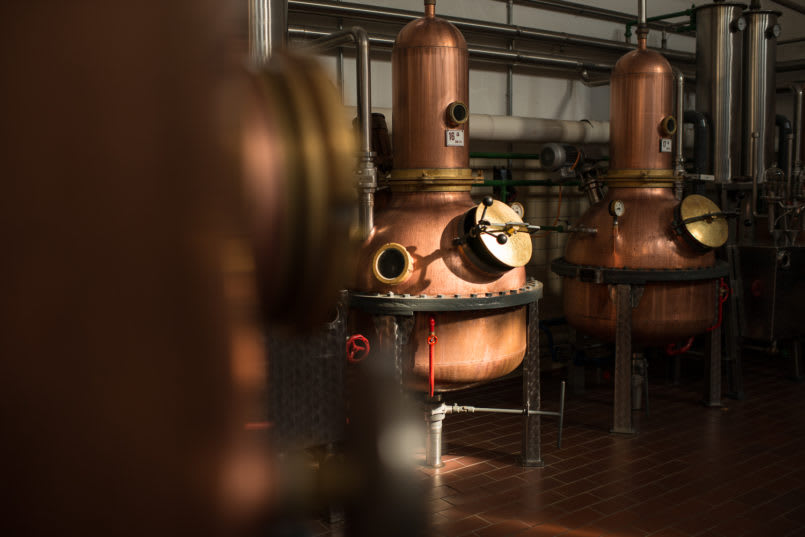 Enhancing the Sweetness 
The sweetness in vermouth is predominantly derived from natural sugars in the wine. Some producers amplify this with various natural sugars, honey or carob syrup. While the choices vary from producer to producer - the only no-no is using artificial sugars but mercifully, this has been respected by all I've come across so far. 
It's worth noting that caramel is popular in sweet vermouths and is mainly used to colour the liquid, but it also adds a little sweetness and aromatic notes to the vermouth too.
Interestingly, some enhance it using Mistelle. Mistelle is a grape juice or grape must (the grapes including the skins, pips and stems of the fruit), either fresh or at the starting point of fermentation. It is strengthened with a grape distillate to stop fermentation altogether, which kills the yeast before it can turn the remaining sugars to alcohol. The mistelle can then be used as a sweetener. 
One example of this is Noilly Prat, where they mature mistelle made from muscat grapes in barrels for 12 months, then marry a splattering of it with their base wine made up of 60% Piicpoul and 40% Clairette that have also been married together and aged for 12 months.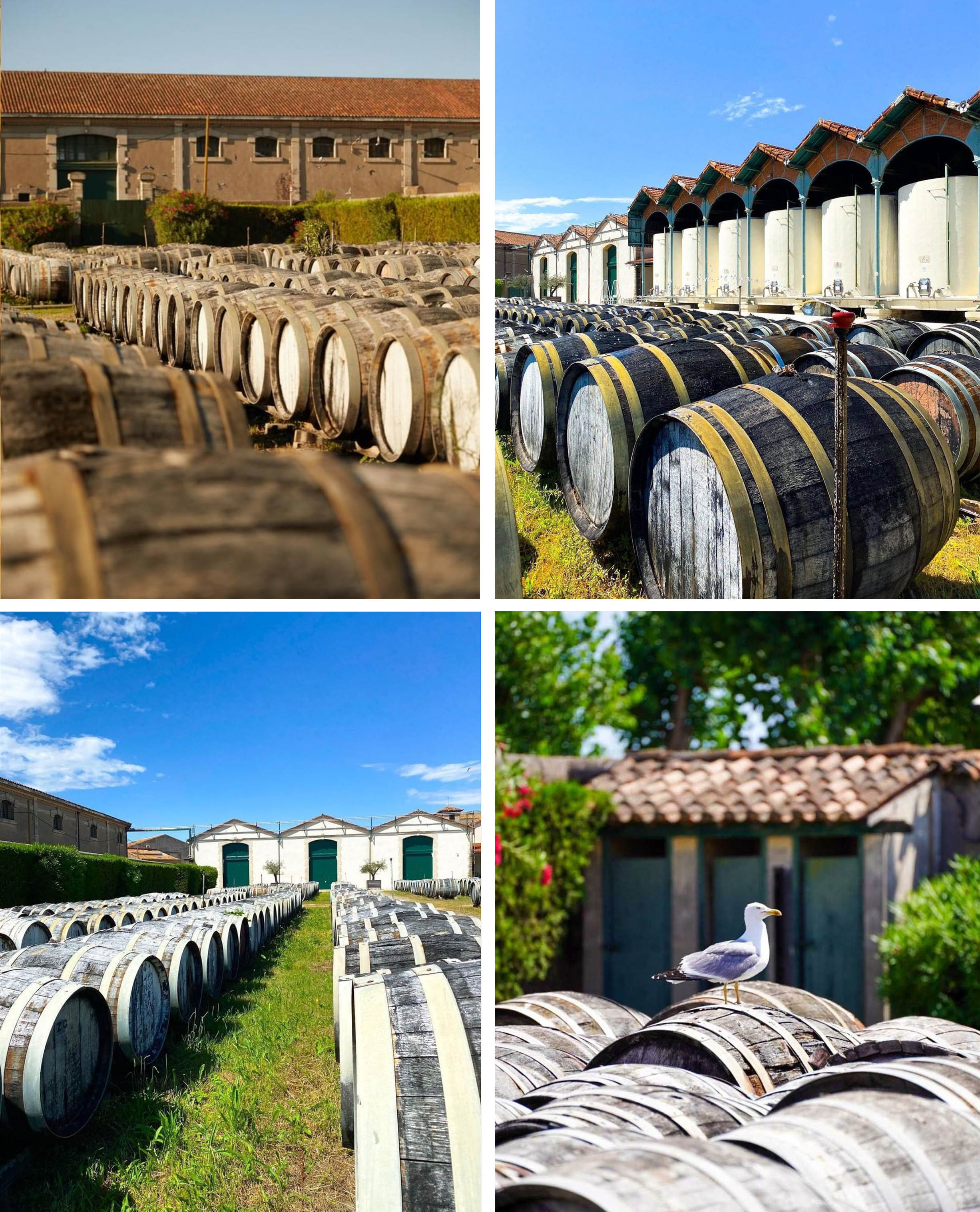 The Botanicals 
By definition, a vermouth must feature a plant of the Artemisia genus for it to be defined as Vermouth.
Within this Genus there are about 400 species, two of them are commonly used in vermouth recipes, they are Grand Wormwood – Artemisia absinthium and Roman Wormwood – Artemisia Pontica. 
There are also further rules for certain producers - for example to be classed as a Vermouth di Torino the wormwood used must be grown in the Piedmont region.
Wormwood is a herbaceous perennial plant, the leaves are a little like shrivelled sage and they have the same slightly silver velvety appearance but with little yellow flowers. It has a sweet highly aromatic scent of orange and mint and to taste it's incredibly bitter - like biting into a raw coffee bean, with notes of sage and sweet anise. The wormwood works as a supporting backbone to the other botanicals.
The list of botanicals that are used in Vermouth production is endless and each producer has a unique way of extracting them through maceration or distillation. Some brands steep them in the wine like Dolin, others distil them in traditional methods. Some, like Sacred use a vacuum still allowing them to distil at low temperatures in order to bring out all the brightness and freshness in the botanicals and add layers of flavour to their vermouths. 
Then there are brands like Contratto who are steeped in tradition. Contratto fine crush the botanicals with a hammer mill, then use cold extraction using a hydro-alcoholic solution that irrigates the botanical powders for 20 days.  Once complete, they mix the extraction with the wine, alcohol and sugar and chill filter to remove all the solid residues before resting the liquid in steel tanks for around 40 days. Mancino follow a similar process, but in their case, the vermouth is left to marry for 6 months before bottling. 
Many of the botanicals are similar or the same as those used in Gin production and as with gin, they are often chosen to reflect a sense of terroir into the product. Good examples of this are the indigenous Australian botanicals used in the likes of Regal Rogue, or Noilly Prat who leave their vermouth in "finishing barrels" out in the open so that they can breathe in the salt spray from the nearby coast and glean a soft salinity into their finished product.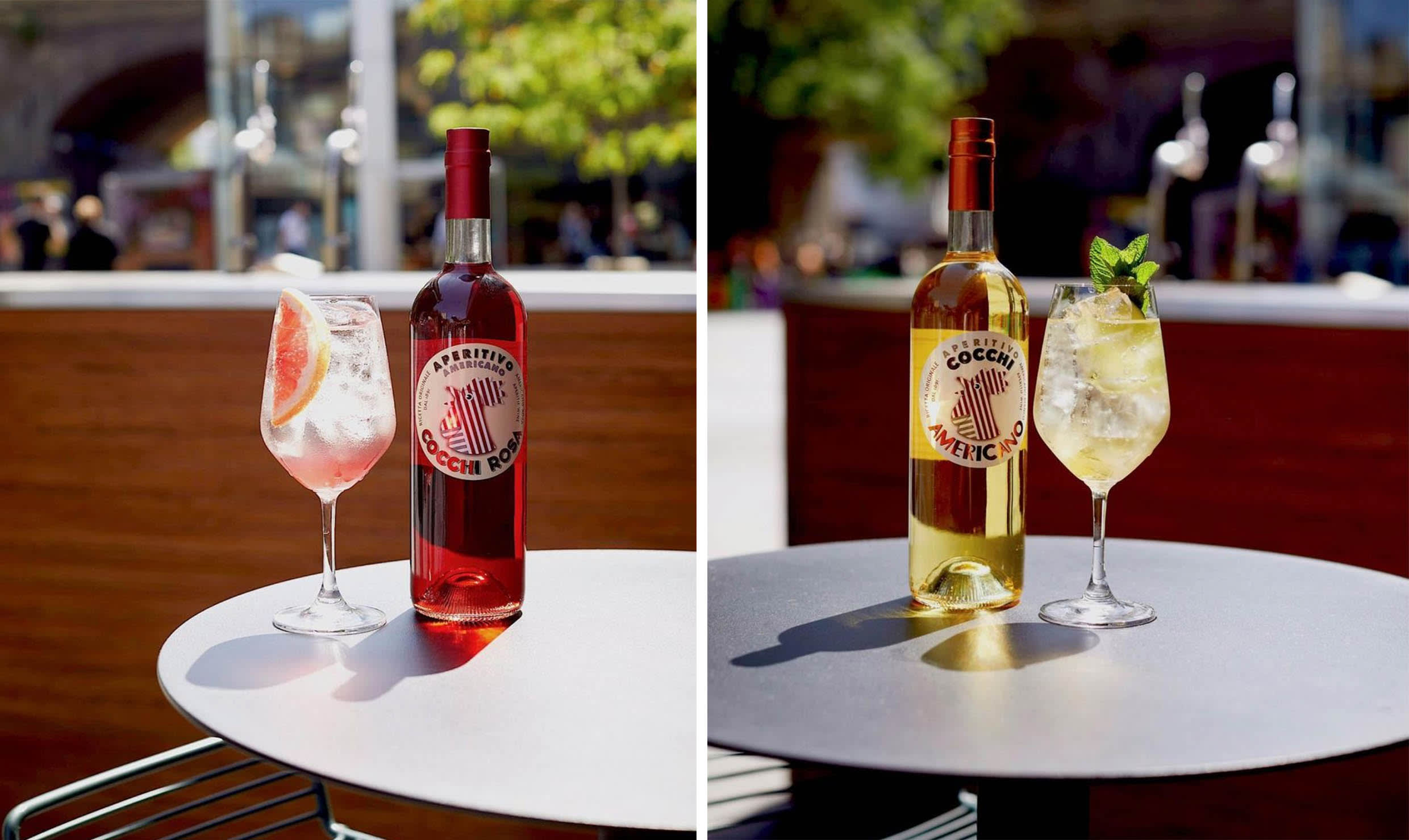 Vermouth's not so distant cousins… 
While I've explained how vermouth is made, it's worth taking a moment to understand how others sit alongside it and how they are different.
Americano – contains Gentian as the main bittering agent along with wormwood and can use authorised red or yellow colourings – Cocchi Americano and Americano Rosa are great examples. 
Chinato & Quinquina wines – essentially a vermouth with the predominant bittering agent being chinchona the source of quinine – think Punt e Mes, Dubonnet and Lillet Blanc. 
Barolo Chinato – this does not really fit into the vermouth category like Americano and Chinato vermouth, but it's similar in how it's produced. It has to be between 14.5% and 22% but to be a Barolo Chinato it must contain Nebbiolo from the Piedmont region of Italy and be aged for at least 3 years. Because of this, it's much richer than a classic sweet vermouth and is often served as a digestif rather than an Aperitif. Cocchi not only made the first Barolo Chinato but without a doubt - it's still the best. 
There's so much to explore when it comes to the world of Vermouth. I hope this has given you a little insight into how it is made and a little about the surrounding the rules and regulations. Hopefully through understanding more about what goes into them, it'll inspire you to step out of your comfort zone and try some of the different styles of vermouth available!