It all started with a big ambition. Or as Benedict Gordon, one half of the Phoenyx Spirits team whose two vintage aperitif brands are now gaining momentum put it; "We were looking for brands to have the potential to capture the zeitgeist". 
Launching any brand is a feat that's easier said than done. To create an iconic one even more so, let alone one with a well established history… But if ever there was a time to exhume a brand from the past, 2023 seems as good as any. Vintage, retro and nostalgia are in and interest in the old couldn't be higher amongst curious drinkers. 
Besides, what better way to gain instant heritage than, well, actually having heritage to go off?
Speaking to Gordon, what's clear is that the two expressions in their range were not randomly picked and that not any legacy would do for their revivalist company ethos. "It needed to be visually iconic, with great storytelling potential, a memorable name and a clear sense of how to revive the liquid." 
Enter Dr. Hostetter's Bitters and Khoosh; but what was it about these two that caught their imagination?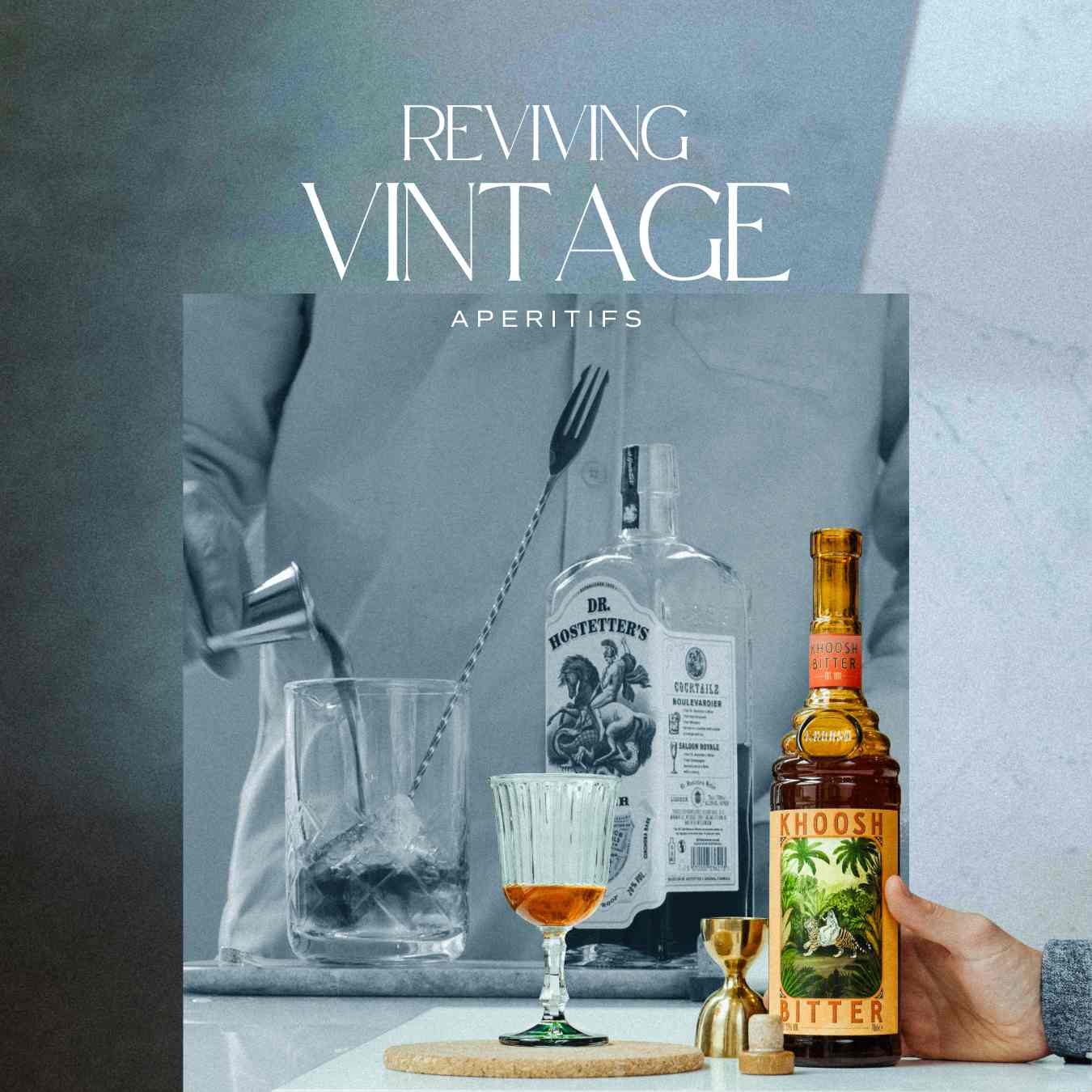 A Forgotten Legacy – 
Dr. Hostetter's Bitters traces its roots back to the mid-19th century, when Dr. Jacob Hostetter, a Dutch immigrant to Pennsylvania, first formulated the recipe. A physician by profession, Hostetter developed his bitters as a health tonic for his patients and the concoction was intended to aid digestion, alleviate ailments, and serve as a general health booster.
Years later his eldest son, David, saw the potential in the bitters beyond its medicinal use. In 1853, David partnered with his childhood friend George W. Smith to establish Hostetter & Smith, a company dedicated to marketing and commercializing the bitters. The duo began production in Pittsburgh, USA, using his father's original recipe.
By the late 1850s, Dr. Hostetter's Bitters had gained widespread popularity and commercial success -  It was particularly favoured by Union soldiers during the American Civil War, who believed the bitters would protect them from various ailments. The bitters' popularity extended to saloons across America where they were served by the glass, further cementing the brand's iconic status.
Managed by four successive generations of the family, the Hostetter Company continued to thrive (according to Phoenyx Spirits, over its original life span it went on to sell more than 50 million bottles). Despite the company's success and the appeal of the spirit, the original formula for the bitters underwent several changes throughout its 100-year lifespan, adapting to the evolving tastes and demands of the market. To us, this is one of the more fascinating aspects of the brand and something to keep in mind later.
In 1919, the introduction of Prohibition in the United States dealt a significant blow to the spirits industry, including Dr. Hostetter's Bitters. Though the brand managed to survive until 1955, by all accounts it was a shadow of its former self and ultimately succumbed to neglect and changing consumer preferences.
Fast forward over half a century and co-founders Robert Black and Benedict Gordon were searching for the right concept to unearth and re-release into the market. "We became aware of Dr. Hostetter's early on in our journey to launching Phoenyx Spirits. The brand had a sense of gravitas and history that just instantly captured our imaginations." 
Brand aside, there's also another factor at play; the often-overlooked category of American Amari and craft bitters have been making a comeback. The genre hasn't just seen a revival over the past few years, it's now taken a path of its own. There are now American producers branching off European ideas and paying homage to the long traditions of Italian Amaro, others trying and capture a sense of place using local ingredients, and even some working off different base spirits and other ways to present flavours beyond botanicals. American bitters is now a scene filled with unique and creative products. They might not have the same legacy as European counterparts, but they are certainly creating one now. 
With this in mind, Hostetter's wasn't just the right idea to bring back as a brand, but it's also the right moment to do it too. But how do you go about recreating one that does have heritage, in a distillery based in the UK rather than the US and where the recipes, trademarks and history are a mix of sprawling rights, jumbled claims, anecdotes and facts?
Commenting about the journey, Gordon said "The liquids literally took years to develop. But [IP rights aside] probably the hardest part for us is managing the complexity of our supply chain because every aspect of both brands is completely bespoke. Just as one example, there are more than 50 botanicals to source and manage across the two brands!"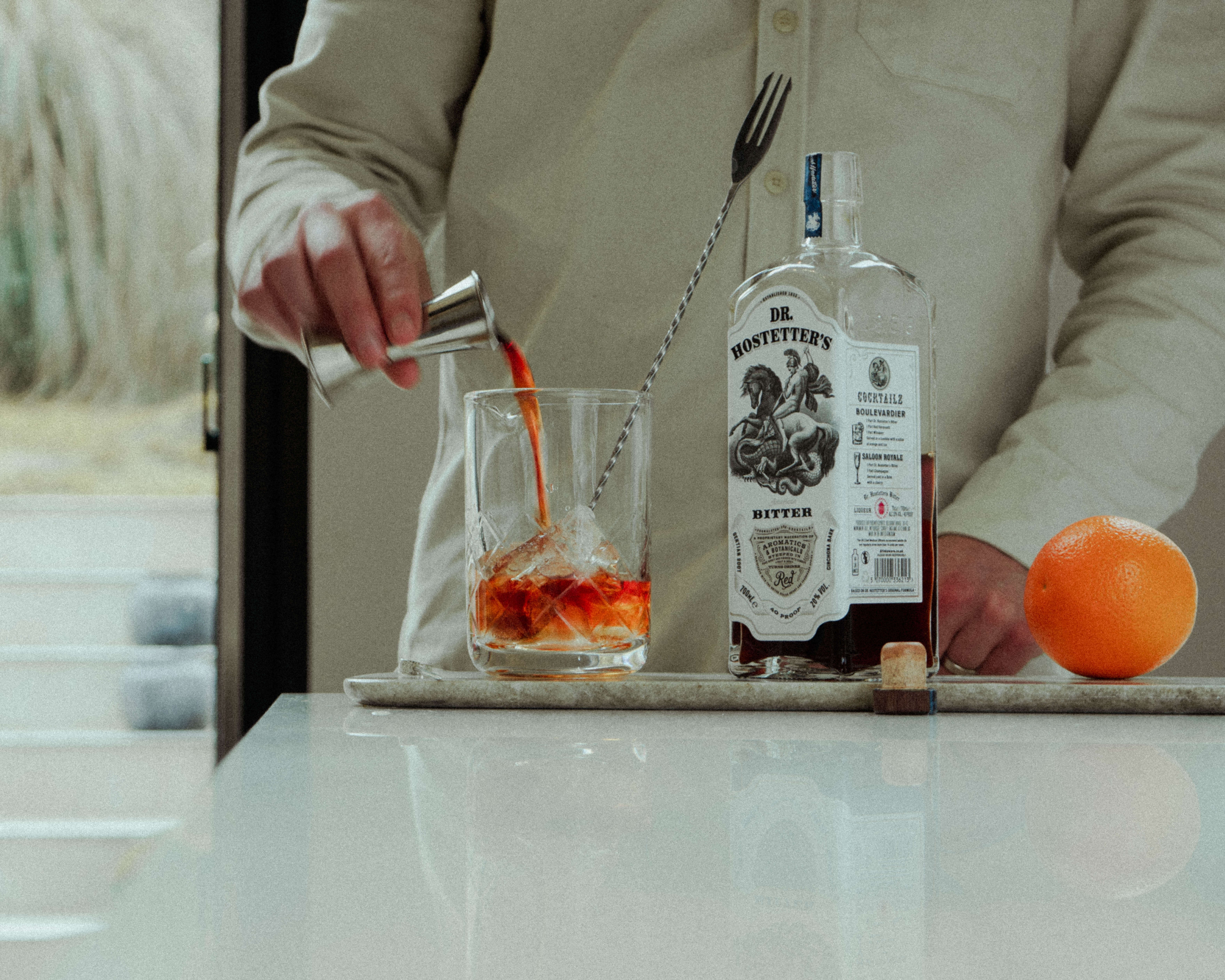 The Revival – 
Today, the reimagined Dr. Hostetter's Bitters pays homage to its rich history while appealing to modern tastes.
It's key to remember that the original recipe was a moving feast and that the formula and proof of the original liquid changed over time. 
Reviving it was as much about picking the parts that were maintained throughout, while understanding the influence of the transient ingredients and selecting them based on current palates. "Adapting is also a legal issue" observed Gorgon, "unsurprisingly, some ingredients are either restricted today or might even be considered harmful, so our starting point was obviously to remove those".
Then there is the intention going forward – what works in drinks today. Which spirits, which cocktails and what do drinkers, bartenders and connoisseurs look for in "bitters". The duo centred this part around a desire for it to pair particularly well with bourbon and rye whiskeys.
The result is a recipe that references the past but has its sights fixed on the future. "We were able to keep many of the original botanicals including cinchona, gentian, orange oil, anise, yerba santa, and gum kino (a sandalwood genus). We layered in additional North American botanicals, red fruits (particularly cherry) and for colour we added carmine from the cochineal beetle - whose habitat includes the southern United States."
A lot has been said about the recipe's big takeaway headlines. At 20% ABV the new version is less potent than its 19th-century counterpart, but this makes it far more aligned with the use of bitters today. The new formulation does maintain that famed vibrant red colour, achieved by using the famed cochineal beetles – a big call in a world obsessed by dietary inclusivity and a marked point of difference to Campari, who dropped them from the recipe in their recent history. 
Talking of which, Hostetter's is a lighter, fruitier alternative to Campari and if you drink regularly, the comparisons to it seem at best lazy. Sure, Campari is the brand that everyone knows making it the easiest to namecheck, but it's a disservice to both as stylistically, they are quite detached concepts. 
Sandal wood for example, marks Hostetter's aroma in a very distinct way (similar to Asterley Bros bitters), while the use of more pronounced herbs and a more diminutive bitter orange makes it mix differently in cocktails too – less overt citrus, less sugar and more herbal overall. 
No wonder then, that it's a better fit for Boulevardiers and Manhattans than straight Spritzes.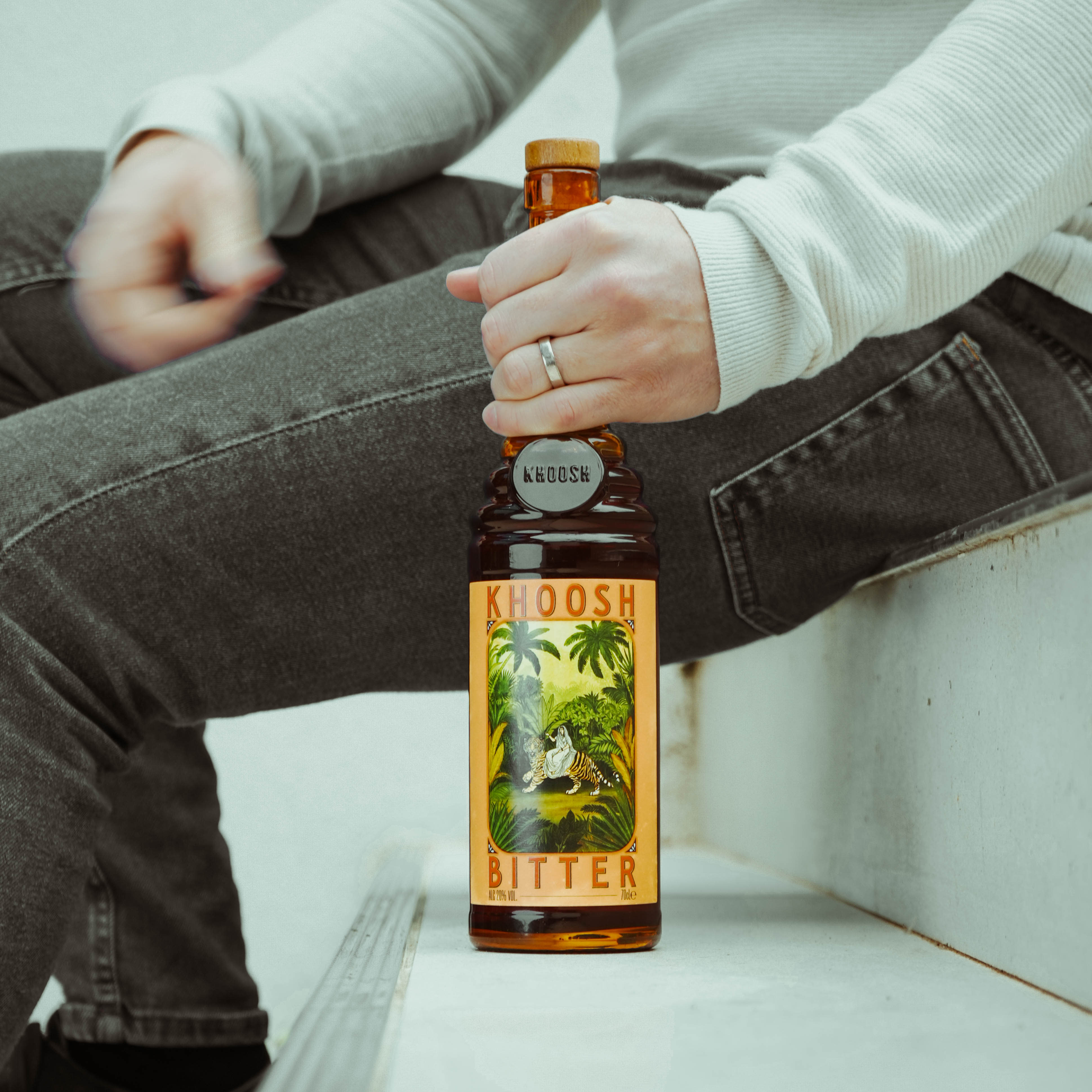 The quiet sibling
Phoenyx Spirits also reintroduced Khoosh, with a bold and exotic looking label featuring a woman riding a tiger. It hasn't quite sparked the imagination of the trade press as much as the good Dr's but arguably, it's the more interesting of the two. So much of what it stems from is a forgotten past that really hasn't come to life yet. 
It's also a far better barometer of what Phoenyx Spirits might be capable of - or not - when tasked to build a brand themselves.
Talking about what captivated them, Gordon explained that "as soon as we came across Khoosh we fell in love with the brand. The unique silhouette of the bottle; the enigmatic lady in white robes on the tiger; and the name which somehow feels very universal. It's a compelling set of elements and we saw a lot of potential to bring the brand back to life in a way that's not just authentic to its heritage but is also relevant in a contemporary sense."   
Inside this enigmatic bottle is a bitter-sweet, citrus-forward liqueur flavoured with quassia amara and loosely pitched as a bitter substitute for Cointreau or Curaçao. The aroma of rich marmalade evolves into a lingering citrus with slightly herbaceous and a bittersweet rooty finish.
The original Khoosh Bitters, was a British Tonic produced from 1881 until 1900, sold around the world and then vanished when the insolvent Khoosh Tonic Bitters Company went into liquidation. It was billed as a remedy for all manners of ailments and as the old label points out "a never failing appetizer much used in India".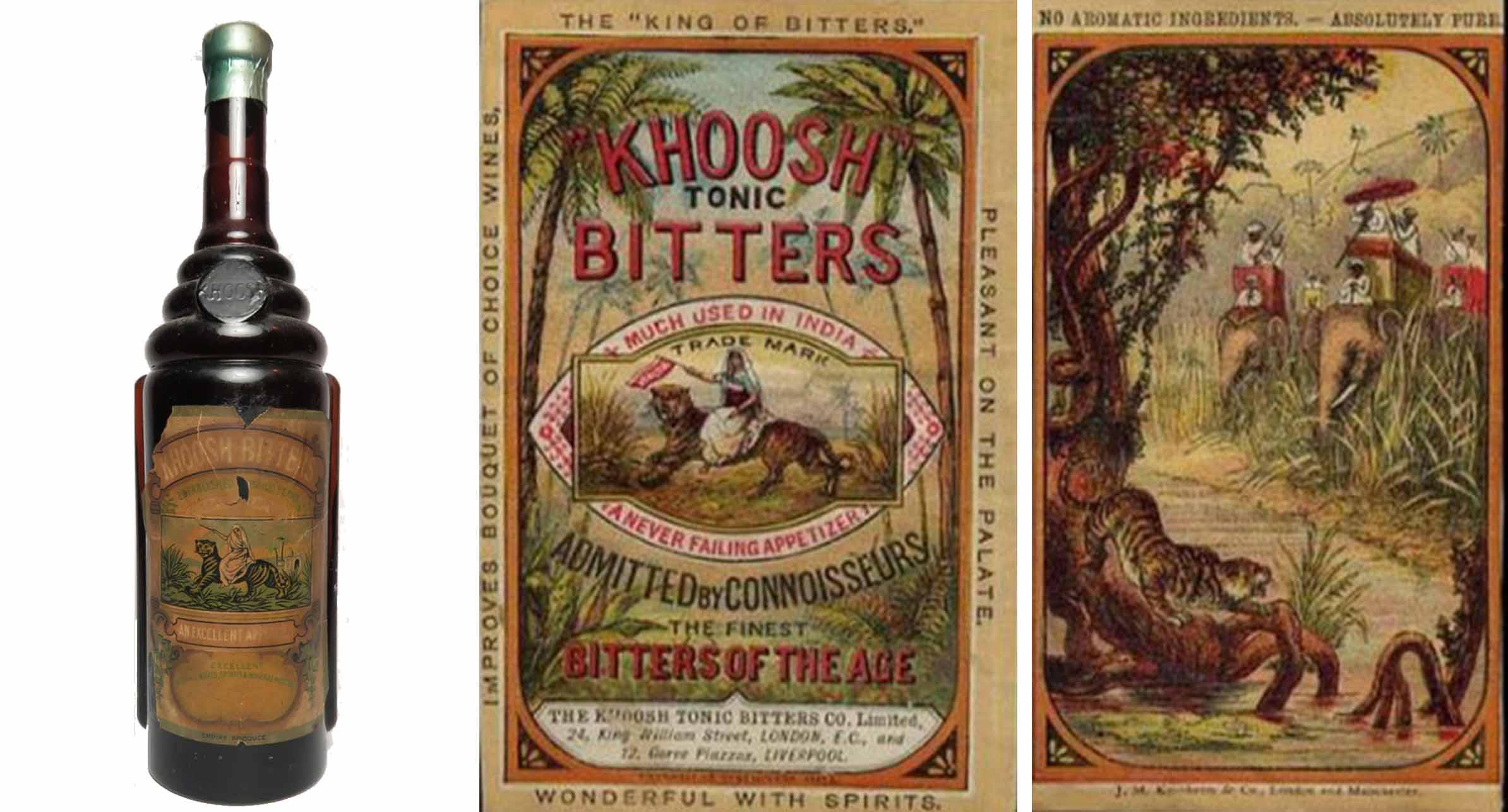 The original brand hails from an era that saw the birth of dozens of tonic wines (Byrrh, Dubonnet and eventually Schweppes Indian Tonic Water to name a few), but it's a murky part of history and difficult to access much of the original records. The mercurial epoch filled with controversial legacies of imperialism and colonialism that make for unsavoury histories - yet they are also matched by stories of entrepreneurial endeavour and true innovation. 
It's a difficult task to recount appropriately, let alone explain how the origins of many the concoctions came to be which were popularised during that time. There's a reason why brands forged at the height of the East India Trading Co are still often misunderstood (despite some of the great research made by Kim Walker and Mark Nesbitt in their book Just the Tonic).
It's also why so little is openly out there online. Unlike Dr Hostetter's where the brand's origin story is easily trackable, Khoosh has a different journey to go on. 
Its own history will not be recounted unless brought to life in the countless ways it needs to be (brand activations, imagery, folklore, cocktail suggestions, bar advocacy work). It can't be as it's not known and the brand lore won't be perpetuated unless instigated by the Phoenyx Spirits duo. Whether they are capable of this is what makes their choice so fascinating.
The second issue is that it doesn't have a rising trend to slipstream behind. If it's an iconoclastic kind of spirit it could just become another KIR; a one trick pony that works in the signature cocktail with Champagne but beyond that isn't really understood by the mainstream audience it aspires to connect with. 
What would we do with Khoosh beyond adding it to champagne?! Being somewhere between Suze, other gentian bitters and Triple secs may be the issue for it. Negroni Biancos, bitter Margaritas? A spritz is the easiest place to start and those curious enough will be rewarded with a satisfying sip. 
Both have a place in our home bar and it's been a joy to try various drinks using them.
Dr. Hostetter's Bitters and Khoosh have been skilfully revived by Phoenyx Spirits, offering a fresh take on vintage aperitif brands for modern cocktail enthusiasts. Both spirits are crafted with natural ingredients at a Surrey based distillery in England, and continue the legacy of the original recipes. 
It's clear that the combination of history and innovation has struck a chord with today's discerning drinkers and given time and the right development, the future could be bright for these once forgotten brands. In time, even, they may go on to have entirely new and more interesting histories for future generations to pour over.