Botanical Scotch sounds like heresy. Never shall the two meet… Until now. 
But before the rage sets in at the very mention of the two combining, take a moment to see the wood from the trees and open your mind to what might just be possible when done respectfully. For those who do, you may well find something that dares to be different while actually not being different at all, just re-imagined.
Curious? Let's start the 'Tale' at the beginning… 
Who are Glenmorangie?
Glenmorangie is one of the biggest selling Single Malt Scotch Whisky brands. They are owned by Moet Hennessey and the distillery is a giant in the world of Scotch by most metrics – be it volume, reputation and global distribution.
It's both old (it was founded in 1843 by William Matheson), big (it has an annual production capacity of over six million litres) and tall (the stills are the tallest in Scotland standing at over five metres). 
Glenmorangie's 'Tale' series is an annual limited-edition release. Some tout it as the successor to their now discontinued Private Edition line, although, I don't think it is as clear cut as that given the frequency and where it's being placed but irrespective - A Tale of the Forest is the third release in the series making its debut in November 2022, following on from A Tale of Cake from 2020 and A Tale of Winter from 2021. 
Despite this being just the third, there's a lot of sustained interest around the series as a whole and its 'experimental' nature has caught the whisky community's attention.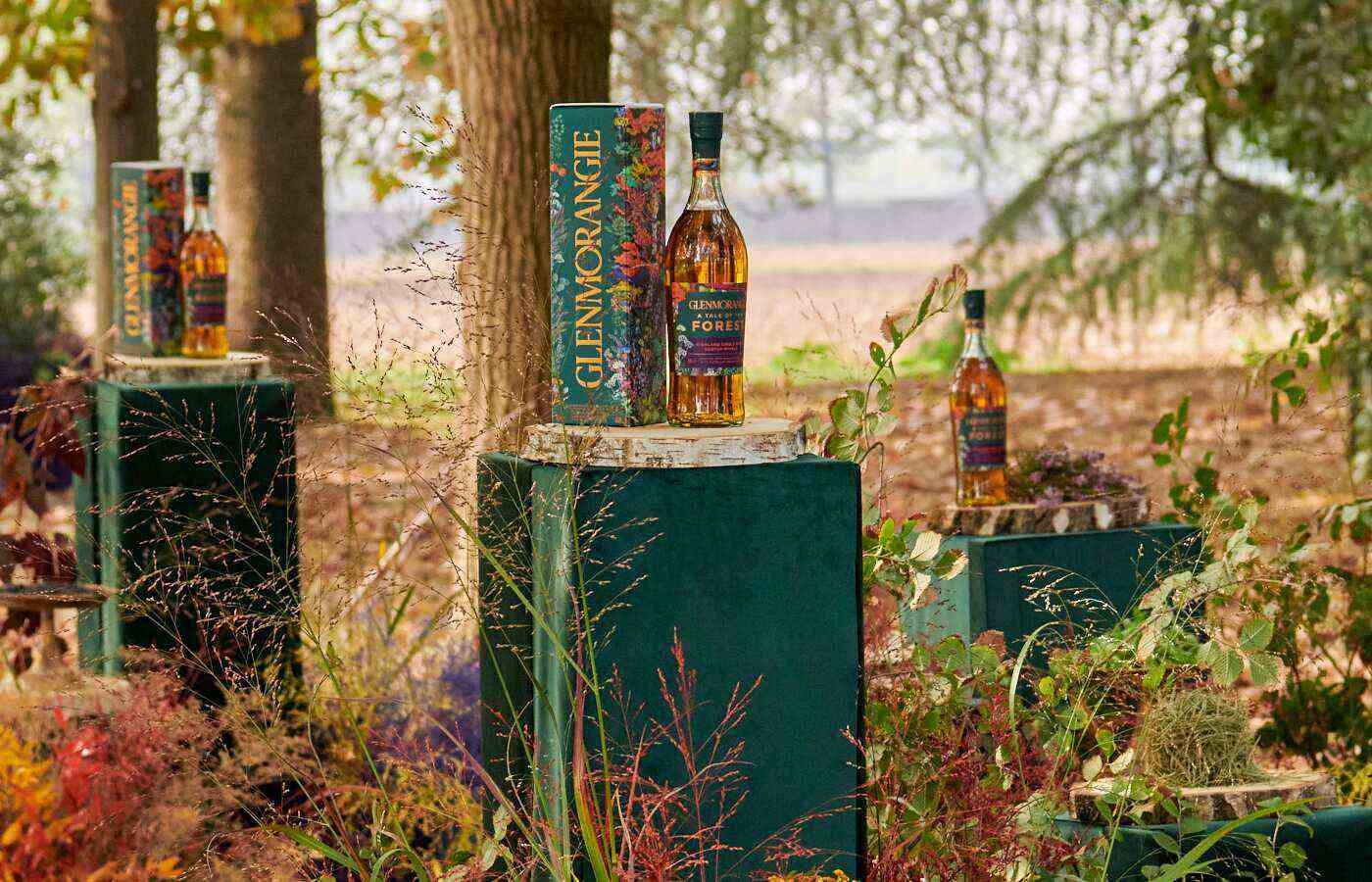 Some context on Whisky innovation and experimental ideas
Experimental Scotch sounds like an oxymoron. As a person who has been on the front line of gin's journey from anonymity to juggernaut category, I find is that the pace of actual innovation in scotch whisky is glacial because it is only ever done in fractions of a degree at a time. 
That's not intended as a slight. The rules governing the whisky's production are notoriously constrictive and while frustrating for those us who want to see producers unleash chaos in a cask, it's also what keeps the category coherent and valuable. That's especially true when it comes to Single Malt Scotch. 
Producers know they must work within the confines of tight regulation or face stiff fines, stiffer verbal reprimanding over the language they use to even present concepts, and a hard slog to get experimental products off the ground. To avoid this, they tend to look at incremental riffs on previously established processes and carefully position it as to not infringe on those precious regs… 
Despite the many reviews of this product and discussion about what it means for Scotch as a whole, few seem to address that all too often the stifling of ideas is also due to a reserved mentality. Many don't try and push the boat. Ever. And too many producers subscribe to the concept of because there is a way they've always done it, that has to be the way it's done going forward. For all, in perpetuity. 
Put bluntly, many just aren't that adventurous with their desire to be disruptive. That attitude and approach is shared by more than a fair share of older whisky community too.
That's not all negative if we return to the comparison to gin – the rampant, explosion of ideas and unique concepts has been exciting, but it's also a key contributing factor in why that category is in now free-fall. It was the same for Vodka in the 90's and part of the reason Rum has struggled for credibility over the years. When left unchecked, new and novel quickly becomes mere novelty… 
Longevity comes from a tempered cadence and the constant friction between progress and history being ground against each other to only let the best ideas through.
Which takes us full circle and why Tale of the Forest is so clever. It is super progressive for Scotch yet ancient as an idea. The approach to innovation and the way the distillery team have applied it needs to be noted and celebrated - it breaks the mould without breaking anything at all. More over if they - the big boys of Scotch - can poke at a boundary surely others can take inspiration and push their agenda forward a little more proactively…
Botanical whisky or alternative fuels?
"A good few years ago we started to look back into the history of kilning specifically" says Gillian Macdonald, Master Blender & Head of Whisky Creation, Glenmorangie & Ardbeg. "Our company archivist revealed interesting information dating back to references from the 1880s and Alfred Barnard." 
In the exhumed materials there were references to heather flowers and juniper being used alongside peat and other combustible materials in the process of drying malt. No doubt, they were probably doing this more for the heat rather than flavour back then, but their inclusion would have been palpable – just as peat is when it's burned.
"Other references we found from a similar era mentioned the use of birchwood being used with great success in drying the malt as a strong and steady source of heat and an alternative to peat at distilleries" continued Macdonald.
Indeed there were even descriptions of not fully decomposed peat with visible plants being present during kilning. An idea started to form to use alternative kilning fuels found in nature across Scotland for a batch, and emulate a process that would have plausibly been used by distilleries in the past.