Why did you start Junipalooza and what was the motivation behind it? 
Junipalooza began when we got fed up of going to various consumer and trade shows where we knew more about certain spirits than the people presenting them to us.  
Granted, we weren't a regular 'customer' because we were looking to get details about how certain spirits were made, the types of stills they were operating, the botanical mix, the journey they'd been on to get it started, the branding – everything!  Often sales teams only know certain parts as that's all they need to know to do their job well. But if you really love a spirit, it's not enough as your curiosity exceeds what they can answer. And we've always been massive fans of gin, long before it was cool. 
And then our other pet peeve of tasting fairs in the 2010's… those dreaded picnic style tables everyone used to sample off. Cloth top, slightly bowing, too low – it all looks rubbish.  
Olivier and I thought that there had to be a better way to satisfy both needs and the more we spoke about it, the more it was clear the idea resonated with others. 
So was that where the whole 'Meet the Maker" rule come from? 
Absolutely – having the owner, founder or distiller present really solves the information issue and creates a lot of halo benefits.  
2012-14 was also when Gin was beginning to boom in the UK and there seemed to be a new distillery opening every week. There were people from all walks of life ditching their jobs to open a distillery and drinkers were increasingly presented with more and more options.  
There is nothing quite like discovering a new gin in front of the person who either conceived of it or distilled it. You can really understand it in a visceral way, and you can see how the people's identities and their personalities and distilled into what they've made. It really helps separate one from the next and that's the joy of craft distilling. The people are as much of what drinkers get swept away by as the gin they make. It's not just another flavour, it's literally someone's life you can connect with. 
This key element is why we've been able to host the show nine years running!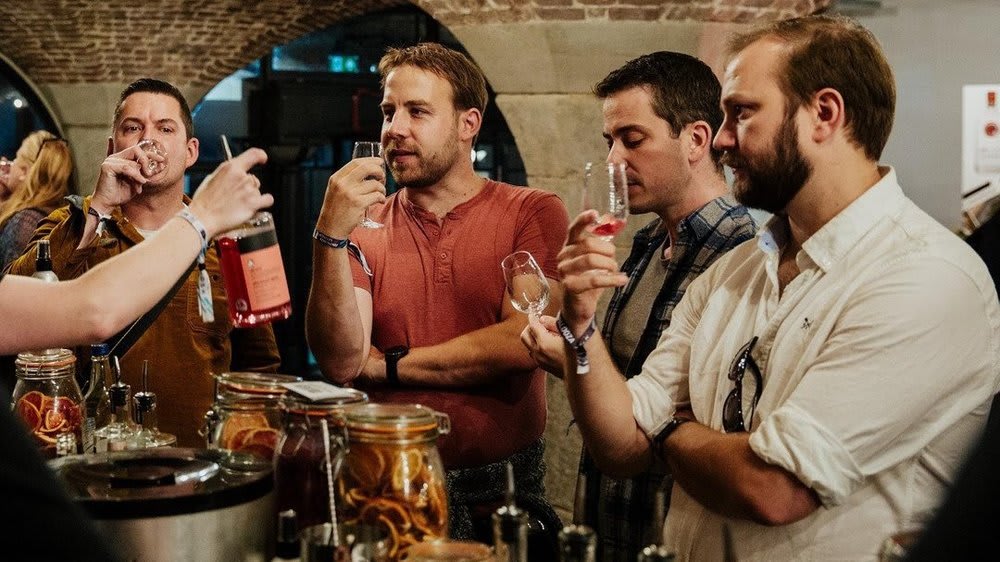 There's been some big ups and downs over the years. Covid aside, do you have moments that you look back at with a tinge of sadness? 
We've had so many different distilleries from all over the world take part over the years so it's been a great privilege being a platform for so many. Having said that, we've had a few distilleries slip through and never able to make it over. When it's circumstances beyond either party's control like that, it is always a big downer for me. 
The one that is top of the list Two Moons Distillery from Hong Kong. Unfortunately, civil unrest in the city made it unachievable for them to come over. Completely understandable and there's not much anyone can do. Asia has become by far one of the most interesting regions when it comes to gin, so it would have been fantastic to present this distillery to our guests just ahead of that trend.
And in contrast - what's been a favourite memory at the show? 
We started off Junipalooza with only a handful of distilleries but it quickly doubled each year. In our second year, we decided to commemorate the amazing owners and distillers that would be in one room at the same time so we took a group photo. What started with 20 distillers then grew to 50 and then 80 and now the photo is impossible to take as there simply isn't enough space to take everyone at one time.  
My memory of that first photo reminds me of just how far Junipalooza has come and the impact we've been able to make on the Gin category, the distillers and our guests. 
What's changed about Junipalooza the most over the years? 
The single biggest change over the years has been the increasingly high calibre shown by the new exhibitors coming to the show. 
The UK market is fiercely competitive and distilleries really need to have differentiated branding, a clear mission while also producing excellent liquid. It's tough but there is always space for new amazing distilleries to come onto the scene, it just means distilleries have to be much more prepared than they were before. 
Some of the teams that are new today are so much better all-round than what the now established names were like on their first outing ten years ago. They don't get enough credit for that. Nor enough time to prove it. 
There's also been a change in how guests have consumed gin over the years. At first, it was very much about Dry Gin styles but Flavoured Gins quickly gained a lot of momentum and stardom. However, it's now returning to Dry Gin styles but with a twist on certain botanicals, it's now more about balance and producing fantastic spirits for specific occasions. 
Who's been the biggest success stories at the show? 
Overall, the biggest success story we've been privileged to witness are Tarquin's Gin and Warner's Gin. They were one of the first distilleries to partake in Junipalooza and since, have grown to become internationally recognised Gin juggernauts. Tarquin literally came with the entire distillery that first year. Still and all. It's been fantastic seeing their rise over the years and to know we played a small part in it fills us with joy.  
In more recent times, Hapusa Gin have been able to use Junipalooza as a fantastic springboard into the UK market. It's been fantastic to see how they've really captured our guests' imagination but also increase their footprint in the UK.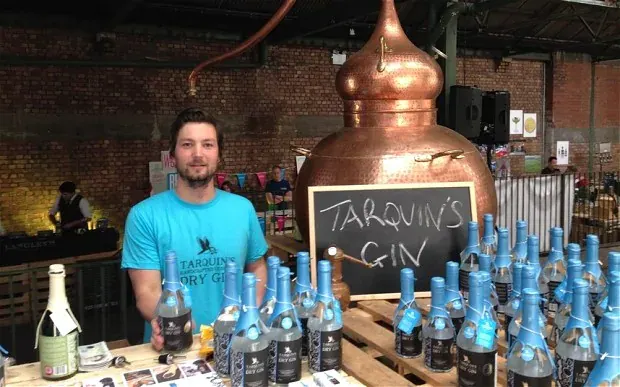 We've been talking about nostalgia and vintage a lot this month as part of the theme of the month. Brands re-invent themselves all the time to keep fresh and relevant. Whose evolution do you admire the most over the years?  
The way custom bottles are now quite common in Gin has been one of the category's big trends (and one of the reasons it's remained so appealing). Seeing what started as unbelievably small operations, sometime with family and friends roped into bottling and labelling runs now looking the way they do today is incredible. Embossing. Texture. Tactile shapes and entire stories captured in the detail.  
In that way, it's less about the individual and more about how far the idea of 'craft' gin has come. It's so much more professional and well executed now.  
The story of gin since that first Junipalooza has been the story of an entirely new industry being developed; Craft Distilling. Brands have had to evolve as this new industry evolved and they are a reflection of its maturating nature. That so many gins never rested on their laurels and kept up with that constant quest to remain relevant, to be brave enough to reinvent and upgrade where they felt they needed to - that's something that's never lost on me.   
Tickets to Junipalooza London are on sale via EVENTBRITE