RTD's or 'Ready to Drink' are currently riding a wave of relative global success and are particularly popular here in the UK. A major selling point is convenience. You can take a bar anywhere with just a few cans. Drink, recycle and travel home lighter than when you left. 
They also provide easy drinking at home. We can have bar standard drinks waiting in the fridge to be served with the simple crack of a ring pull. Beers now find themselves jostling for space amongst a new equivalent in canned cocktails.
This convenience is an ironic one, as canned RTD's are actually very difficult to make. 
There are issues around carbonation, preservatives, PH levels. These factors contribute to exploding cans, which is no good for anyone. In fact, it is such a headache, that most distilleries contract the work out to third party specialists to solve these problems. Authenticity of who makes what aside - contracting out can create problems of its own with differences of opinion about what is desirable or even possible requiring a far more collaborative journey.
How are canned cocktails made?
I'd like you to imagine opening a can of your favourite spirit and mixer. That satisfying crack and hiss which signifies a fresh drink immediately ready, and just for you. That first slurp of pristine fizz and flavour. Now whilst you sip intermittently, let me guide you through the process a distiller goes through to turn bottles of their spirit into that brief and enjoyable moment you're holding in your hand.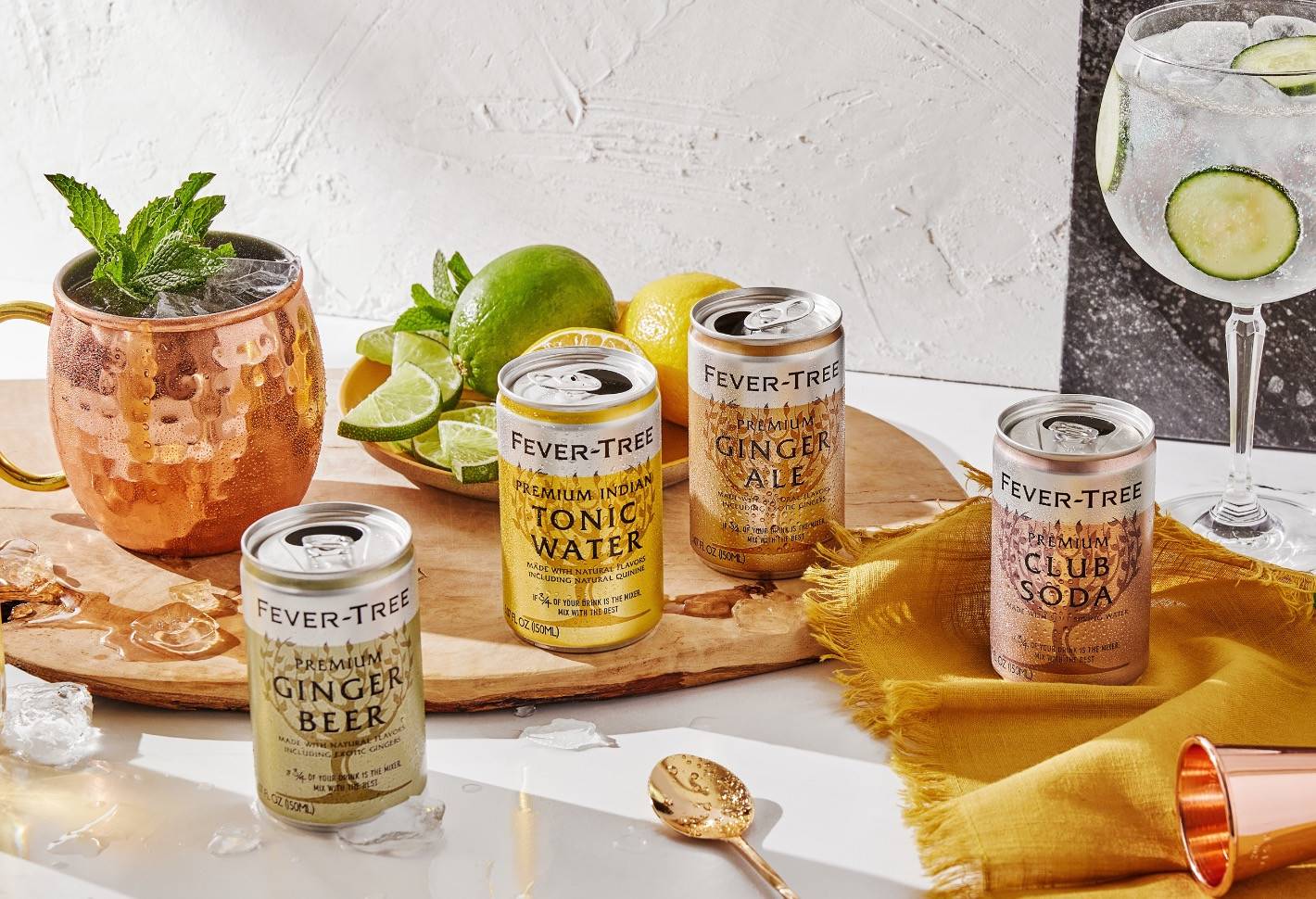 Let's start with that fizz. 
There are technical variations in the process, but a common way to produce RTDs is to mix the liquid first, that's the neat spirit, flat mixer and other flavours, and then carbonate the mixture. Think of a soda gun in a pub. The pub buys cola or lemonade in a syrup form, and then that's carbonated as it comes through the gun. 
Different levels of carbonation will affect the taste of the liquid. Smaller bubbles have more surface area and less air than larger bubbles, so they carry more flavour of the drink as opposed to the flavour of the gas, so larger bubbles will make your drink taste more like carbon dioxide. An example of this is Fever-Tree and Schweppes, who carbonate their mixers to different levels. When Schweppes brought out their 1783 range, they boasted smaller bubbles and a bottle design to allow them to roll up the neck, staying small and keeping the 'premium' drinking experience.
Carbonation proves more successful at lower temperatures, so the mixture needs to be chilled prior to carbonation. But the producer must allow for a tolerance… 
Water expands as it gets warmer, so the contents of the can are going to expand as it gets to room temperature. If you don't allow for this then you run the risk of your cans bursting. There are methods for retaining carbonation to keep the product at a better quality for longer. You can use preservatives but these can cause issues (more on that later). There are also systems in production, described as a 'preservative free, liquid processing aid', that can assist. As Tom from 6 O'Clock Gin explained, adding sugar will make for a thicker liquid and a thicker liquid will hold onto CO2 bubbles for longer.
Let's talk about the strength. 
Many RTDs are produced at around 4-5% ABV. This is lower than the spirit and mixer you'd make at home or buy at the pub. However, high ABV means more cost, from both an increase in spirit used and a higher taxation on the finished product. The average consumer doesn't want to pay too much for a canned drink, even if the contents are the same as a drink in a pub. You don't have the service, glass or space to pay for. So you can make a higher ABV product and some companies have…but will you sell enough to make it worth your while?
Say you play it safe and go for a 5% ABV, you then need to consider preservatives. Spirits in bottles don't need preservatives due to their stability, and they don't have a best before date on the bottle for the same reason. 
However, as soon as you start mixing, you need to consider these things. You need to produce a product that will last at least 6 months shelf life, more depending on your route to market. A lot of the larger retailers ask for 18 months to allow time to sell the large quantities they purchase.
One of the most commonly used preservatives is potassium sorbate. It works by inhibiting the growth of moulds and yeasts in products. However, it is also acidic, so will change the PH level of the liquid. This can affect the taste, so you may want to counteract that. Sugar or other sweeteners are used to balance the flavour and add a satisfactory mouthfeel. PH will affect the can too, so even minor changes in this will have the knock effect of damage to the can's integrity, especially if left sat on a shelf for months.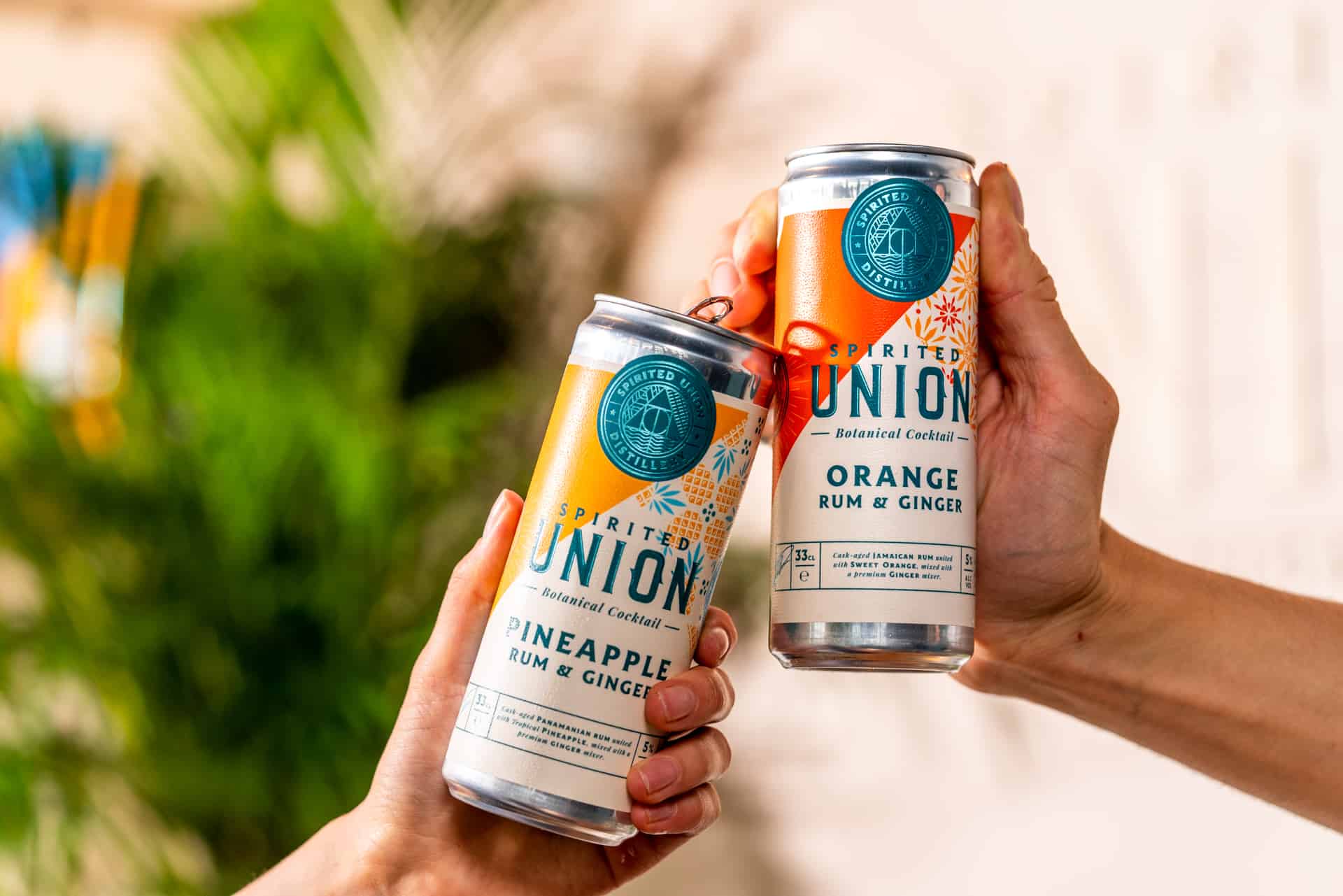 And how about the way it's presented…
Printed cans cost a lot, much more than a can with a label. But very few can pull off a labelled can and a premium price point. There are limitations on the amount of colours you can print direct to can (around 6 pantones). Then you're looking at minimum order requirements to have the cans printed. You're going to struggle to place an order for fewer than 50,000. The good news is the best before date is printed on at the point of canning, not printing so you could can batches of 10,000 at a time.
The thing is, for as gargantuan as it sounds - 10,000 may be around the minimum order a canning company will take. The reason for this is the typical volumes required by the supermarkets. 
Supermarkets place much larger orders in single centralised warehouses which are then divided between stores up and down the country. Alternatively, they order through a wholesaler who does the same on their behalf. To account for this, the supply chain dictates a need for longer best before periods, which means using more preservatives which will affect both the flavour and the can integrity. 
This isn't such a problem for the big players who have a lot of resources at their disposal and for whom life on a supermarket shelf is the intended destination. For the smaller teams without the familiar brand name however, the extra intricacies required to even be of plausible interest to supermarkets asks how much they believe in their product. More precisely, it asks if they are willing to compromise on flavour to extend shelf life and be able to have a product that can be sold in that kind of environment.
If they don't, selling direct is the only option and suddenly ten thousand units is a lot to go through in a few months. The likes of York Gin sell through a shop in a train station, Tarquin's sell direct across their Cornwall stores and others sell direct via their websites. This can alleviate some of the pressures, but are you going to sell enough to get through an entire batch in its shelf life? 
There are a lot of factors to balance to ensure a profitable outcome…
What do all these factors this add up to? A lot of money. One source says they've looked at a million pound spend to get a range done. That's a lot to lay out before you even have a finished product, more so when you think a can is around £1.5 profit a pop and the return on investment will take a while to come to fruition. Assuming you don't waste more money that is and actually get into customer hands…
Last year a US Seltzer company had to destroy a huge amount of stock due to it not being sold within the best before date limitations. Drinks wholesalers in the UK routinely do the same for countless products with finite best before dates and most insist on sale or return contracts.
It may well be possible to find alternative routes to make canned cocktails. Smaller factories exist and some gin makers are doing their own thing in-house. 
I understand that there can be other limitations to working with third party contractors beyond scale and timelines. However, I would add that there is a reason those third-party contractors exist. They have made all the mistakes getting the processes right. They have learnt all the lessons and they can bring that expertise to a product. Given the technical intricacies involved it would be foolhardy to think that it's possible to do it all in-house and not run into costly mistakes along the way.
RTD's are a difficult thing to get right and a difficult thing to sell profitably. They require a big leap of faith and a lot of clever science. 
All that complexity is hidden in those few glorious slurps of your drink. It rushes past in a delicious fleeting moment. It'll never be known to the many drinkers and as they take that final sip, crunch that can up and pop it in the recycling. Job done.