We love going to local bars, going beyond the convenient in search of the hard-to-find cocktail joints, the cool drinking spots and local dive bars. Experiencing a range of bars, from the swanky to the dingy, is a key part of getting to know a city. 
There's something special about a Hotel Bar though.
For those looking for where to stay, it's a convenient extra to have a fantastic bar literally on your doorstep. Hotel bars remain the archetypal 'port in a storm' too. They are reliable places to take shelter from the hustle and bustle, offering the tired and weary traveller a trusty place to pull up a pew. For solo travellers - even in the age of digital connectivity and apps - they also form a good place to meet new people. 
In recent years they've become far more significant beacons of hospitality and hotel bars have become hot commodities. They have been elevated from business traveller stopovers, guest only clienteles to destination locations in and of themselves. Look at the world's best bar list and you'll find many that are big name hotels.
That said, despite the best being at the forefront of cocktail trends - they are places that rarely judge. You can walk in with crumpled attire straight off a plane for whatever you crave. You can even play the Americano roulette and see if it's a coffee or an aperitif that appears – hotel bars will serve you either.
When done well, they integrate with a city's hospitality offering and become destination venues in and of themselves. They create this heady mix of locals and travellers, places where temporary residents are sparking up conversations with strangers, and others enjoying a break from their usual haunts. They are often places with spectacular views too – taking advantage of buildings with rooftops and expansive vistas or connected to restaurants with famed chefs at the helm.
Whether you are looking for a few spots to take a seat come cocktail hour, or don't know where to book a room, maybe these spots will go onto your itinerary or whose drinks offering may even sway your room booking altogether…
Rock Bar at Ayana Resort and Spa, Bali
Perched on the distinctive rock formations along Jimbaran's pristine sunset coast, Rock Bar Bali is one of the globe's best-known sunset-meets-cocktail destinations.
To get there, guests must ride down a cable car in what is a dramatic oceanfront arrival that sets the expectation of what's to follow - a bar that's perched 46 feet above the Indian Ocean. You might have to put up with some insufferable influencer posing (such is life in 2022), but the up-side is worth it – tasty cocktails while watching the sunset as music plays from the custom DJ booth carved directly into the cliff face.
Jati Bar at the Four Seasons, Bali
The Jati is a Balinese institution. The teak wood lounge is based in an enormous double-height panoramic space that cantilevers out over the jungle that lines the Ayung river. 
The spectacular perspective over the canopy and has cemented the Jati as a place to go for that "old-school" Bali feel. 
Expect classic cocktails mixed from a sunken bar at the edge of the precipice, and if you get lucky the half-dozen seats that face directly out over the vivid-green canopy offer the best opportunity to sip and listen to the rush of water flowing in the distance.
Saigon Saigon Bar at the Caravelle Hotel, Ho Chi Minh City

Opened in 1959, the Saigon Saigon Bar oozes with history. It hasn't really changed since its original opening and thankfully, many of the bar's fittings (such as the antique fans and raked ceiling) have been preserved. 
It's never going to rank on the 'best of' or 'most creative' global lists; this is not the venue for that. You go for the sense of history, the iconic status the bar has maintained and the view, which remains one of the a great vantage points to look out across the city and take in the sunset.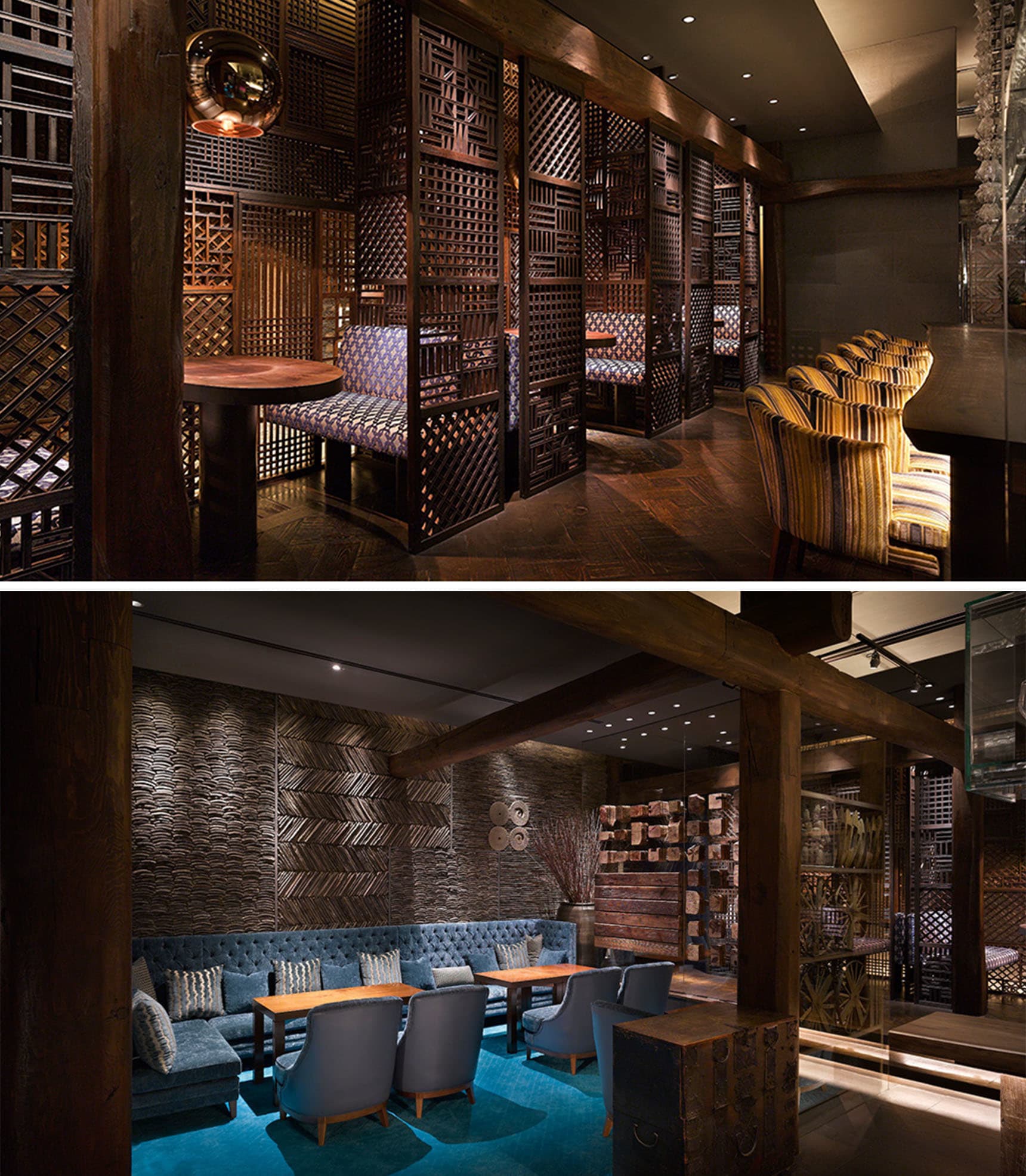 The Timber House at the Park Hyatt, Seoul 
The Timber House is located on the lower-level floor of Park Hyatt Seoul and ranks as one of the best hotel bars in the city. 
It's a big place complete with elegant furniture, great live music and a bar divided into three thematic sections: a Sake-meets-Soju Bar a Cocktail Bar and a Whisky Bar which offers a wide selection from around world. Ideal for all types of guests - from those seeking a more intimate experience, to those with business colleagues. 
Skye Bar at the Park Lane Hotel, Hong Kong
Skye bar sits on the top floor of The Park Lane Hotel in Causeway Bay and boasts an incredible view of Hong Kong. 
It's a restaurant bar, so go for drinks and nibbles or drinks then dinner – and enjoy the juxtaposition of the sleek clinical lines, the almost futuristic vibe and how that contrast against the city's ever evolving landscape.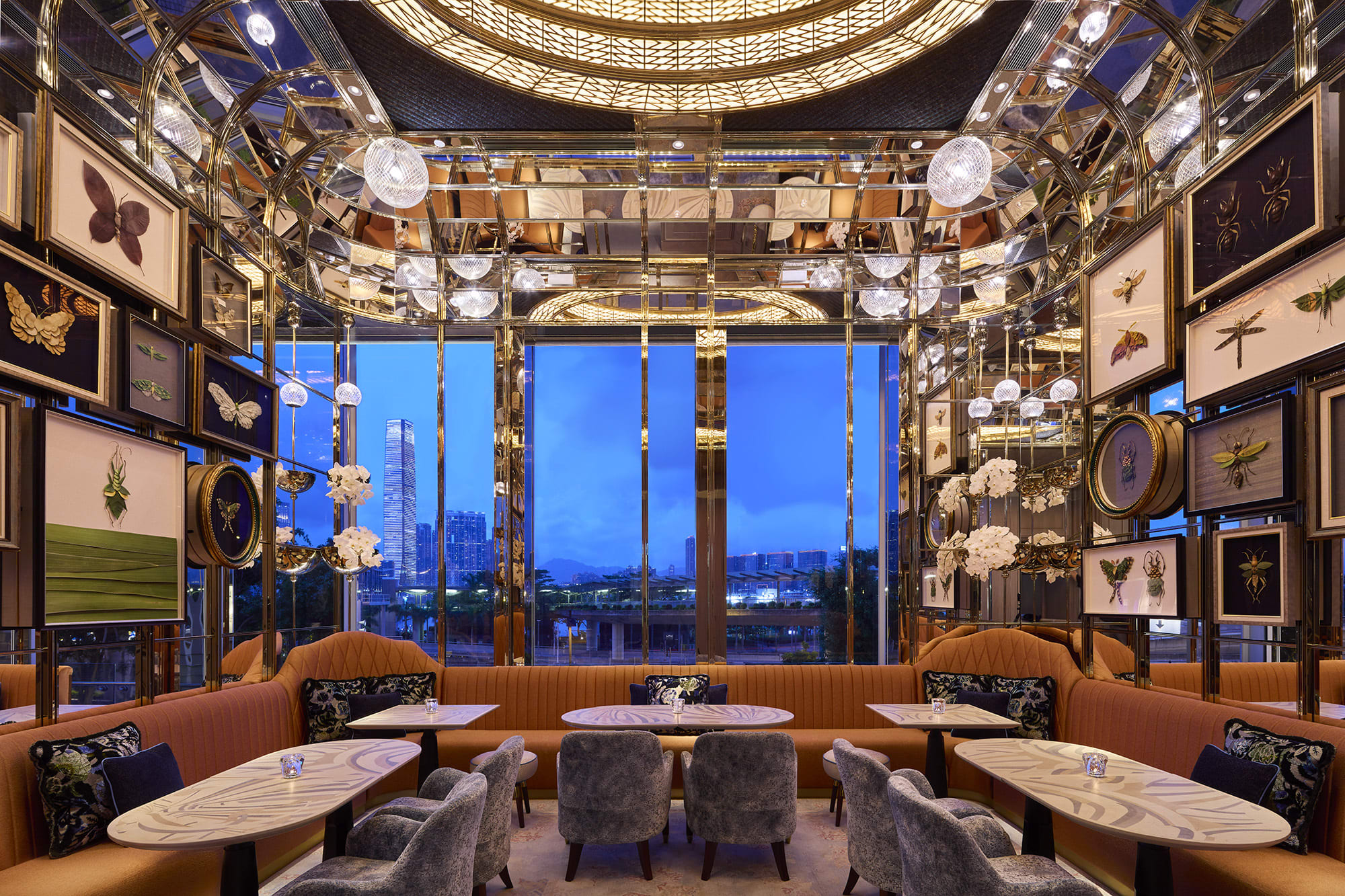 Argo Bar the Four Seasons, Hong Kong
Known for a unique cocktail menu that's previously included drinks fuelled by cutting edge innovations (such as an AI-produced gin and molecular-aged whisky), Argo is a sizeable 70-seat bar designed to emulate a conservatory. It's aim is to be a place that serves as a vessel for innovation and a bar that challenges the way we think about drinks. 
High concept but tasty drinks - one for those who like to have a little think about what they are drinking and want to go to a location that's consistently in the top 10 best bars in Asia. 
The Rooftop Bar at Shanghai EDITION, Shanghai
There are two bars at the Edition Hotel (same as in London) but the Rooftop Bar is on the 29th floor and possesses one of the best panoramic views of Pudong from the Bund. 
It's not all about the wider view though – expect to be surrounded by ivy-covered trellis, and an open-air lounge area offering guests a comfortable setting for casual drinks. 
Sky Bar at Lebua at State Tower, Bangkok
The Sky Bar is world-famous for good reason. Perched 250 meters above the ground, the bar is one of the highest in the world. It's prevalence on Instagram has meant it's become a mainstay on round ups like this, as well as a landmark of Bangkok's drinks scene. There's also the Legacy of The Hangover II movie that propelled the venue to even bigger fame (and something they've leant into ever since).
Is it worth it? Yes. It's so high it's almost dizzying and for those with even a whiff of vertigo, can quickly become a sweaty palm experience. Being that heigh and looking out onto the urban views is a sight that sears itself onto your retina. 
Go for the "magic hour" or after dark as it's a different scene from hour to hour and the flickering cityscape is genuinely special, while the classic cocktails are as you'd expect from a top end venue.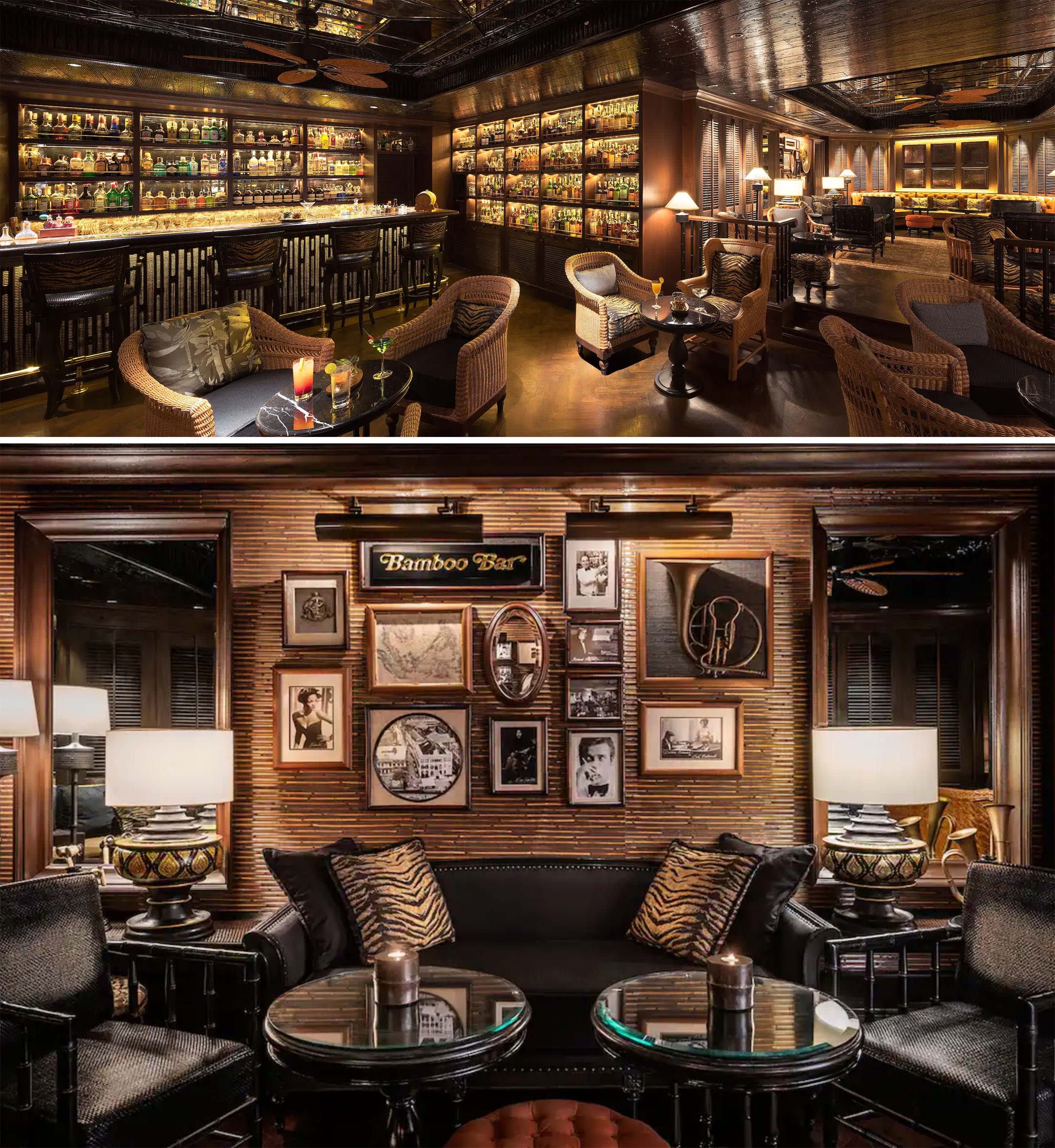 Bamboo Bar at the Mandarin Oriental, Bangkok
Nestled inside one of the most historic hotels in Bangkok, the Mandarin Oriental, the Bamboo Bar is a memorable experience. It's also steeped in history and has made a reputation for itself as a sanctuary for music lovers ever since it opened in 1953. 
It's one of Asia's best bars too - hotel attached or standalone - and with live jazz still a prominent part of the experience today it makes for a great drinking experience.
New York Bar at the Park Hyatt, Tokyo 
The New York Bar remains one of the most famous bars in Tokyo. Rightly so, it has so much to offer and between the spectacular views (it's on the 52nd floor), the iconic nature of the hotel itself and the Lost in Translation fame – it's easy to see why it remains a mainstay for visitors.
It's fair to say that it leans on that quite heavily but if you go in knowing that and pick your drink accordingly, the classic elegance, breath-taking views and live music make for an unforgettable experience.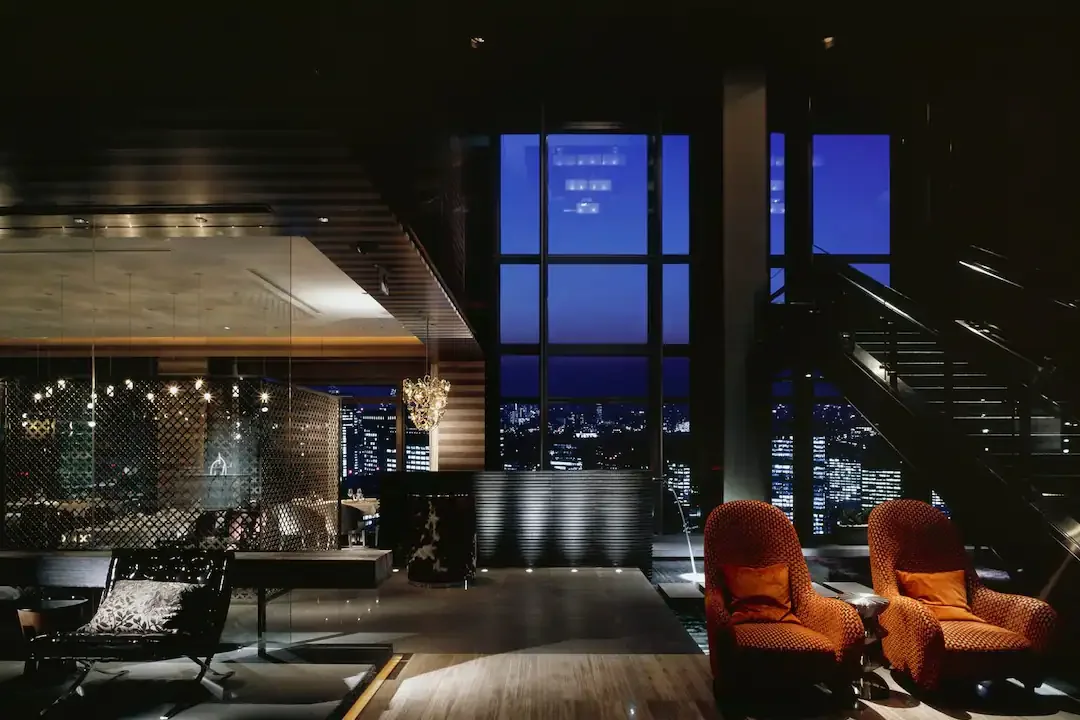 Mandarin Bar at the Mandarin Oriental, Tokyo
The Mandarin Bar embodies modern Japanese style and offers the perfect luxurious retreat from the hustle and bustle of Tokyo city life. 
It isn't just about the luxe décor; you can trust that the cocktails live up to the now internationally acclaimed reputation. Cocktails are seasonal and full of regional ingredients that give a distinct identity to the menu. A worthy pit stop if ever there was one.
SPOTLIGHT ON SINGAPORE
Origin Bar at the Shangri-La Hotel
Set inside the Shangri-La Hotel, Origin Bar's high ceiling arches and beautiful colonial architecture gives it a VIBE. While the venue has lots of character, the drinks don't disappoint either with plenty of local ingredients used in clever ways.
If you think the photos make it seem like there's a locomotive theme going on – you're right – their aim was to create something not dissimilar to something befitting the Great Orient Express.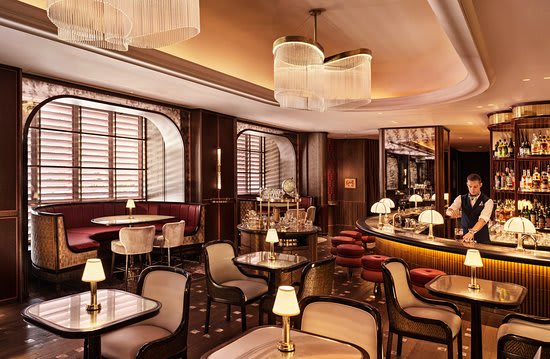 Idlewild at InterContinental Singapore
Idlewild intentionally transports guests back to the era of luxury air travel. Expect an old-school feel to the bar, bringing together a global collection of objects, spirits and a cocktail menu to match.
Its retro glamour creates an instant impact, making it an ideal place for date nights with more than a tinge of nostalgia. Meanwhile the interior is detailed with layers and textures (mother-of-pearl tabletops, mahogany and brass fixtures, gilded cabinets, chandeliers etc.), and the frequent live music and jazz adds to the occasion.
Lantern at the Fullerton Bay Hotel
For those looking for a bit of a dip in the afternoon and somewhere they can smarten up and enjoy the atmosphere after, the classy rooftop pool bar at the Fullerton Bay Hotel offers some of the best views of Marina Bay. 
Resident DJs keep the atmosphere upbeat and it's a great place to soak in the picture-perfect view of Singapore.
Manhattan at the Regent Hotel
Set within the Regent Hotel, the Manhattan feels like an Art Deco interior met with a 19th century speakeasy. It needs little introduction to most drinks' enthusiasts, as it was one of the big names in propelling the city's cocktail resurgence from 2015 and continues to big hitter today. 
Expect artisanal spirits, both classic and forgotten cocktails, a lot talk about barrel aging (they have the world's first in-hotel rickhouse) and a remarkable collection of house-made ingredients. It's a stellar offering delivered to a consistently high service standard and leaves you with very little wonder as to why you had to book ahead and why they are always packed.
MO BAR at the Mandarin Oriental
Intricate wood panelling, earthy tones and stunning views of the Marina Bay, the Mo Bar Singapore is the epitome of sophistication. 
It caters to both day as well as evening occasions and as a result you can expect a wide array of guests and, perhaps surprisingly from a hotel bar that has such a view – a homely vibe.
Mr Stork at the Andaz Singapore
Perched on level 39 of Andaz Singapore, rooftop bar Mr Stork has tepee huts dotted amid lush greenery. 
It a bit quirky, surprisingly big, with good panoramic views of the city skyline. It's not just a sit down though - you can mooch about the cobbled paths that wind around the entire level, giving you a 360-degree city-viewing experience.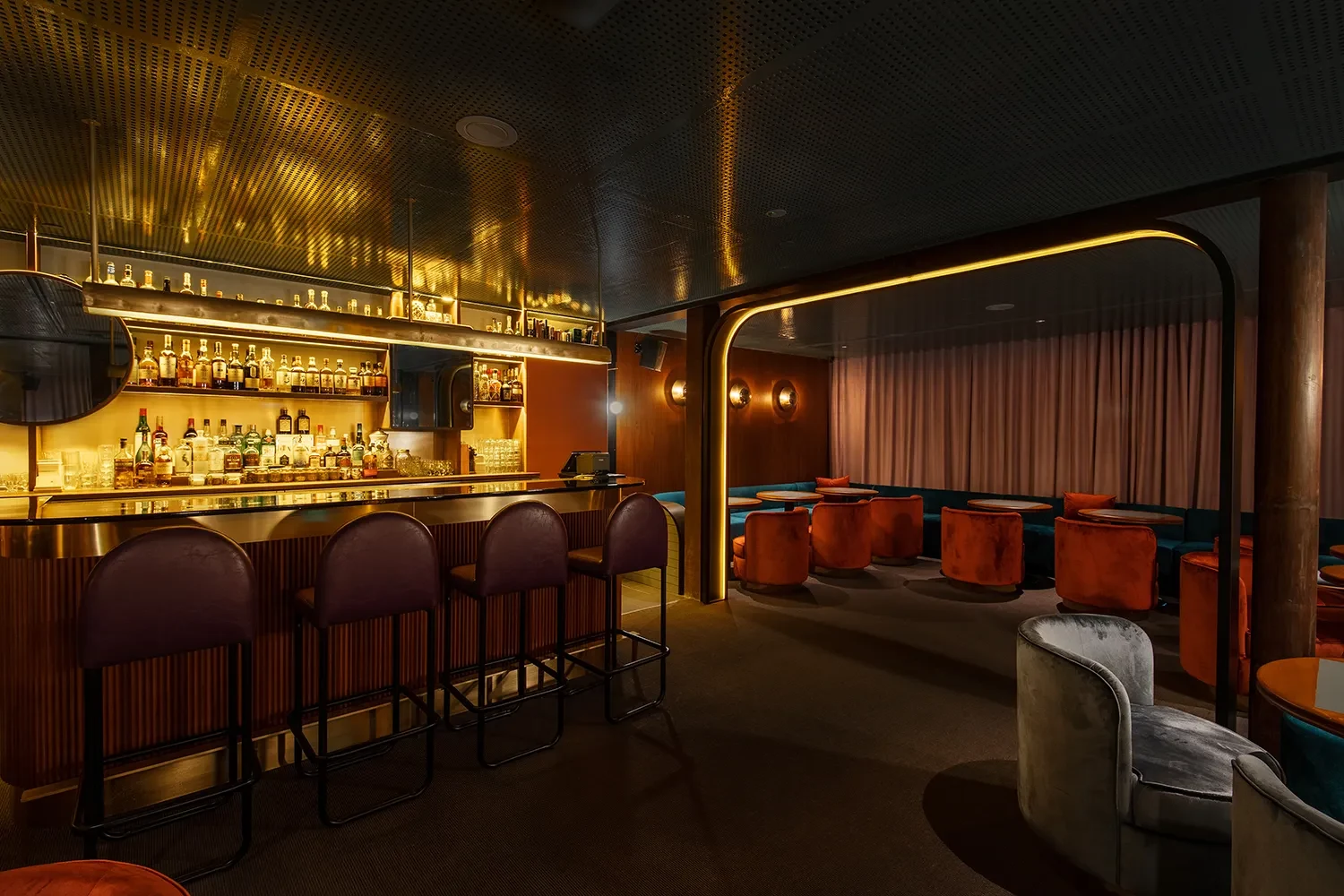 Jigger & Pony at the Amara Hotel 
Jigger & Pony is a household name in the Singapore bar scene. It relocated from Amoy Street to the Amara Hotel in 2018, reinventing itself somewhat in the process. Today, it's considered to be one of the best bars in Asia full stop.
You can expect a relaxed bar with a buzzy atmosphere that reliably delivers fantastic cocktails time and again to a cool crowd. 
It's smart too, not just in appearance but in the way it brings both intimate booths and comfortable seating with more social areas and a long bar – great for groups and solo travellers alike.