According to the IWSR, one of the most trusted and widely used sources for beverage alcohol trends in the world, the total Gin volume in Australia in 2020 was over 973,000 nine-litre cases. 
In laymen's terms that's the equivalent of around 12.5 million bottles and represents an increase more than +36% over 2019 volumes.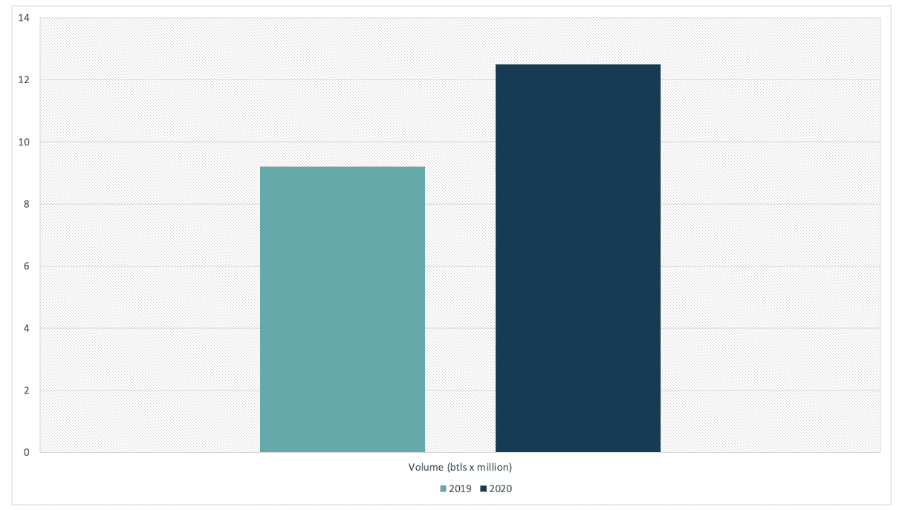 Go beyond the headline numbers and the data reveals a complex set of trends unfolding too. It shows that despite all the buzz, domestically made spirits remain quite a small percentage of the overall consumption.
While we are not permitted to share exact numbers, multinationals dominate sales with the three big brands (Gordon's, Tanqueray, Bombay) estimated to account for almost 50% of all gin sales in Australia. Add in the other best-selling international names such as Hendrick's, Beefeater and Roku and it's clear the vast majority of gin consumed in Australia is made elsewhere. 
While at first glance this may seem frustrating for domestic producers, the situation is anything but. 
Namely, look at how much their share has grown. For years, the percentage of domestic gin consumed vs international imports was less than 5%. It's a statistic that has been often banded about at trade conferences and routinely used by papers and commentators since 2016. Today, if one combines even a conservative estimate of the total output of a dozen of the country's larger producers (Four Pillars, Archie Rose, Ink Gin etc)- it's clear to see that's now well over 15%. 
In a short space of time, the growth of local producers has changed the landscape as well as shifted the expectations of a new generation of drinkers going forward. This is reflected in the data, where in 2020, domestically made spirits' volume grew faster than imports (or indeed overall growth).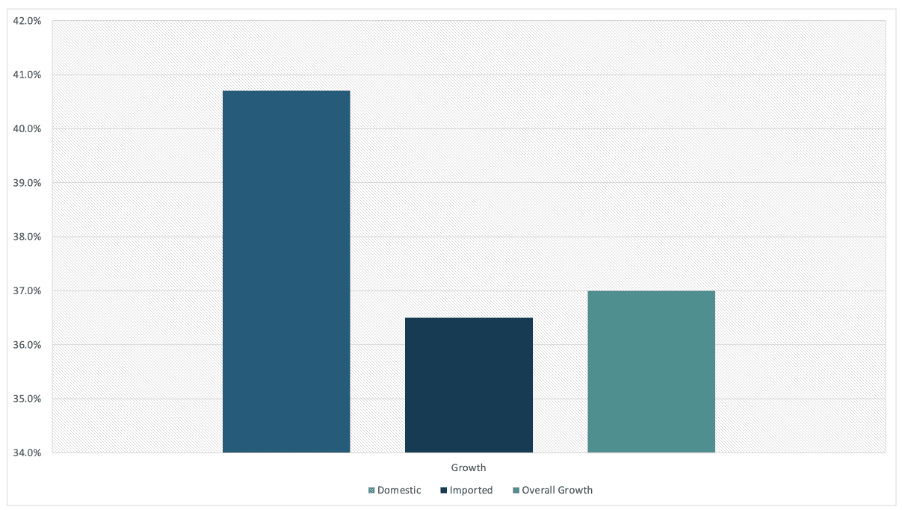 According to the IWSR, local gin volume increased by +40.7%, while imported gin volume grew by +35.6% in 2020. Given overall growth of gin in Australia is around 36%, this split is also another indicator of where the real volume lies in the category, the respective size of their starting points and just how influential international brands are in the Australian market. 
Viewed more holistically however, it is a visceral indicator of the acceleration towards local distilleries. Despite having no international tourism coming to their cellar doors, less effective routes to market and less marketing spend in general – small producers managed to outperform the big players in a pandemic year. 
Follow the industry predictions and by the end of 2021, it is likely that 1 in every 5 bottles of gin consumed in Australia will be made there, up from 1 in every 70 just a few years ago. 
Even if the "Gin Boom" stopped overnight, which it won't, the trend towards local shows that there is a huge opportunity to cannibalise sales away from Diageo, Pernod Ricard and Bacardi. The dual growth opportunity (local spirit producers gaining more of the share of the market and the market itself also growing) has created a perfect storm that's encouraging new brands to launch at an astonishing rate.