Like Del Boy opening up his briefcase to reveal a coterie of stolen silverware, celebrities have long been loud, proud hawkers of whatever folly they've been paid to lend their names to.  Sure, they do it via billboards and Instagram stories rather than down the local boozer, but there's a certain chime of shamelessness that strikes a harmony with London's most famous fictional crook. Be it Babe Ruth peddling Red Rock Cola in 1930 or Snoop Dogg rapping the virtues of Just Eat in 2021, the power of famous faces to pull in a whole new audience is one that is long proven. 
Of course, as the more attentive celebrities have realised over the years, their endorsement is all the more authoritative (and profitable) if they have a tangible stake in the brand at hand. This is never more noticeable than with booze.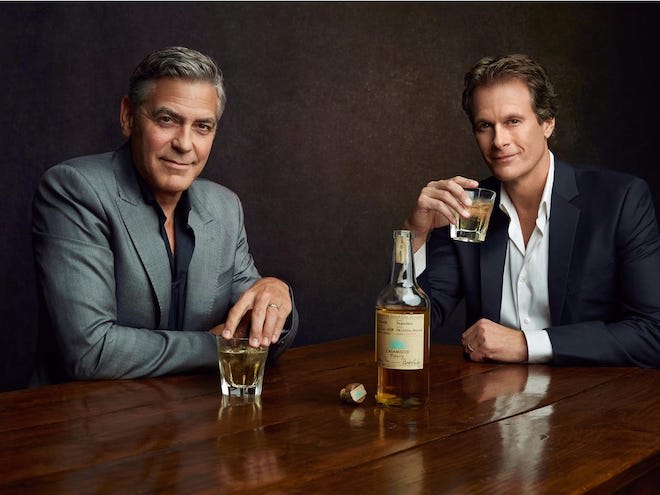 The sheer number of famous personalities moonlighting as spirit producers is staggering, and really who can blame them for wanting to get involved when they've seen the fortunes of the early adopters? When George Clooney co-founded tequila brand Casamigos in 2013 we doubt even he could have expected that when it came time to sell four years later, Diageo would be handing over a cheque for a cool billion dollars.
And while Clooney may be the first name you think of, he absolutely wasn't the first celebrity to get stuck into the booze game. Fellow actor Danny DeVito beat him by six years when he launched his Limoncello brand in 2007 and before alcohol was even a twinkle in either actors' eyes, musician Sammy Hagar struck gold with Cabo Wabo Tequila, which launched in 1996. Hagar sold 80% of the brand to Campari Group for $80mn in 2008 (they bought the remaining stake two years later).
The most famous example of late has been Ryan Reynolds, who gave a jolt of electricity to the heart of an American distillery when he took a "significant" stake in quiet but well-loved Aviation Gin. His tongue in cheek humour very quickly became the voice of the brand, with people actively streaming adverts and clamouring to get hold of a bottle. 
Aviation Gin was very quickly everywhere – even finding a home in a town in North Wales when Reynolds took a stake in Wrexham FC. Before the ink was dry on that acquisition, limited edition bottles of the spirit clad in the football team's colours were rolling off the production line. 
Two years after Reynolds put his money in, Diageo acquired Aviation Gin for a whopping $610 million. Understanding that Reynolds' presence is a huge part of the brand's appeal, Diageo was quick enough to produce a 10-year covenant in which the Deadpool actor remains the face of the label. Still, with $335m upfront and the remaining $275m due over the next decade, it's not too much hard work for such an eye-watering sum.
There is something strange about this all, though, isn't there? It's as if everyone in Hollywood has the same financial adviser, telling them to stick their money in spirits. The Rock has a tequila, as do Nick Jonas, Justin Timberlake, P Diddy and Rita Ora. Drake has a Whiskey, Dan Akroyd a vodka. Even Breaking Bad co-stars Aaron Paul and Bryan Cranston have a Mezcal. The list is an ever-growing one, and these are just the first names that fall out of the hat – this is big business. 
The trend really seems to tend towards tequila, which is starting to ruffle a few feathers of late. No one has copped accusations of appropriation and insensitivity more than Kendall Jenner, who caught flak from the word go when she announced her Tequila brand, 818. While critics are always quick to cluck at members of the Kardashian clan, there's a point to be made here. Naming a Mexico (and indeed Mexican)-made tequila after her own Los Angeles postcode shows a certain apathy to the integrity of the spirit, and to the people who still make it today. The long, vibrant, brilliant history of Tequila is irrelevant here – it is merely a famous name attached to an on-trend spirit, made with cartoon dollar signs in the eyes, rather than hearts.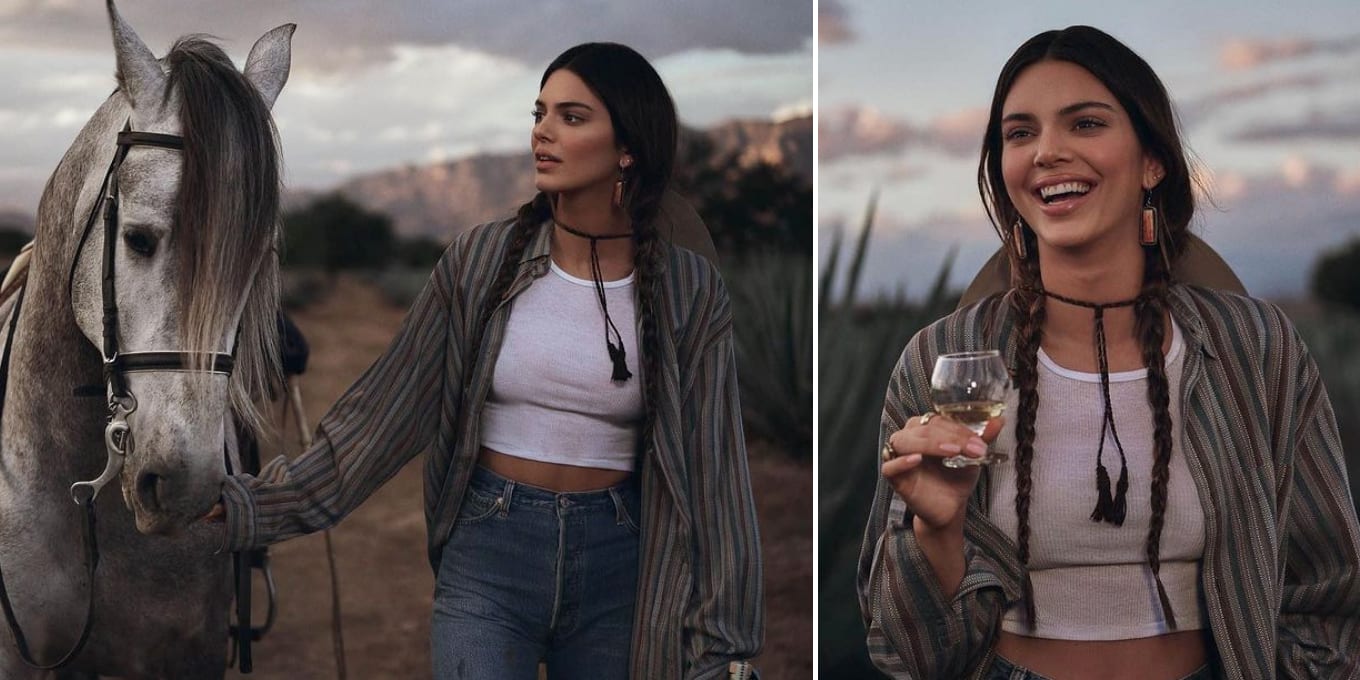 There's more of this to come - the growth of white label producers has made it so that even the likes of me, a professional idiot, could have my own spirit brand up and running in a matter of weeks without ever setting foot inside a distillery. If you have access to funds, it's really not that difficult to make something perfectly drinkable, if a little soulless.
There's worse to come too – first came the movie stars, next comes the YouTubers and influencers. Traditional celebrities have a huge scale of reach, no doubt, but the social media generation have powers we haven't even begun to comprehend. They have a captive audience at their mercy – newly minted adults who have grown up taking their word as gospel and who, in turn, will take their spirits as gospel too. Prepare for an onslaught of spirits with high subscriber numbers – it's mere moments away. 
Oversaturation is also just around the corner, but that doesn't spell doom – not for everyone, anyway. It's the soul that will sell it. 
Those hoping to replicate Reynolds playful success will falter (there is only one Ryan Reynolds, after all, and only one Aviation Gin to buy into), but those operating product first, name second and making a spirit that respects the history, the creators and the wants and needs of modern-day drinkers will last past the trend. Those sticking their names, faces and postcodes on a bottle of whatever spirit they can get their hands on… I have less hope for them.