Top Tips:
If you are going to add wine as suggested above (it's entirely optional), our advice would be to use a less intense gin to start with and then opt for a sweet wine, such as a Sauternes.
We've found that the key to a White Cargo lies in your ability to shake and can't stress how important this part is. Do so like your life depends on it!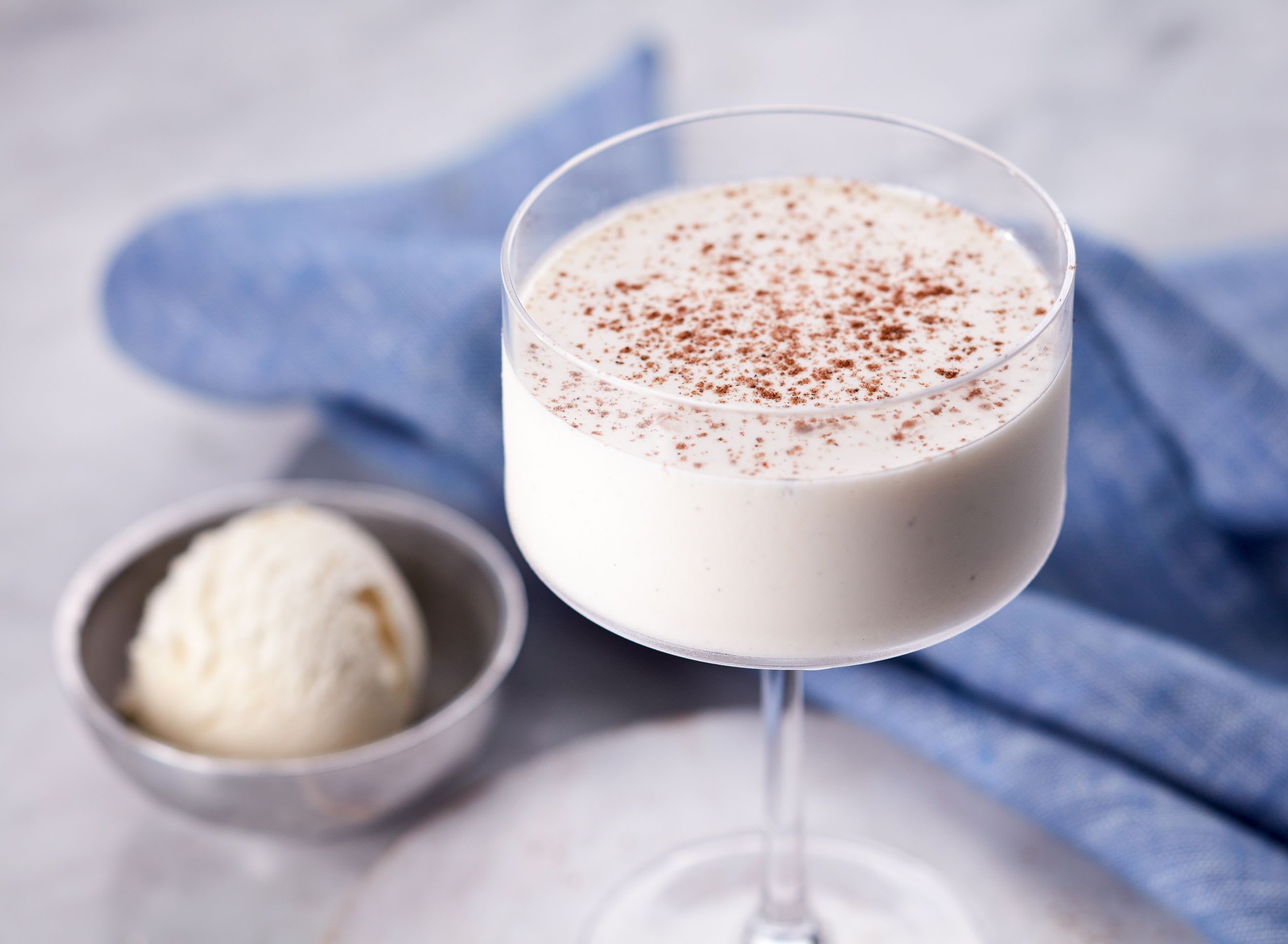 Another version of the drink that caught our eye was that of Sipsmith co-founder and all round cocktail genius Jared Brown, who suggests equal parts gin (Sipsmith, obviously for him) and vanilla ice cream, along with 4 dashes of maraschino liqueur and a grating of nutmeg. 
We would absolutely, unapologetically steal the nutmeg idea; anyone who's ever indulged in a bit of potato dauphinoise knows just how much depth a sprinkling of the spice brings to a cream based dish.  The Jared Brown White Cargo would be made in much the same way as the Savoy's famed Harry Craddock recipe we have listed above, with the maraschino going in the shaker alongside the other ingredients (we'd opt for 15ml).
The maraschino has us thinking about alternative garnish ideas, though. 
Perhaps adding that sprinkling of nutmeg to the shaker rather than on top would leave room for something a little more colourful. The senses lead each other on, so we'd be really tempted to add just a couple of drops of Chambord (or whatever raspberry liqueur you have at your disposal) to the top of the glass, thus creating a delicious, boozy-raspberry-ripple effect.
Again, just as a reminder – If you are going down the wine path, it's worth keeping the dessert theme strong, so opt something like a Sauternes or a Monbazillac and add one drop at a time.
A BRIEF, INEBRIATED HISTORY:
There isn't a great deal of information about the White Cargo floating around. Judge Jr's book seems to be the very first example we can find, and even that doesn't seem to take the drink particularly seriously. "here's a concoction that's endorsed by all the ice cream manufacturers," Judge says. "And, take it from me it's a rare beverage!"
Judge Jr's book is a cracking read, by the way. He refers to gin as 'Gordon Water,' and has recipes for cocktails you don't really expect to see outside of student halls, such as 'The Melon-Choly Cure,' which involves pouring a bottle of gin into a watermelon.
There's also a toast at the bottom of each page, some of which will make you smirk ("Here's to the Prohibitionist; let him without gin cast the first stone"), some of which will make you want to bang your head against the wall ("Here's to the liquor that makes a man see double and feel single!").