Top Tips:
The Mint Julep is often served in a rocks glass but it's at its best in a silver julep cup (or tin).
Cubed ice doesn't work here. You'll need crushed ice and lots of it. The dilution over time and cold frosting in your hands is what makes the cocktail so stimulating. You'll need a straw too, so try to get the paper ones as opposed to adding lots more plastic into the world…
Since Bourbon is the only kind of booze in the cocktail, it pays to use something that's a notch above the usual plonk. Whatever your preference in flavours, try to pick a slightly higher-proof bourbon to keep the crushed ice from diluting the cocktail beyond the point of enjoyment too quickly.
Mint varieties are your friend. Spearmint, Peppermint, Apple Mint, Chocolate Mint, Orange Mint – there are literally dozens of hybrid varieties around and plucking some fresh from the garden can add a unique twist to the aroma of the cocktail.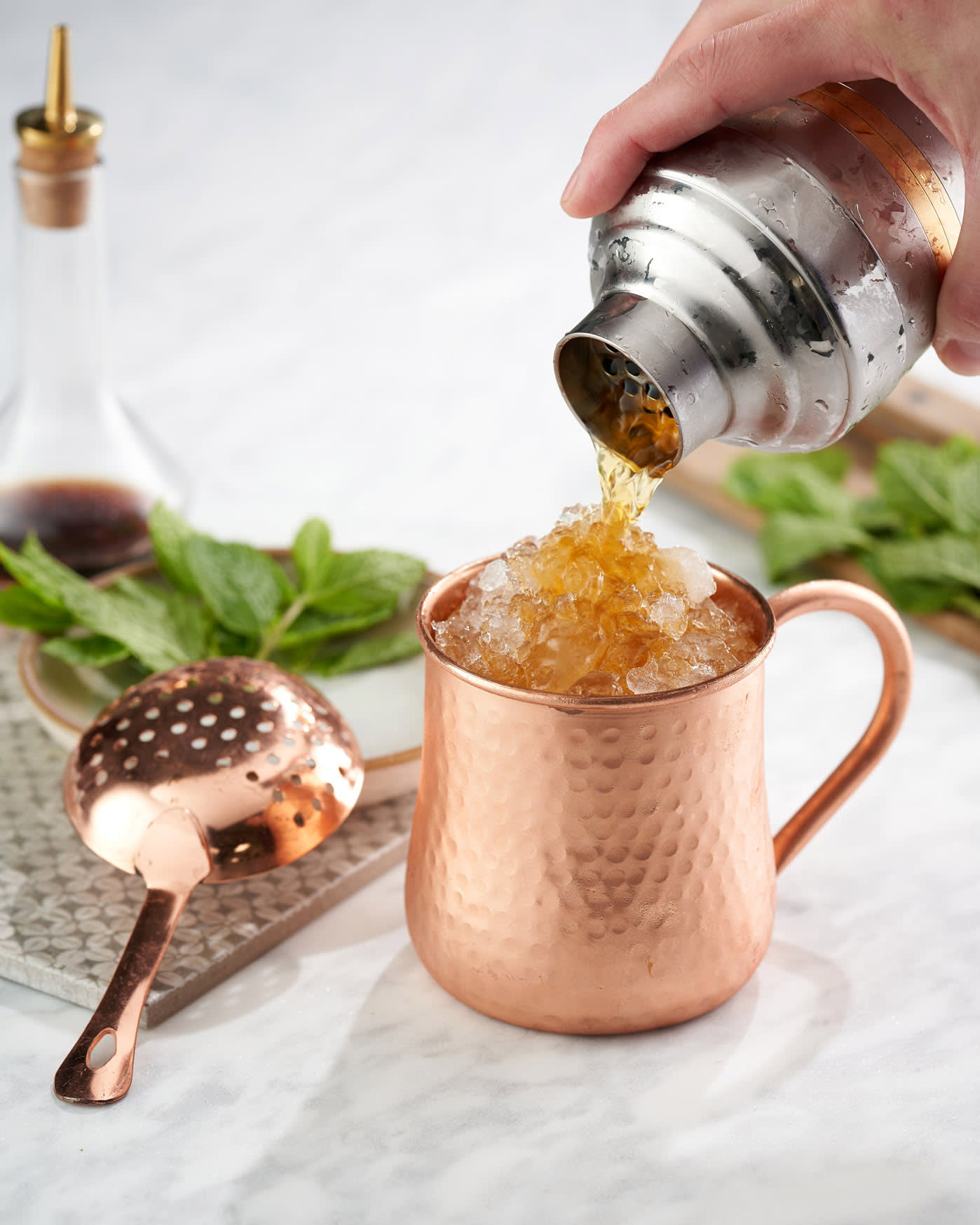 A cocktail category or a just a drink?
The Mint Julep (made with whiskey) is the most popular julep recipe out there, but the julep itself is actually a category of drinks containing a spirit served over crushed ice. 
It's likely that the first Juleps were made with Brandy. Before Whiskey became the go-to for Americans, Gin and Genever Juleps were also commonplace.
This is typified by Jerry Thomas' The Bon-Vivant's Companion (published in 1862), where you can see Juleps were an established genre of cocktail. His book includes five recipes for the Mint Julep allowing for either Cognac, Brandy, Gin, Whiskey or sparkling Moselle.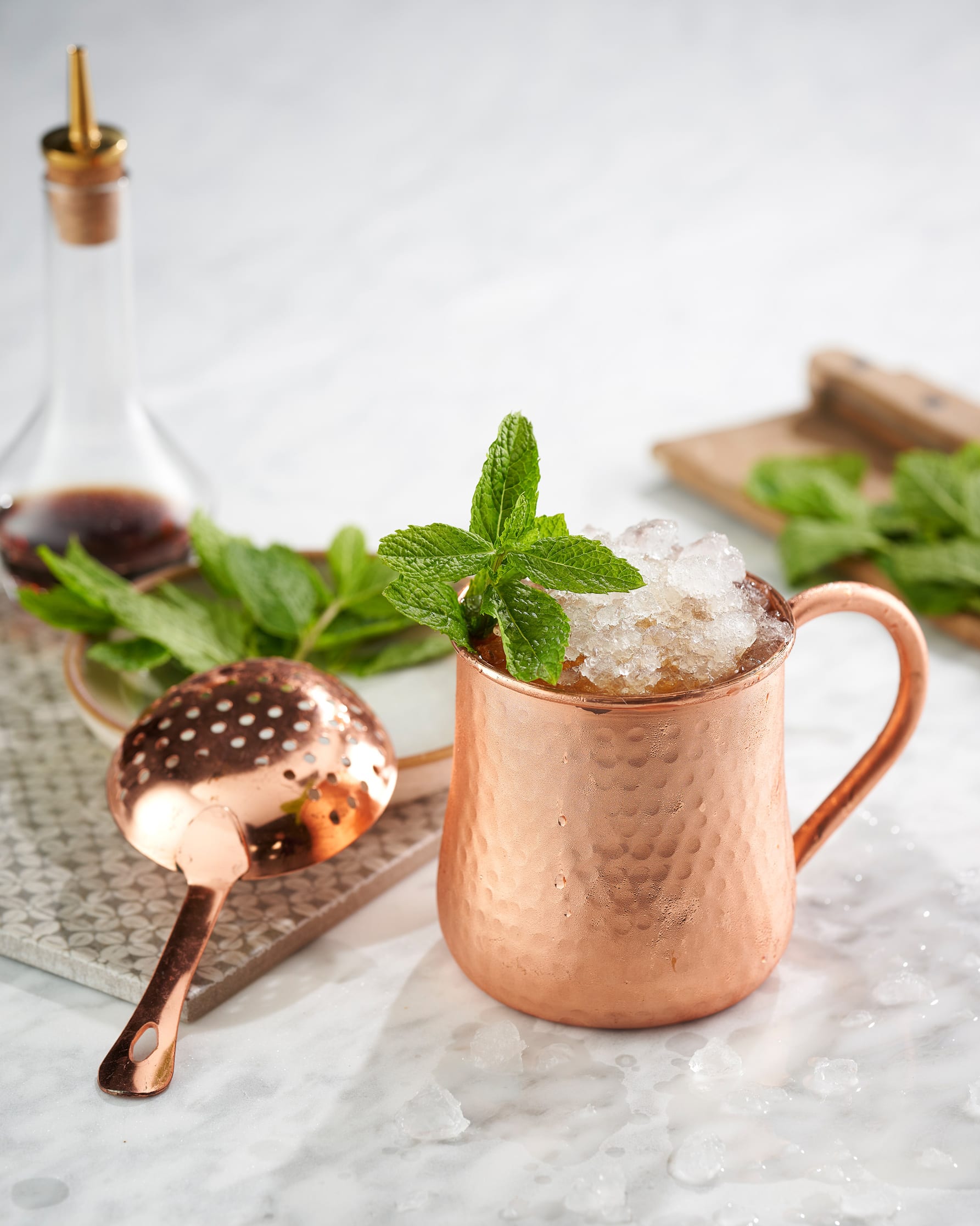 AN ABRIDGED, INEBRIATED HISTORY:
The Mint Julep is a drink we consider to be an afternoon or evening tipple, but it was once considered as something to casually start the day with…  
One of the drink's first print appearances was in 1803 in John Davis' book Travels of Four and a Half Years in the United States of America. He wrote that the Mint Julep is a "dram of spirituous liquor that has mint steeped in it, taken by Virginians of a morning". While this may seem like a bold choice of morning pick-me up, look closer and you'll see that it is (at least in part) due to the drink's medicinal origins before the turn of the 19th Century.
At that point, the term "julep" was generally defined as a sweet drink and English juleps, as opposed to later American mint juleps, were primarily medicinal and only lightly alcoholic. Further evidence of mint julep as a prescription drink can be found in 1784 Medical communications: "sickness at the stomach, with frequent retching, and, at times, a difficulty of swallowing. I then prescribed her an emetic, some opening powders, and a mint julep." 
The move from medicinal to recreational happened over time. By the turn of the century the drink's change in status was already underway, but one of the key factors that propelled it was when Virginia taverns began including ice-houses (possibly for the iced cocktails too) in their infrastructure in the 1780s. 
One of the earliest mentions of "Iced Julep" appears on May 4, 1807, in an advertisement for the Wig-Wam Gardens in Norfolk.
Julep's and the Kentucky Derby
To Americans, the connection needs no explanation. It just is. For us Brits, while this can at first seem like a random occurrence, it's best explained thus: Juleps are to the Derby what Pimm's is to Wimbledon. The how or why of it is inconsequential – they are now intrinsically linked on a cultural (and financial) level and over the course of the event, hundreds and thousands of glasses are consumed.
This isn't just by chance though nor something that isn't annually re-established; the cocktail has been specifically promoted by Churchill Downs in association with the Kentucky Derby since 1938. Each year almost 120,000 juleps are served at Churchill Downs over the two-day period of the Kentucky Oaks and the Kentucky Derby.