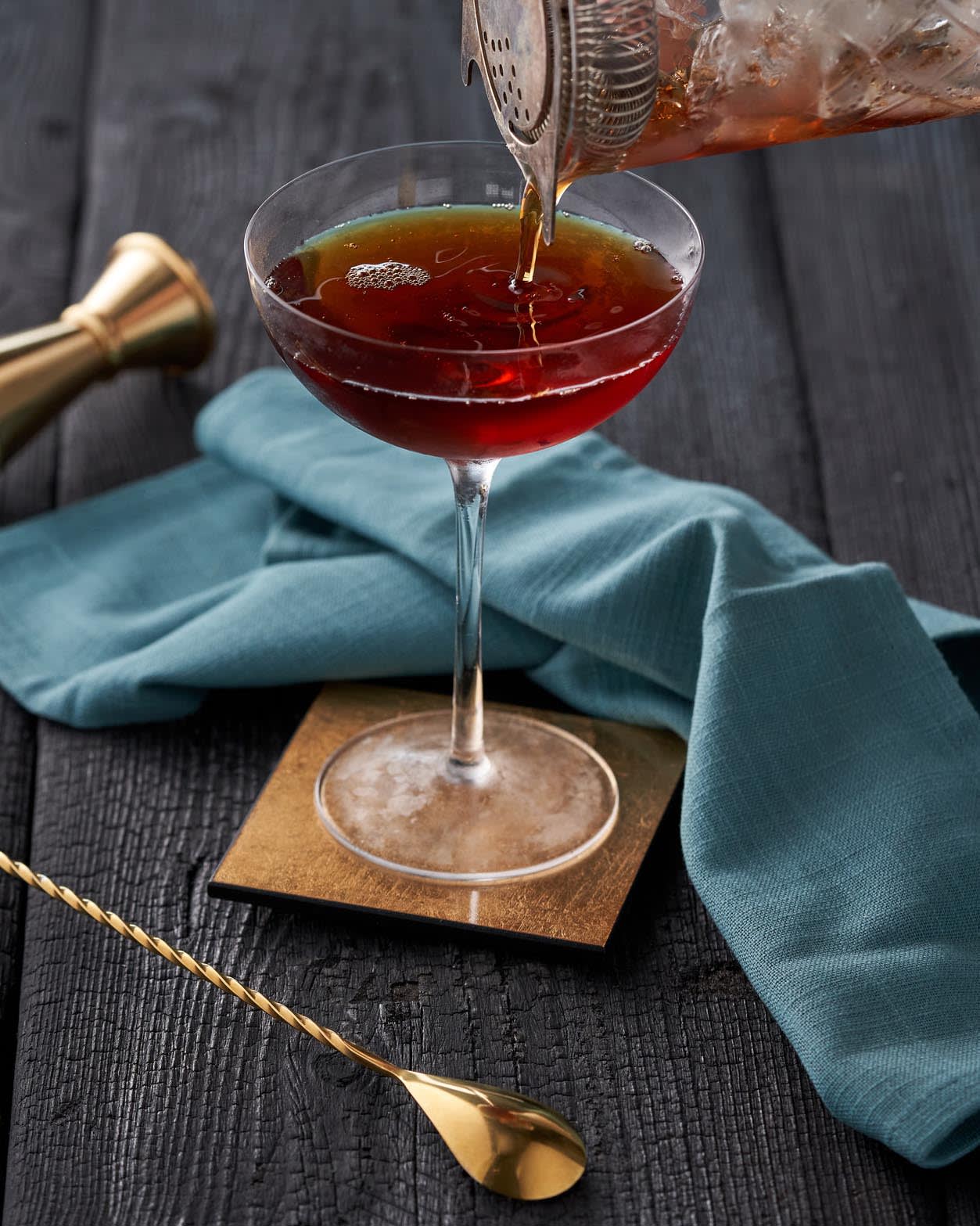 Rye or Bourbon?
Manhttan's are the kind of drink that have a certain ritual attached to them; The timeless and tasty kind you make judiciously, sip slowly and savour to the very last drop.
With this in mind the debate between Rye or Bourbon (which can sometimes seem trivial to the uninitiated), takes on a new meaning. Early versions of the recipe call for rye, while in more modern times the global rise in popularity of Bourbon has seen it contest for top spot. 
Try both and pick your horse for future races but expect to have it challenged by passionate devotees and bar bores alike. Rye is more assertive and direct, Bourbon layers in a softer profile and enhances vanilla-like flavours in the sweet vermouth. 
We tend to link the choice with the garnish (Bourbon and cherry, Rye and an orange or lemon twist).
TOP TIPS
Tinkering with the choice of whiskey or vermouth isn't the only customisation that you'll need to consider when on your quest to find the perfect Manhattan for you. The ratio, within reason, is flexible. 
2 to 1 is the standard ratio of whiskey to vermouth but nudging it either way can transform the drink and depending on the brand of vermouth, it can turn an ordinary combination into a spectacular concoction. 
In our glass, Angostura is the only acceptable choice. That said even as stalwarts, we'll confess that alternative bitters (like orange) can make for a good change of pace every once in a while. 
You can add juice from the cherry jar (or a touch of Maraschino Liqueur) into the cocktail for additional sweetness, bringing an indulgent tone to the drink.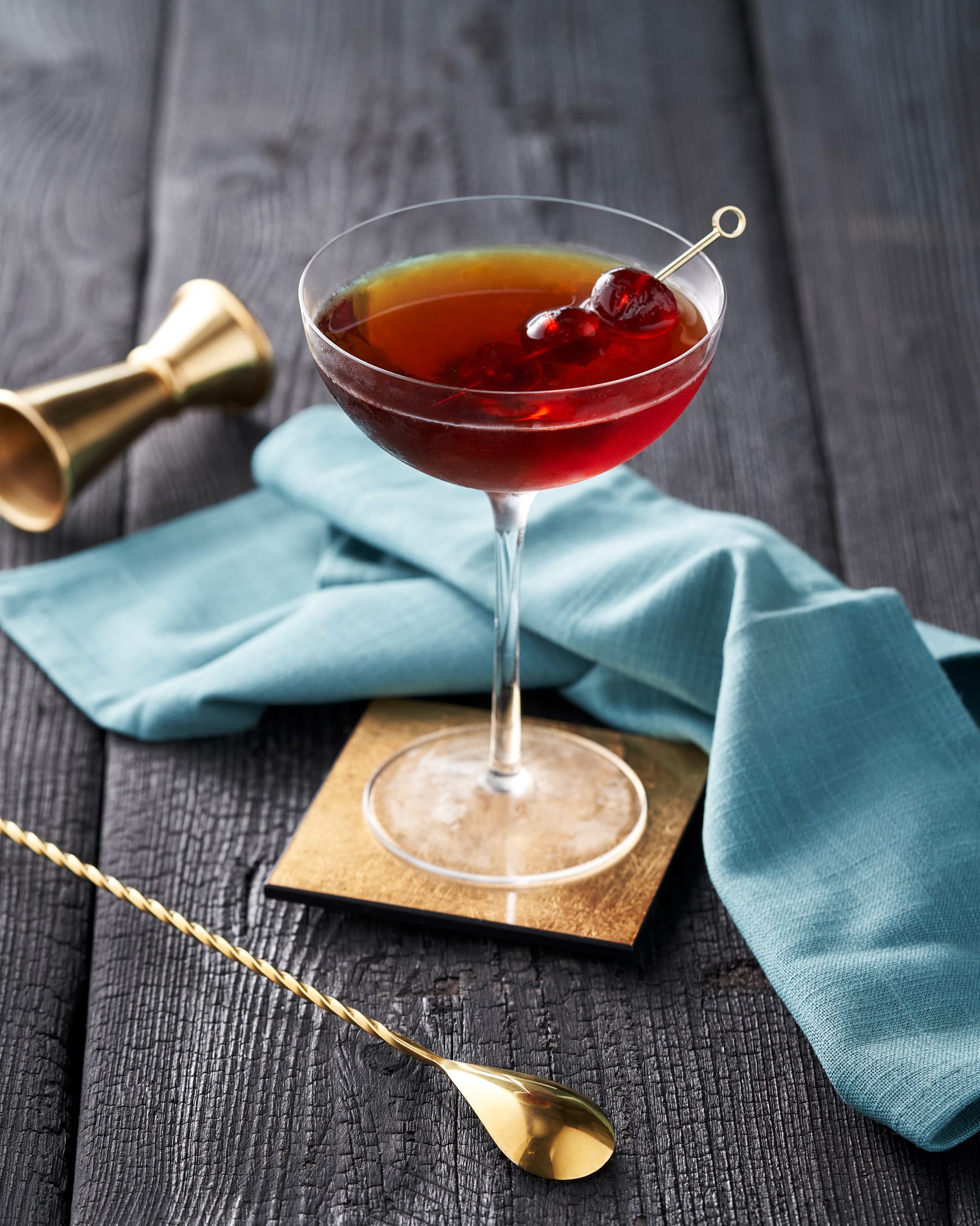 AN ABRIDGED, INEBRIATED HISTORY:
Many sources point to the cocktail being invented at New York City's Manhattan Club sometime around 1880 (as the story goes). As with all cocktails and all great ideas – the true history is more complicated than that. There are two or three credible stories for who might have invented it and more importantly, according to an article in New York's Sunday Morning Herald in 1882, may have actually been named something else to begin with. It states that a drink involving whiskey, vermouth and bitters had come into vogue and went under various names – Manhattan cocktail, Turf Club, Jockey Club.
We don't dwell on this here or offer our own conjecture on the drink's origins, as what draws our attention in the history of the cocktail are some of recipes throughout the 1900's. The earliest records can be found in Charlie Paul's American and other Drinks and O.H. Byron's The Modern Bartender's Guide, both written in 1884. While they are not that different to what we know today, when you look at them as starting points and track the recipes over the past century, you can clearly see the evolution of a drink into what's commonly served today. 
Purists bemoan those who tinker with the recipe with their myopic views on what it should and shouldn't be – but just remember, some of these esteemed historical cocktail books at various points call for the likes of maraschino, absinthe, sugar gum, curaçao or absinthe "if required". Written history aside, during Prohibition (1920–1933) Canadian whisky was primarily used because it was the only Rye available, so the idea that it MUST be American Rye is also selective at best. 
Over the years, as absinthe and the addition of sugar syrup have been omitted and the Maraschino Liqueur is now rarely more than a generous cherry garnish – the Manhattan cocktail is dryer and simpler than ever.
We love it that way, but clearly, its own history shows just how adaptable it is and the potential of riffing around the recipe…